For the most part, Google Ads leads with new features and Microsoft Ads follows a few months later. But, are you familiar with the handful of features MS Ads has, that Google Ads doesn't? Even seasoned Google Ads veterans may not be familiar with these MS Ads tweaks. In fact, it is (an unfortunate) common practice in the industry to simply import Google Ads campaigns into Microsoft, set it, and forget it. Failure to properly configure MS Ads can be due to a lack of specific platform training or simple laziness.
Today I'm going to show you how to dial in your MS Ads campaigns in ways you can't do with Google Ads. Also, if you want to know exactly how you should import your campaigns from Google Ads, read our Google Import for Microsoft Ads Done Right article.
Note: This article was updated on August 19th, 2021.
#1 – Multimedia Ads
Microsoft has just launched a new ad format for search campaigns. Multimedia Ads display a clickable banner with a call-to-action button and text overlay in search. We are just in the process of testing this ad unit for several clients so the jury is still out on how these will perform.
Some important things to note are that only one Multimedia Ad will show per search and that Microsoft Ads will automatically apply a default bid adjustment of +40% for this ad type. You can adjust this setting in your campaign or ad group, but you can only reduce this to +20%. The bid adjustment does make sense since there are limited placements available for these. That said, I'm not sure these will perform so much better that it'll be worth the premium CPC. Only time will tell.
One other thing to note is that this ad format is compatible and will run with ad extensions.
Here's an article from SEJ with some more details about Multimedia Ads.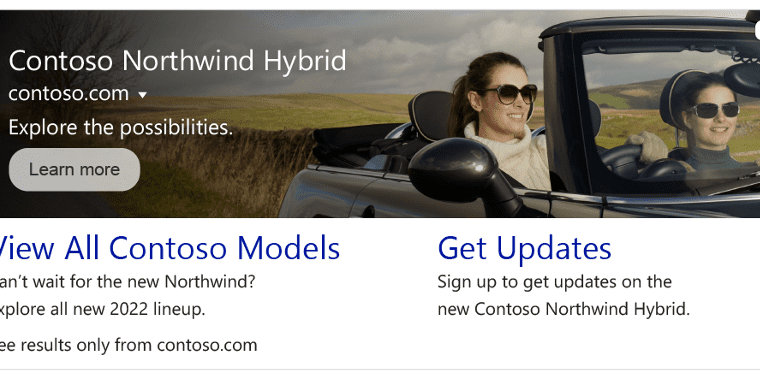 #2 – Ad Group Level Settings
In Google Ads, you can only make bid adjustments for most targeting and other settings at the campaign level. Not so with MS Ads.
Here's a shortlist of what you can adjust at the campaign or ad group level in MS Ads. This can be really helpful in certain situations. For example, you could build a single campaign for a metro area and build ad groups for more specific locations using both keywords and location targeting. Or, you could segment your campaign into ad groups for different genders.
Language targeting
Ad Schedules and bid adjustments
Audience Ads bid adjustments
Location targeting and bid adjustments
Age & Gender targeting and bid adjustments
LinkedIn targeting options and bid adjustments
Devices
Ad Rotation Settings
#3 – Search Network Targeting & Exclusions
With Google Ads, you can only select Google search or Google search and Search Partner Networks. With Bing Ads, you have more flexibility and can choose Bing/Yahoo, Bing/Yahoo & Partners, or just Partners. Furthermore, you can add exclusions based upon partner sites with low conversion or engagement numbers. To find low performers, run the URL (publisher) summary report and sort by your KPI of interest. Look for publisher sites that have generated a low conversion rate, high CPA, or low CTR. Add those sites to the exclusions list to improve your overall campaign performance.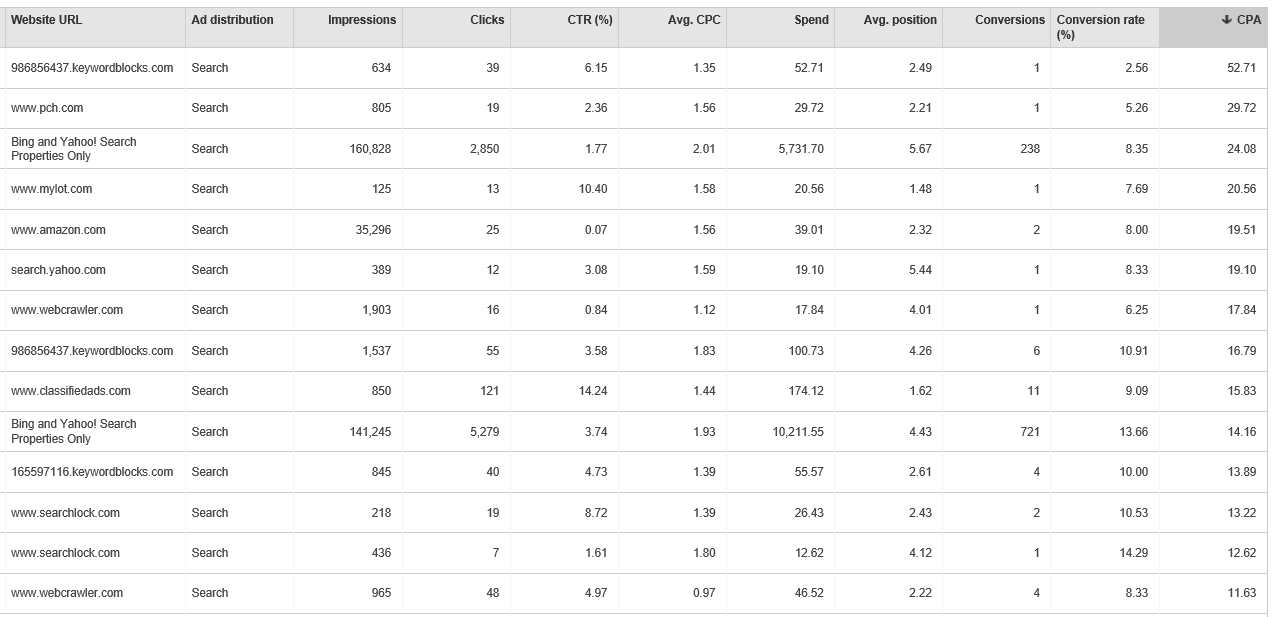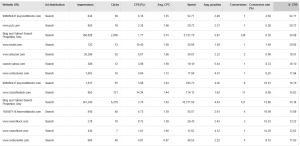 #4 – Sitelinks With A Common URL
Many Google Ads users, including myself, are hesitant to use Sitelink ad extensions because we'll end up sending visitors to lower quality (lower converting) pages. In Google Ads, of course, you are required to use a unique URL for each Sitelink. Unique URLs for Sitelinks are not required in Microsoft Ads. You can create multiple Sitelinks that all point to your existing landing page. Of course, best practice dictates that your content should be relevant to the Sitelink. For example, if you're going to include a "FAQ" Sitelink that points to your landing page, make sure your landing page includes a FAQ section.
#5 – Additional Ad Extensions
Google Ads has some ad extensions that are not yet supported by Microsoft Ads. But Microsoft Ads also has some extensions not yet provided by Google Ads. You should always review all possible extensions and implement any/all that make sense for your campaign.
| | | |
| --- | --- | --- |
| Ad Extension | Google Ads | Microsoft Ads |
| Callouts | Yes | Yes |
| Sitelinks | Yes | Yes (no restriction on reusing the same URL) |
| Structured Snippets | Yes | Yes |
| Call | Yes | Yes |
| Location | Yes | Yes |
| Image | Yes | Yes (not importable from Google Ads) |
| Price | Yes | Yes |
| Promotion | Yes | No |
| App | Yes | Yes |
| Action | No | Yes |
| Filter Link | No | Yes |
| Video | No | Yes |
| Review | No | Yes |
#6 – LinkedIn User Targeting
Microsoft Ads has integrated LinkedIn profile targeting, this can be a great feature for B2B campaigns. You'll find options to add targeting by company, industry, and job function within the campaign or ad group "Campaign Targets" section. Once you add your targets you can apply bid adjustments.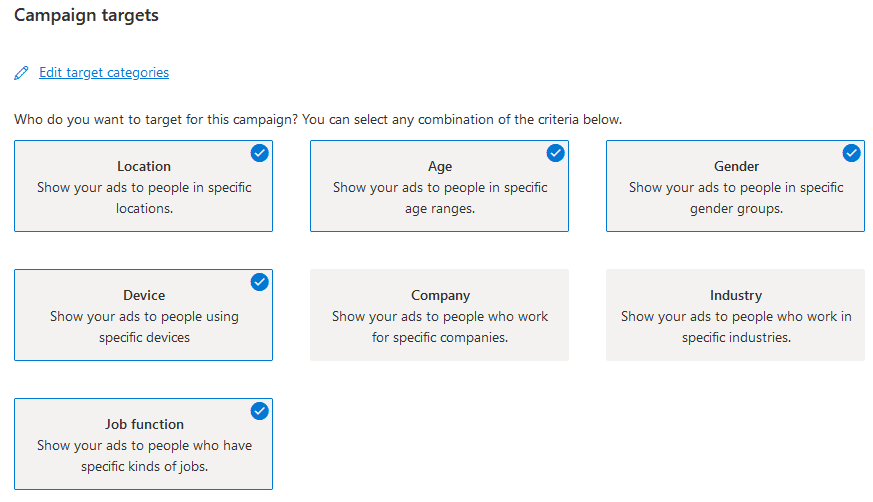 Keep in mind that activity from LinkedIn users is typically pretty modest in terms of volume. But it's still great to be able to set bid adjustments for these folks.
Summary
Yes, Google Ads rules the roost when it comes to paid search, with most of the market share. For that reason, Microsoft Ads is often an afterthought that doesn't get much attention. But the smaller ad platform has some unique capabilities that most folks are not taking advantage of. If you optimize for these Microsoft Ads only features, you're sure to significantly increase performance.