It's a quick and easy matter to import Google Ads campaigns into Microsoft Ads. But if that's all you're doing you're only halfway there.
There are a number of important steps you must take after using Google import for Microsoft Ads to ensure great performance. In this article, I'm going to walk you through the entire import process, what to do, and what to look out for.
DISCLOSURE: Some of the products mentioned in this post may contain affiliate links that at no additional cost to you, we may earn a small commission. Importantly, we only promote products that we use ourselves.
Account Setup
Setting up your MS Ads account is pretty straightforward, and there aren't nearly as many options as with Google Ads.
You should obviously add the UET (pixel) to your website and configure conversion tracking for lead form submissions. Note, also, that some call tracking services such as CallRail have direct integrations with MS Ads. We strongly recommend using call tracking if at least 25% of your leads come from inbound phone calls.
The other important setting to configure is auto-tagging. You can find the setting under tools/preferences. Note that auto-tagging, in this context, means automatically adding UTM tracking codes to all your ads. This will ensure that Google Analytics can interpret your campaign information and display it properly in reports.
First-Time Import Settings
If this is your first import it's generally fine to use the default settings. However, you should ensure that you don't schedule automated imports. It used to be that you would have to activate this feature manually, but now it's on by default. I strongly recommend not using this feature at all. Be sure to deactivate it and also check your campaigns after import to ensure scheduled imports don't exist.
Campaign Clean-Up
After importing there are some things you should do to tidy up.
Adjust Your Budgets
It's unlikely you're going to be spending the same amount on Microsoft Ads as you are on Google Ads. Microsoft gets about 15% of the traffic Google does in the US – and the vast majority is desktop by the way. But you have to also consider the are also fewer advertisers. We usually start out at 25% of the equivalent Google Ads budget and then adjust from there.
So what about other markets? For the most part, Microsoft hasn't acquired much market share in other English speaking countries. For that reason, we recommend against our Canadian clients from running domestic ads on Microsoft unless they are in a very large market.
Turn Off Automated Bidding
If you're using fully automated bidding on Google, you most likely don't want to carry that over in Microsoft Ads. We have experimented a lot with Max Conversions, tROAS, and tCPA bidding, and frankly, performance has been disappointing.
And, even if you can get the automated bidding working eventually, remember that you are starting out with no conversion data.
At the very least you need to downgrade your campaigns to ECPC bidding to start. Once you generate a healthy number of conversions you can start to experiment with automated bidding. By the way, Microsoft does still enforce a 15-conversions / 30-day minimum to activate auto bidding.
Remove Search Partners – Optional
While Google Search Partners can be hit or miss, MS Ads Search Partners are almost always a big miss. At my agency, we always deselect this option after importing. Unfortunately, this setting is per ad group, so if you have a lot of ad groups you've got a bit of work ahead of you. If you truly have many ad groups you may want to adjust this using MS Ads Editor to expedite the job.
To make the adjustment online, go into ad group settings and find the "Ad Distribution" setting. Choose the "Bing, AOL, and Yahoo search (owned and operated) only" and be careful not to choose one of the other options. Microsoft has done an absolutely terrible job of explaining the options, so it's very easy to make a mistake.

Reconcile Location Targeting Issues
Microsoft doesn't support as many locations or location types as Google. Most of the time your location targets import just fine, but not always. You should always do a cursory count of how many locations are being targeted and/or excluded in your campaigns. If you find a discrepancy between systems you need to dig deeper to figure out what's missing.
If you do find locations are missing, you might need to manually add them using a different method or larger target area.
Add Microsoft Ads Features
Unfortunately, not all Google Ads features are supported by MS Ads. For example, you will not be able to import image extensions. That said, Microsoft has some of their own features that Google doesn't offer. If you're not implementing these you're not going to maximize MS Ads performance.
Image Extensions
While you cannot import Google's new image extensions, you can create them in Microsoft. Microsoft's version of image extensions is far more complex than Google's. Here is their image extensions help article.
Sitelink Extensions
Microsoft will automatically import Google Ads Sitelinks. But, there is one thing to know about Microsoft's version that can help you. Microsoft doesn't limit the number of times you can use a target URL to just one. In fact, you can reuse the same target URL as many times as you'd like.
Therefore, if Sitelinks didn't make sense for Google Ads, they may make perfect sense here. You can create 4 unique Sitelinks, for example, and point them all to your main landing page.
Action Extensions
Action Extensions use preselected calls-to-action. There's a wide range of options to choose from and they look like this – note "Reserve" below the ad.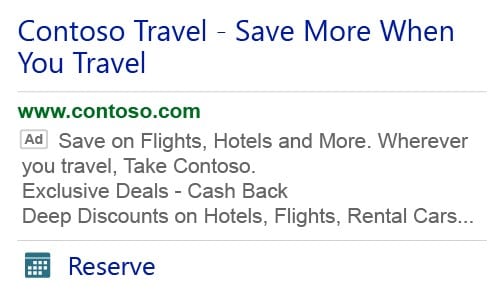 Review Extensions
Long gone from Google but still alive and well on Microsoft are Review Extensions. Here, you can add positive reviews from 3rd party sites. A common use would be stating a Better Business Bureau rating. This shouldn't be confused with customer reviews, which wouldn't qualify here. Here's some more information on how to get started.
Filter Link Extensions
One of the more recent additions to MS Ads Extensions, Filter Links combines the features of Sitelinks and Structured Snippets. Here you may choose from a long list of types and then add your own descriptor and link.
Video Extensions
Hot off the presses are Video Extensions. While Microsoft doesn't yet have a presence in video ads, they are rolling out video for search ads. Video Extensions display a playable thumbnail on desktop and large video extension on mobile devices. The video is playable directly in the ad and you can add text overlays to describe the content.
Here's some more information on how Video Extensions work.
Multimedia Ads
Microsoft has just launched a new ad format for search campaigns. Multimedia Ads display a clickable banner with a call-to-action button and text overlay in search. We are just in the process of testing this ad unit for several clients so the jury is still out on how these will perform.
Some important things to note are that only one Multimedia Ad will show per search and that Microsoft Ads will automatically apply a default bid adjustment of +40% for this ad type. You can adjust this setting in your campaign or ad group, but you can only reduce this to +20%. The bid adjustment does make sense since there are limited placements available for these. That said, I'm not sure these will perform so much better that it'll be worth the premium CPC. Only time will tell.
One other thing to note is that this ad format is compatible and will run with ad extensions.
Here's an article from SEJ with some more details about Multimedia Ads.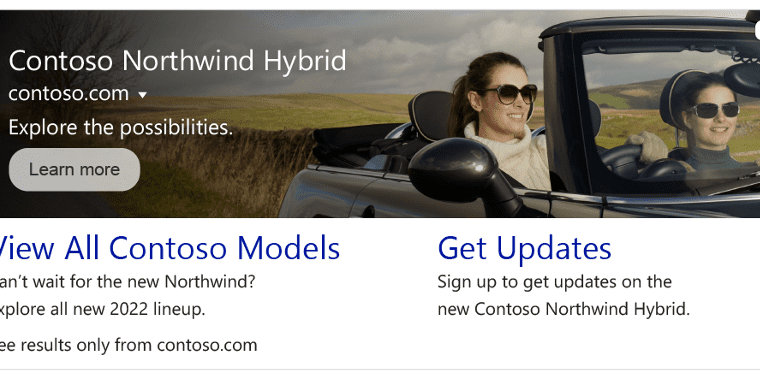 Audience Targeting
LinkedIn Targeting
Microsoft Ads has integrated LinkedIn profile targeting, this can be a great feature for B2B campaigns. You'll find options to add targeting by company, industry, and job function within the campaign or ad group "Campaign Targets" section. Once you add your targets you can apply bid adjustments.
Keep in mind that activity from LinkedIn users is typically pretty modest in terms of volume. But it's still great to be able to set bid adjustments for these folks.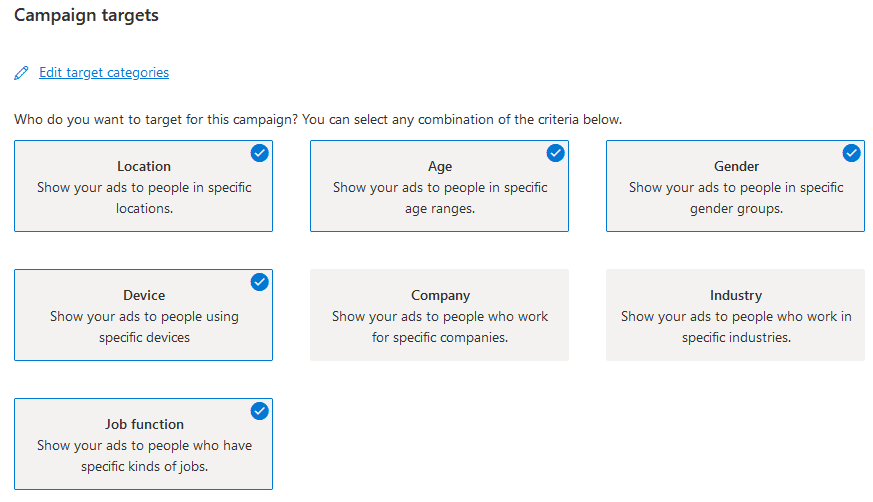 Other Audience Targeting
Like Google, Microsoft offers a wide array of In-Market Audiences. However, their list doesn't match up exactly with Google's. Therefore, you may find that some of your Google audiences are missing. And, you may have additional audiences listed that you can add from Microsoft. Most notably, Microsoft doesn't have the same view as Google about medical and healthcare products and services.
As such, there are additional audiences that may be useful including "healthcare services" and "pharmacy."
This also means you can add remarketing audiences for your healthcare campaigns in MS Ads.
Granular Ad Group Adjustments
Unlike Google, Microsoft Ads offers some duplicate settings at the ad group and campaign levels. This provides an opportunity to get more granular with bid adjustments for example. Note that if you don't set adjustments at the ad group level, that the campaign adjustments will apply automatically.
Currently, you can adjust the following settings at the campaign or ad group level:
Language targeting
Ad Schedules and bid adjustments
Audience Ads bid adjustments
Location targeting and bid adjustments
Age & Gender targeting and bid adjustments
LinkedIn targeting options and bid adjustments
Many of these options probably won't make sense if you're importing from Google Ads. These features are much more useful if you're building from scratch. For example, you can build one campaign with a single budget and set up your ad groups to reach different target locations. Or you could have one campaign with ad groups in different languages to target English and French speakers in Canada.
Most importantly, as you optimize your campaigns be careful that you set bid adjustments at the lowest level otherwise your changes won't be applied.
Summary
While Microsoft has made it relatively easy to import your Google Ads campaigns, it's not as simple as you may think. The two ad platforms differ in many ways, thus making prudent campaign adjustments is necessary to optimize MS Ads performance.
Most notably, bidding strategy and ad extensions probably need an overhaul before launching your new campaigns.
Ten Thousand Foot View provides full Microsoft Ads management services. We'll ensure you get started on the right foot with properly imported and optimized campaigns.