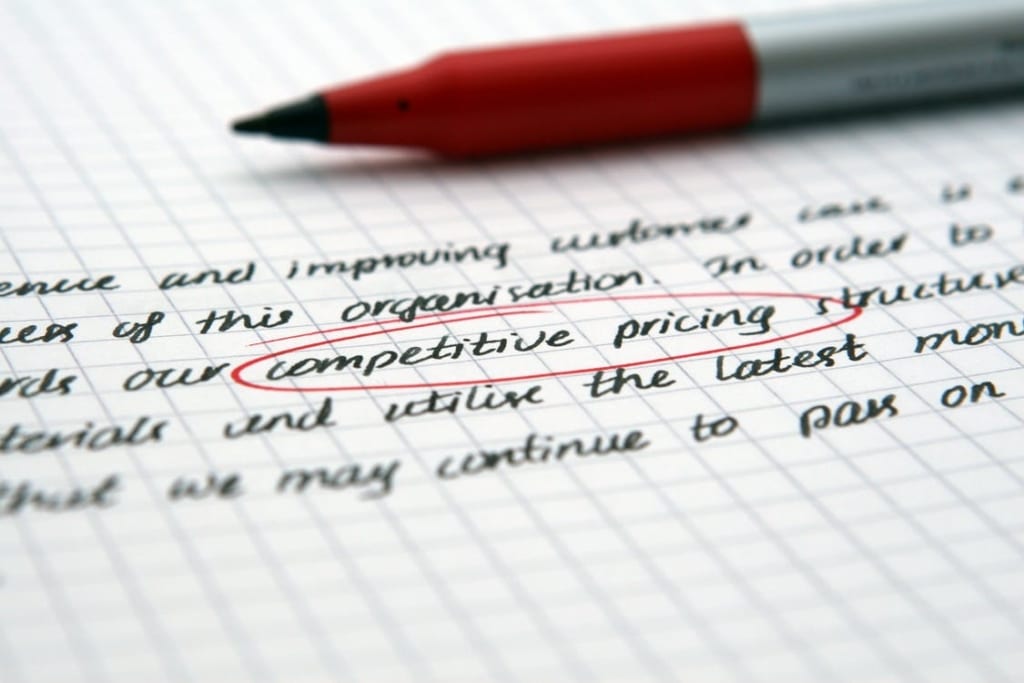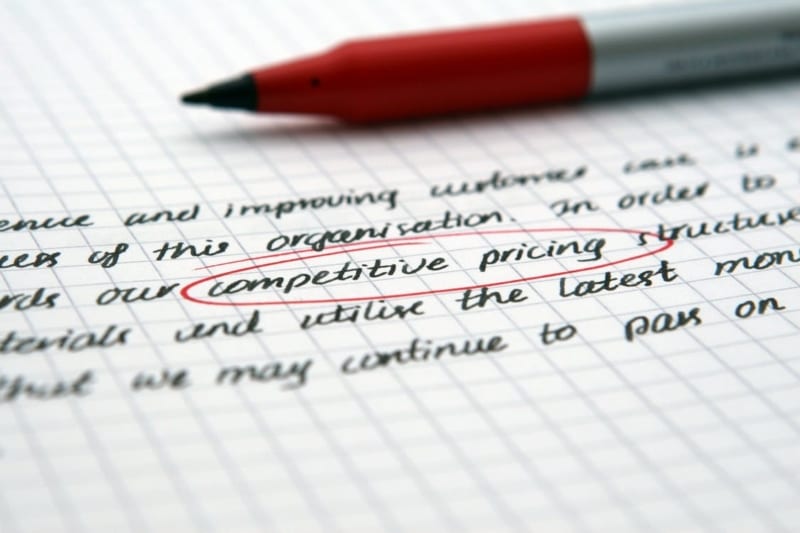 A big part of assessing what agency or consultant to use includes their pricing model. In this post, I'll discuss the most common PPC pricing models and the pros and cons for each. While there are a lot of exotic hybrid or combination pricing models I'll stick to the basics.
The four main PPC pricing options are a percentage of ad spend, fixed price, performance-based, and hourly. I'll run down how each one works in some detail.
Percentage of Ad Spend
The percentage of ad spend fee structure is one of the most common options for PPC services. Conceptually, this is a value-based pricing model. As the agency increases the performance of your campaigns, you are likely to spend more ad dollars, making it win-win for both parties.
The agency will charge you a percentage of ad spend that usually ranges between 10% – 25%. Since the effort to manage larger accounts isn't linear with ad spend some agencies will offer tiered pricing. Most agencies have a minimum fee too, starting from as low as $100/month. Usually, agencies that use this pricing model don't charge any extras such as set-up fees. Some of these agencies require minimum contracts, but it is far less common than with fixed priced agreements.
An agency's fee structure might look like:
<$4,000 = $800/month
first $4,000 – $24,999 = 20% of ad spend
next $25,000 – $99,000 = 15% of ad spend
> $100,000 = 10% of ad spend
Agencies that use this pricing model are focused on the upside of building long-term client relationships. They are devoted to delivering high-quality services and using as much automation as possible to reduce costs.
One concern is that some percentage based agencies will focus on spending more ad dollars to increase their fees, rather than focusing on maximizing profits. In reality, this is rare, because high client turnover is the last thing that an agency wants. The big knock on this type of fee structure is that fees don't drop as campaigns mature, i.e. when there's less work. Conversely, one could argue that clients are not paying agencies what they are worth during the first few months of work. This is an agency's "investment" into the project.
Pros
Monthly fees are predictable
Monthly fees scale with your total investment in advertising
Agency is focused on delivering value/efficiency
Cons
Costs don't drop as your campaigns mature
Fixed Price
Fixed price services are usually based on a combination of effort/value. The agency will assess your account/goals/budget and set fees based on how much time similar clients take to manage. Often the agency will set limits in terms of maximum ad spend, number of monthly meetings, number of campaigns, report frequency, etc. The fee structure will typically be adjusted to compensate if your needs and ad budget change.
Usually, fixed priced PPC services include a separate one-time set-up fee and minimum contract length.
A fixed-price contract will usually look something like:
$750 initial set up fee
$500/monthly fees
6-month minimum contract
a grocery list outlining the maximum scope of services
As with percentage of ad spend pricing, these agencies are mostly focused on client retention and building value. Similarly, quality services and efficiency via tools & automation is a primary goal.
The main issues with fixed price agencies are the high start-up costs and contractual requirements. In the example above, there is a minimum $3,750 investment in fees. That said, the minimum term is generally required because the agency won't see much upside until/unless prices are renegotiated at some future time.
Pros
Predictable monthly fees don't change much, if at all
Agency is focused on delivering value/efficiency
Cons
Typically include a separate set-up fee
Usually, come with a long-term contract
Often includes restrictions with respect to ad spend, account complexity, etc.
Performance-Based Pricing
Just as it sounds, the agency gets paid based on campaign performance. There are a wide variety of performance-based pricing models, but the most common are commission per lead and % of revenue generated.
With commission per lead, normally, the agency will be paid a flat fee per lead and typically pay for the direct advertising costs. The agency will generate as many leads as possible and usually, the budget is uncapped, providing upside for the agency.
With % of revenue, the agency will get a cut of your top-line revenue that's generated directly from campaigns. Of course, there needs to be checks and balances to ensure that the agency is meeting other KPI objectives such as cost per conversion.
Not many agencies offer performance-based pricing because it makes their income unpredictable and tends to attract lower-quality clients. To address this, these agencies have minimum standards their clients must meet (historical sales, profitability, messaging, website/landing page quality, etc.) to qualify for their services.
Also, since fees are speculative, agencies will tend to charge a premium for their services.
Pros
Pay a predictable cost per lead or % of revenue
Agency is motivated to deliver value
Cons
Typically higher cost than other pricing models
A limited number of prospective agencies
You may not meet their minimum client requirements
Your ad accounts may not be portable should you wish to work with somebody else
Hourly Fees
PPC management hourly fees run anywhere from $10 – $500/hour. At the very low-end you can expect that you're getting off-shore and relatively inexperienced management. At the very high-end you can expect that you're getting one of the top consultants or agencies in the business. Some agencies will charge different rates for different staff; you may pay less for routine tasks like campaign optimization, and more for marketing strategy.
The main benefit of hourly-based fees is you are paying for the direct effort of services provided. You are not going to end up paying several thousand dollars for a few hours of work. Also, fees will usually be lower over time as the campaigns mature and require less frequent adjustment and optimization.
Conversely, hourly pricing models usually mean very high start-up costs. Since your new agency is untested, do you really want the services to be front-end loaded? Also, your agency is motivated to consume a lot of hours rather than optimize their process through automation and optimal procedures. In addition, unless you can easily monitor what work is being done, you really have no way to know how many hours were spent on your account.
Lastly, you may find yourself in a power struggle with your agency. If you have a few months of high costs you might ask them to cap the number of hours they provide. That sounds great for cost containment, but it can mean that the agency no longer does everything they can to optimize your campaign… and that's lose-lose.
Pros
You pay based on the amount of effort put into managing your account
When your campaigns have matured you will usually pay less on an ongoing basis
Usually no contractual requirements
Cons
Typically higher start-up costs than other pricing models
Agency focus is on delivering hours rather than value/efficiency
Cost is widely variable month to month
Capping hours can make performance suffer
How to Choose?
If you are confident in your product/service I recommend choosing either the percentage of ad spend or fixed price PPC management fee structure. Both options are value-based meaning the agency is motivated to deliver good results. The percentage of ad spend model is less expensive in terms of start-up, but you may end up paying more if you're successful and increase your ad spend (nothing wrong with that). The fixed price model may cost more upfront, but your management fees will be lower as a percentage of ad spend if you ramp up your spending.
If you're not confident in your product/service, or at least PPC working for you, performance-based pricing might be a better fit. With the performance-based model, you can sit back and wait for leads or sales to start rolling in.
I can't make any recommendation for hourly pricing. While it looks good on paper, you generally end up working with a consultant that hasn't yet figured out the value they deliver to their clients or one that wants to put in time more than get results.
Summary
There are a wide range of different PPC fee structures available to choose from. Agencies choose which one suits them based on how they want to work with their clients. Which one you choose will depend on what makes sense given your business goals, how much risk you're willing to take, and what you can afford.
What do we offer? Glad you asked. Our PPC fees start from $500/month and we offer tier-based % of ad spend pricing. The more you spend the lower our rates go. We don't charge start-up fees and there is no minimum contract length. Also, we do offer discount tiers for larger accounts. Get in touch today for a free consult and campaign audit.