Maybe you manage SEO for your own business or you've been dabbling in providing SEO services. We've been doing SEO since 2002 and a lot has changed in 16 years. SEO strategy has shifted dramatically, and so have the tools available for managing SEO.
In this article, I'm going to run down the state of the art SEO tools for small business. I'll list the best-paid SEO tools as well as free or low-cost alternatives where available. Tools will be categorized by purpose/utility and I'll provide current pricing for the average business user.
DISCLOSURE: Some of the products mentioned in this post may contain affiliate links that at no additional cost to you, we may earn a small commission. Importantly, we only promote products that we use ourselves.
SEO Management Solutions
These do-it-all tools include everything you need to perform keyword and competitive research, audit and monitor the health of your website, analyze your backlinks, and track organic rankings. If you invest in one of these you can almost skip the rest of this article.
SEMRush has quickly become the Swiss army knife of SEO management. With tools for everything mentioned above, and much more, along with tight integration with Search Console and Analytics, this is one of the most robust SEO management solutions. Yet, it's priced well below other tools with far less functionality.
The two biggest stand-out features for me, are the automated disavow management tool and organic traffic insights. The latter report combines Analytics, Search Console, and SEMRush data to show you what keywords are driving organic traffic to which pages. It almost feels like the good old days before Google started anonymizing organic keyword data. And, as a big bonus, SEMRush is one of the very best tools for AdWords competitive/keyword research & analysis.
The only knock we have on SEMRush is that when you pack in this much utility, the interface can become pretty complicated – expect a bit of a learning curve.
Moz Pro has somewhat less functionality than SEMRush but is purpose-built with all the essential tools for SEO. This makes the tool more elegant and easier to use than SEMRush. This saves time which makes it perfect for heavy-duty use. You also get access to MozRank, their excellent replacement for Google's now-defunct PageRank.
Link-Assistant (Windows software) offers a suite of tools with different SEO functions. Just need keyword research and rank tracking? Buy Rank Tracker. Only need backlink analysis? Buy SEOSpyGlass. Altogether, there are 4 tools which sell as SEO Powersuite for $299 (Professional Edition). But beware, you will need to renew your subscription in 6-months if you want to continue getting software updates (tools will generally stop working properly within a few weeks of missing updates). While I don't like Link-Assistant's tricky pricing (most buyers assume they are getting a 1-year license), I do like their tools. We used this suite for a number of years before switching to SEMRush, and they work great.
Local SEO Tools
These products assist you to build & manage your citations (directory profiles). They ensure you've got full coverage and that your NAPs (Name, Address, Phone Number) are aligned.
Local Citation Finder has a number of functions including competitive analysis and monitoring, but for the DIY the main benefit is the citation search tool. Input your business info & local keyword – get a list of prospective citations. The $20/plan offers up to 20 citation results per day. If you're in a rush you can opt for a higher level plan. Once you've built out your citations you can discontinue using Whitespark unless you find the monitoring features useful. Don't want to add the listings yourself? No problem, Whitespark will build them for you for $4-5/each.
Moz Local will take care of all our listings for you. Just sign-up, build your business profile, and voila! They do offer a $99/year package, but it's missing core functions I feel you need to be successful with citations. At $179/year it's more pricey than Whitespark but much less complicated.
Scan 48 directories to verify your listings. Simple, fast, free!
Keyword Research
Having an effective keyword strategy is right at the core of any good SEO program. If you don't invest in an SEO management solution you'll need a stand-alone keyword research tool. Any good tool should be able to find keywords thematically, score them (volume, CPC, difficulty) and provide competitor insights.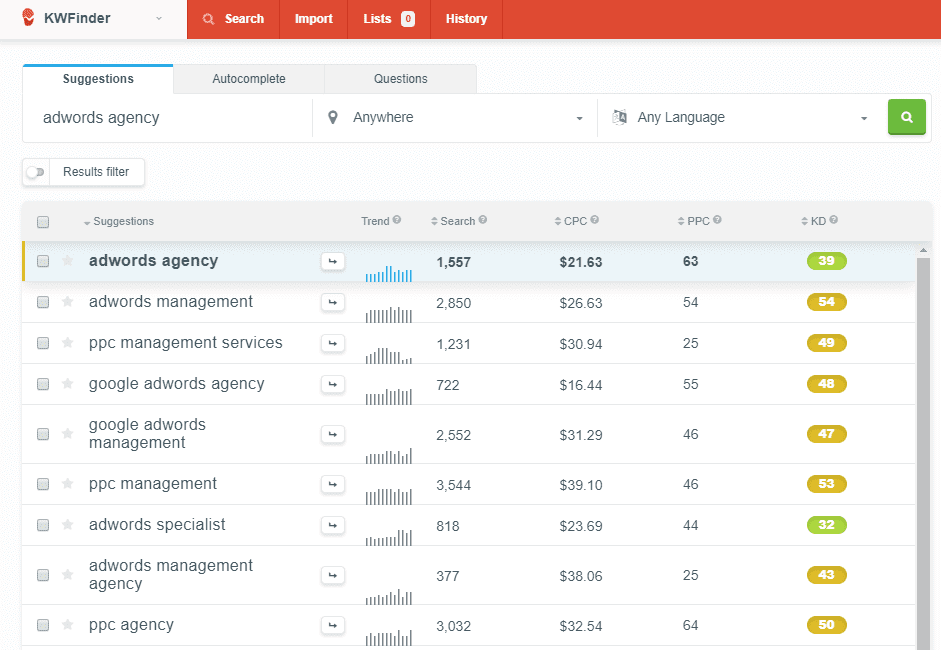 Nothing is easier or faster to use than KWFinder. Input your keyword and see results automagically. Keywords are organized by relevance and a full set of metrics including search volume & trend, CPC, and keyword difficulty are provided. Ranking competitors and insights are displayed on the right-hand side of the screen. Click the "Analyze SERP" button for full competitor analysis. The free version (limited to 25-keyword results) is viable for small niche businesses but to unlock more keywords you'll need to pony up the $30 which also gives you rank tracking and competitor backlink research.
Keyword Tool Pro is one of the few keyword research tools that support search engines other than for Google. If you are running on eBay, Amazon, Youtube, the App Store, or you care specifically about Bing results, this is the tool for you! On the downside, the price is quite steep (lower tier plans don't provide enough metrics) and the data analysis is pretty basic. In a nutshell, use something else if your project is Google-centric.
Link-Assistant's Rank Tracker Pro – $125/6-months
Fantastic fully loaded Windows software with a plethora of keyword research tools and rank tracking backed by major search engines and 3rd party APIs. The one big issue with this product I've found is that you have to use your own computer's horsepower. This is fine for small projects but if you need to say, calculate keyword difficulty for a few thousand keywords prepare to wait, and wait, and wait some more. You may also run into situations where you'll have to bang in Google CAPTCHAs manually or pay for a 3rd party CAPTCHA management solution.
Backlink Analysis
There are several elements to backlink analysis including link volume, referring domains, anchors, CTLDs, penalty risk, and more. Understanding your backlink profile can assist you to address issues like keyword over-optimization, disavow high-risk links, and monitor your progress over time. Unfortunately, there are no solid stand-alone backlink analysis tools, which leaves us with full-on SEO management tools.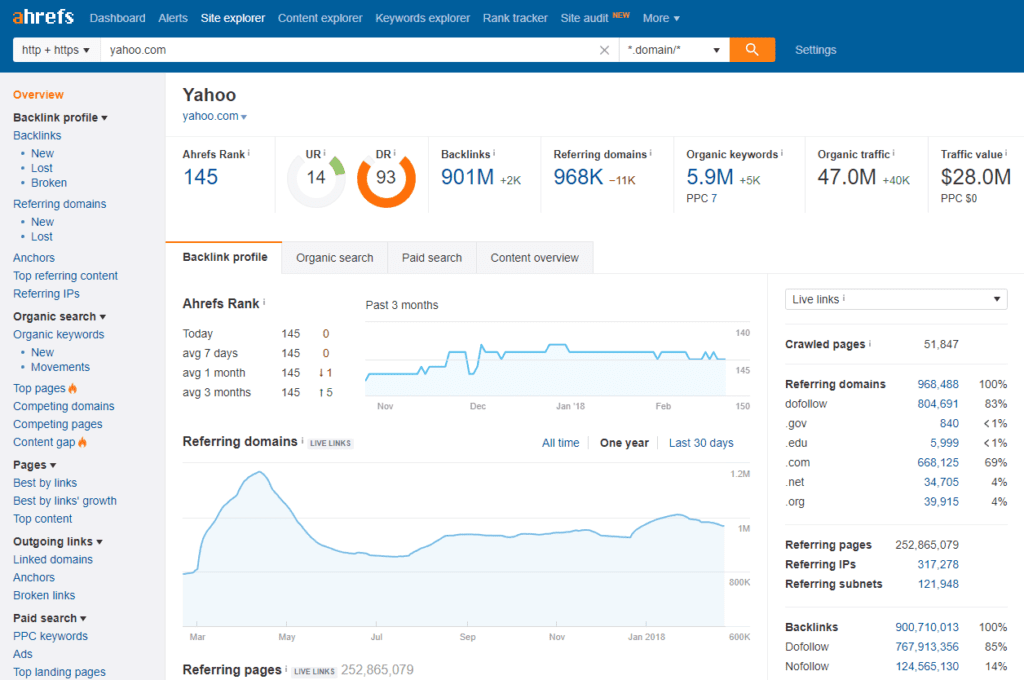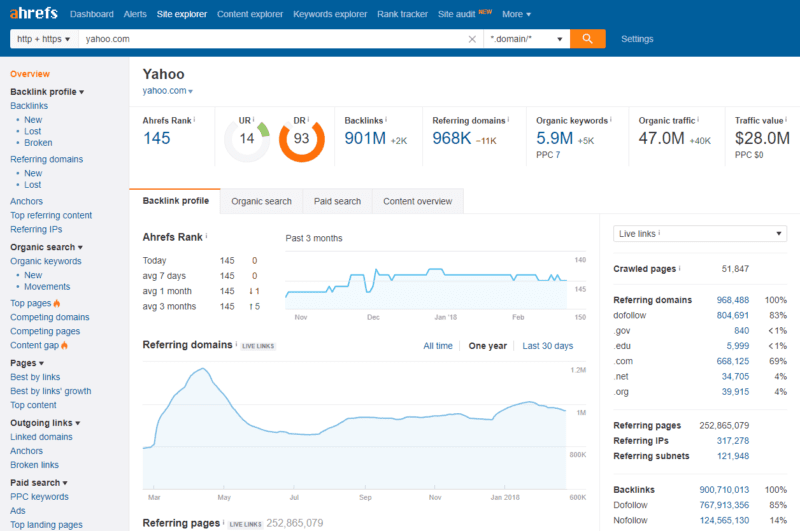 AHRefs "Site Explorer" provides a beautiful easy to use backlinks report that includes almost everything you need to understand your backlinks profile. I just wish they would include a penalty risk KPI which is a huge gap in their offering.
SEMRush offers the most important backlink metrics and includes robust penalty risk and disavow features. But the interface is a bit cumbersome and it doesn't provide any CTLD details or link scoring metrics.
SEO SpyGlass (Windows software) is a fully loaded backlinks analysis solution. The free edition is adequate for one-off analysis but has some limitations. You can perform a deep analysis of up to 1,100 links, but you can't save your work. Still, this is a great solution for small businesses on a budget. SEOSpyGlass has their own link ranking system, full penalty analysis and management, link profile summary with all the bells and whistles and more. You can always upgrade to the Pro Edition for about $25/month (6-month license required).
Rank Tracking
If you're doing SEO you need to keep tabs on your keyword rankings. I recommend using the rank tracking solution that comes integrated with most SEO management and keyword research tools. But if you prefer a stand-alone product there are a bunch to choose from. The main features you should look for include comparing rankings over different time slices, tracking multiple landing pages, competitor rankings, SERPs features, local search, rankings by device, and major KPIs such as difficulty rating, search volume, and AdWords CPC.
This option is a robust fully-featured SaaS that covers major search engines. It's everything you need in a stand-alone rank tracking service.
Whatsmyserp – Free
Are you on a shoestring budget? Whatsmyserp includes all the essential features you need and is perfect for a small business user with up to 10 keywords. Have more than 10 keywords? No problem, there are several low-cost tiers available starting from $4.99/month
Website Auditing
You have no chance of ranking if your onsite SEO is a mess. Are you properly redirecting your HTTP page versions to HTTPS, do you have a bunch of 404 errors, duplicate description tags, missing alt image tags? Any good website SEO auditing tool will automatically evaluate website performance & structure, find technical problems, assess implementation of meta tags, analyze content, and test your sitemap and robots files.
Link Assitant's Website Auditor – $125/6-months
An easy to use & comprehensive Windows-based tool for auditing websites at a great price point. If you're not planning to invest in a full SEO management solution this is probably your best go-to option.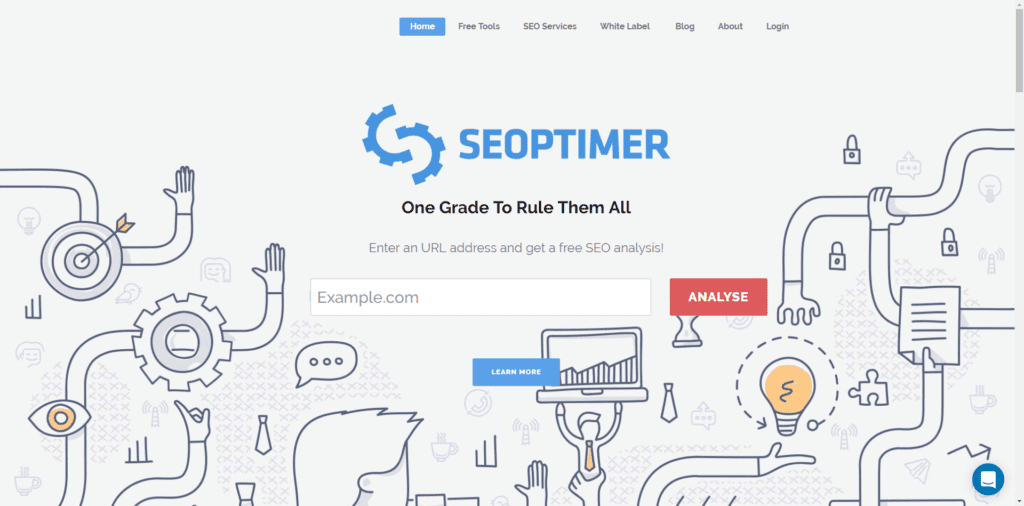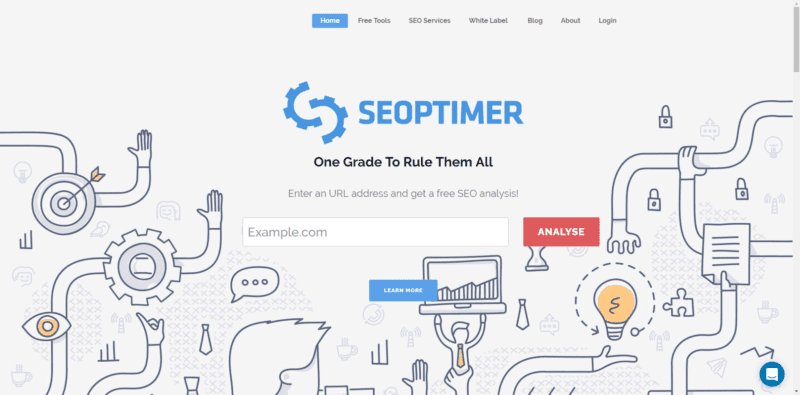 Need a quick high-level audit SEO for a webpage? Bang it out with SEoptimer in about 1-minute flat! We run this before having initial discussions with prospects. It gives us a quick health check and talking points before arranging a more formal SEO audit.
Link Building
You want to build links and you don't want to pay somebody else to do it; okay got it. Here are the best tools for link outreach & guest posting.
For just $47, Guest Post Tracker will give you lifetime access to their list of over 1,400 "authority" blogs that "will accept" your guest post. I've had a look under the hood and there are some very good options for guest posting. Of course, as these are legit blogs you will need to write quality articles and have a reputable site yourself to get accepted. If you plan on doing regular guest posting this is a must-have!
Do-it-all link prospecting tool that finds link opportunities for guest posting, blogs, content links, eBooks, and so much more. If you need a high volume of potential link building partners, this is it.
Similar to Ontolo, Pitchbox helps you find link building partners. In addition, Pitchbox will help you automate & manage your outreach process and is a little more refined than Ontolo. If you can afford it, Pitchbox offers more functionality at a higher price point.
This interactive tool won't actually provide a list of linking opportunities but will give you a ton of ways you can find link building partners on your own. Very cool, easy to use, and fantastic if you're just starting out with link building.
SEO Training
There are a number of great free and paid courses for beginners and seasoned pros alike. Here are my picks.
Moz SEO Training – $49 – $2,495/course
Considered the best in the biz, Moz could probably teach Google a thing or two about SEO. And, they'll teach you too. Moz offers a wide range of live webinars for beginners to advances SEOs on a wide range of SEO specialities like copywriting, website auditing, eCommerce, and more. Putting Moz SEO training on your resume is definitely a good thing. If you're just starting out Moz also offers an incredible good beginner's guide to SEO for free.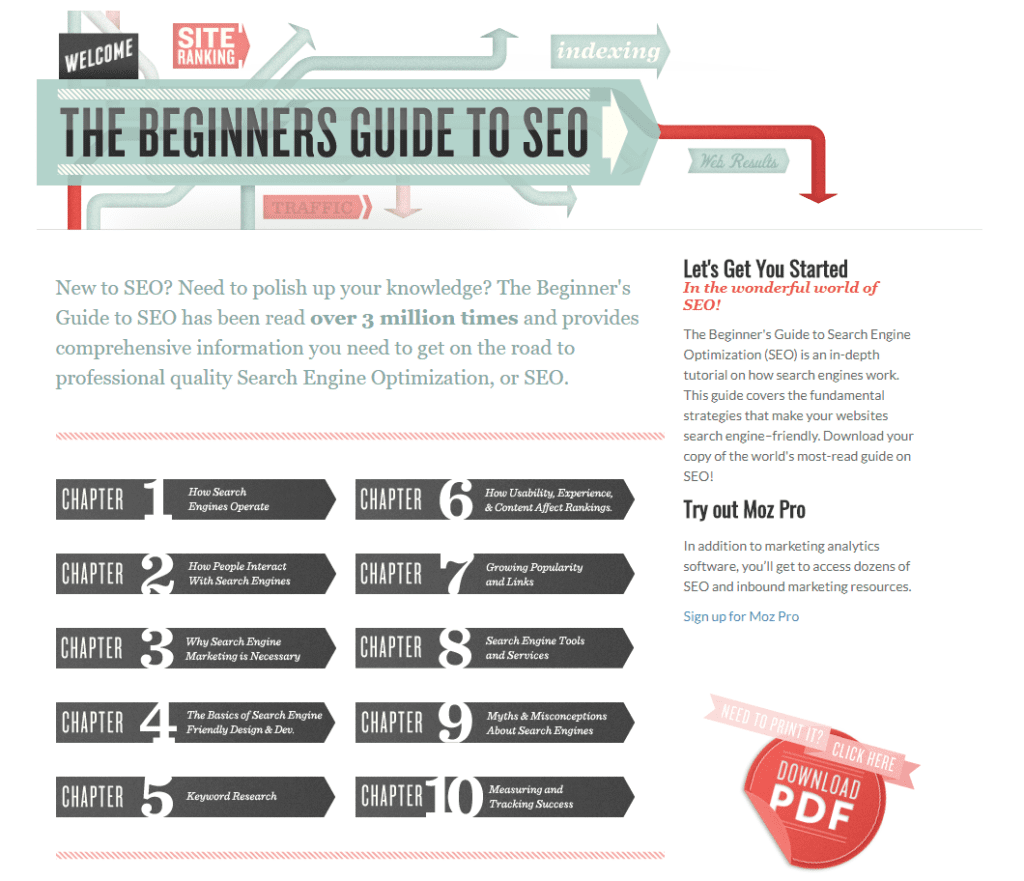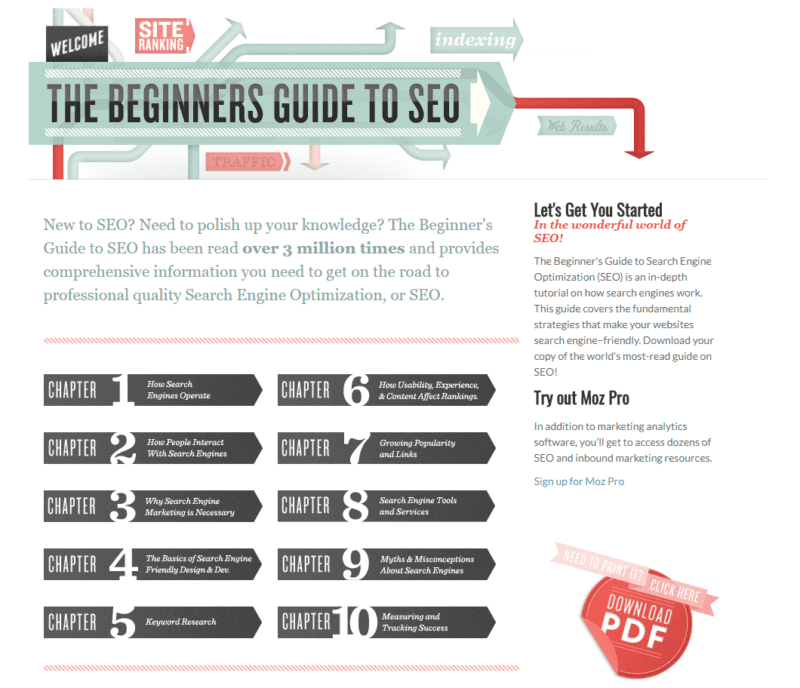 SEMRush offers a free 4-hour 14-part SEO training course. This is a great starter if you're just getting into SEO, or you're just starting to use SEMRush or both. You certainly won't be an SEO master after taking this course, but you will have a great grasp of the basics. When you've finished the course you can also take the SEO certification exam.
Udemy offers a ton of great SEO courses, but this one stands out to me because most websites run on WordPress, and most WordPress SEO is performed with Yoast's wonderful plugin. At just an hour, this is the perfect tutorial for a DIY that works with WordPress. It's worth pointing out that Udemy pricing fluctuates a lot so that $15 could easily be different when you check out the course.
SEO News
Even SEO gurus need resources to keep up to date with what the Search Engines are up to. These resources will bring you the latest and greatest tips and info from SEO industry leaders.
If you want to stay on the bleeding edge of SEO, you need to follow the Moz video blog. Chock-full of in-depth strategies for staying on top of the rankings.
Search Engine Land covers all the Search Engine news as it happens. From breaking news to how-tos, this blog has you covered on all things SEO.
Summary
SEO is really hard, and nearly impossible if you don't employ the right tools. I trust you'll find this list helpful in your quest for Google domination! Are you also running Google AdWords? Check out our footer link to download your free copy of our Great Google AdWords Tools PDF. Or check out our handy resources page for yet more tools!