Despite what's going on with Apple's new privacy measures, Facebook Ads continues to perform well for most advertisers.
But, if you're suddenly upside-down on ROAS or simply want to drive more sales, there are few things you can do other than build better campaigns.
First, you need to take all the steps that Facebook recommends, which include verifying your domain, choosing your relevant events, and setting up the conversion API.
Second, you need to follow Facebook's Power5 campaign methodology to see more consistent results.
Third, you need to address Facebook's removal of delivery and action breakdowns as well as Analytics. This virtually eliminates the possibility for any kind of manual targeting review and optimization within each ad set. Notwithstanding that, you can break out different segments into their own ad sets to split test them. But, unless you have large robust audiences this can be counterproductive.
So what else can you do? A number of 3rd-party Facebook Ads tools are available that claim to boost Facebook campaign performance. In this article, I'll have a look at several top tools, what they do, and whether or not they actually work.
B2B Prospect Lists
These services offer you B2B contacts you can sync or upload to Facebook Ads. This allows you to "target like LinkedIn Ads" on the Facebook Ads platform.
I'm a bit surprised, honestly, that these tools advertise connectivity with Facebook Ads. After all, Facebook requires that advertisers' custom audiences are fully "opted-in" contacts. Of course, like so many other cases, Facebook is probably just looking the other way. Nevertheless, we do not use services like this at my agency, or any farmed/purchased contact lists. Many Facebook Ad accounts get banned for this, yet the advertiser is bewildered and claims they didn't do anything wrong.
That issue aside, do these tools, work? Yep, when used properly.
First, you should always consider a list size of 100,000+ per $50/day of ad spend to avoid overserving and to give Facebook's AI the opportunity to self-optimize based on results.
Second, don't go too broad either. If you're just choosing "small business owners" you may as well use the general interest targeting built into Facebook Ads.
Third, you should ensure that you're targeting the right funnel location. If you offer something with long replacement cycles or narrow appeal, like cyber insurance, asking for a sign-up simply isn't going to work.
Clearbit
Clearbit's "Prospector" service is essentially a searchable business contacts database. They can provide you with contact lists filtered for precisely the audience you're interested in. This includes title, industry, company size, location, and technology used.
For example, you can find US-based marketing executives in the automotive industry.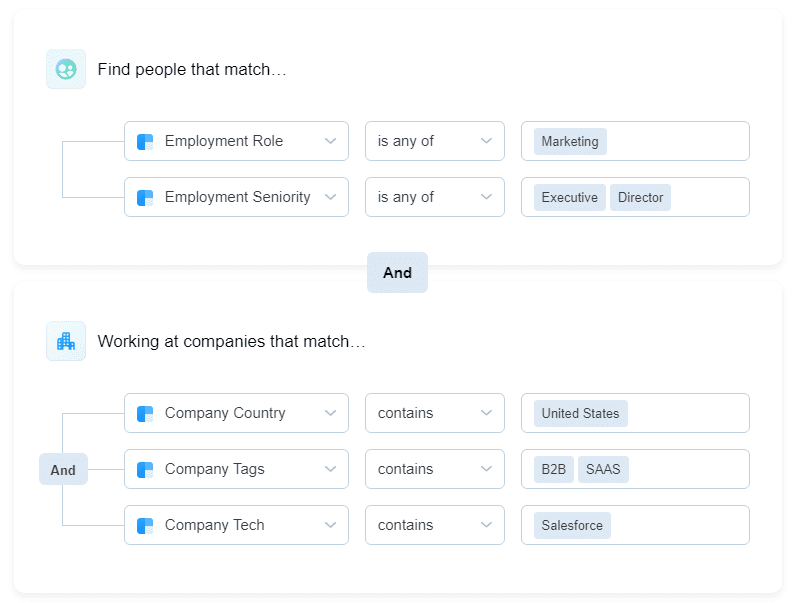 The lists you generate can in turn be synced to Facebook Ads as custom audiences. These lists can be used for high-precision targeting or as seed audiences for lookalikes. In the case of running lookalikes, you should aim for 2.5K+ seed users.
Clearbit connects to Facebook via the API, so your lists are maintained automatically and won't ever require manual updates.
Entry-level pricing for the service is $999/month and goes up sharply based on how many contacts you access. This, unfortunately, makes the tool a stretch for businesses.
Uplead
Interestingly, Uplead also calls their product "Prospector," and it works similarly to Clearbit, with a few notable differences. Uplead claims to offer 50 different search criteria, so you can get even more specific with filters.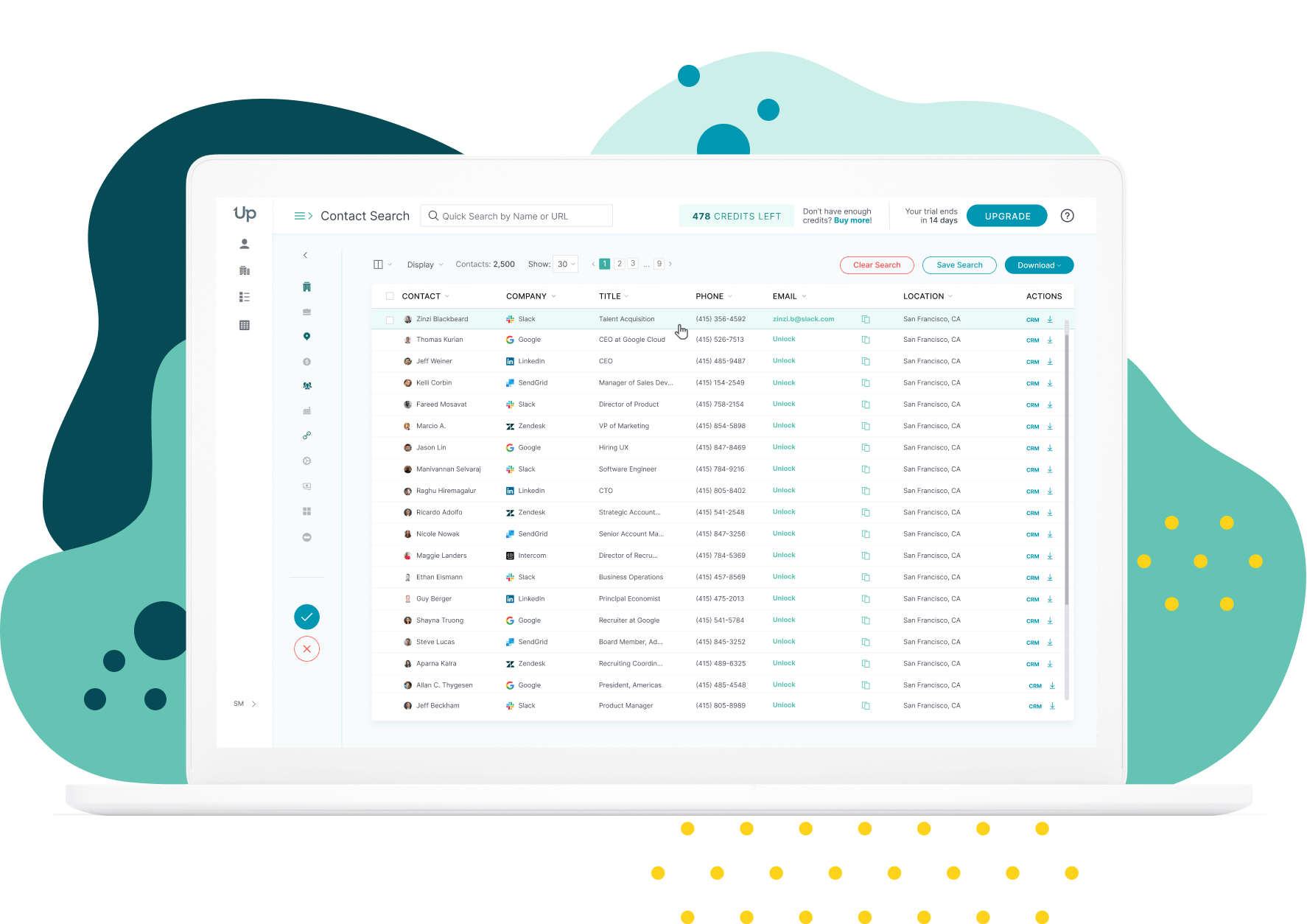 Unlike Clearbit, Uplead doesn't offer an automated connection with Facebook Ads. This is both a drawback and a benefit. To use Uplead's lists with Facebook Ads, you'll need to download them as CSV files and manually create custom audiences in FB Ads. This means that your lists won't update automatically. On the positive, once you've downloaded your lists, you no longer need a subscription to Uplead. And, you can then use those lists for many different purposes such as Facebook Ads, cold email campaigns, LinkedIn Ads, etc.
Pricing for Uplead is a fraction of what Clearbit charges, and that fraction is exactly 10%, with pricing starting from $99/month. However, that will only net you 170 contacts, which isn't nearly enough to create a seed audience let alone a target list.
The bottom line is that both of these services are going to cost you a good buck, at least initially.
Tracking Solutions
Post iOS14/15 roll-out, most Apple users have blocked their devices from being tracked by apps. This has dramatically affected the ability for Facebook to associate conversions and to target the way they used to. In response, Facebook has rolled out a server-side solution called the Conversion API, or CAPI, for short. Without going into great detail, updating your website to support this should restore about 20% of missing conversions, plus enhance your remarketing audiences by about the same amount.
But that's still not great compared to the good 'ole days, Q1-2021.
As a result, it may be attractive to look into a third party tracking solution, which could restore some of these missing capabilities. And if you could get, say 50% more accurate tracking, that would net huge improvements in performance and optimization capabilities.
HYROS
The HYROS solution is one of the best-known thanks to aggressive marketing and has been around for several years. They have always claimed using their software would improve performance, and have become even more insistent with the recent Apple privacy update.
They use something called "print tracking" and state this provides up to 50% more ad attribution. Interestingly, their associated graphic says 2x, which would be 100%, right? And recent video ads vary between claiming a minimum 20% or 30% improvement? Notwithstanding that, they guarantee that their service will "instantly increase Ad ROI." But what's the use of a guarantee that isn't quantified?
What bothers me more, is their list of A+ users, who are mostly made up of self-proclaimed marketing gurus that aren't part of the mainstream.
Is this solution only good for selling marketing webinars or am I missing something?
Pricing starts at $500/month, which isn't a small investment for such a tool.
AnyTrack
Perhaps the main competitor to HYROS, AnyTrack seems a little more straightforward in the implementation and clearer on what exactly you're getting.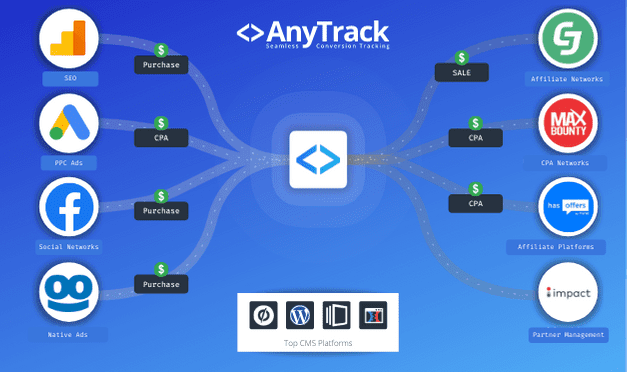 Apparently, you only need to install a single pixel on your site and that then integrates with Facebook's CAPI, Google Analytics, and more. It still "feels" to me like this solution is for affiliate marketers, people selling courses, and the like. But it seems a little more legit than HYROS.
And, instead of a money-back guarantee, you get a 14-day free trial. Starting from just $50/month, this solution is built for small business advertisers.
Creative Split Testing Automation
Creative automation tools facilitate building and testing large complex campaign structures with many ads.
While you can still use A/B split testing features in Facebook Ads, the process is tedious. We much prefer using dynamic creatives, although that then introduces the problem of not having fine control over your finished copy/image sets.
AdEspresso
AdEspresso is a complete Facebook Ads management tool that was acquired by Hootsuite a few years back. It now also works with Instagram Ads and Google Ads. We used AdEspresso at our agency in 2017/2018.
One of the greatest original features of AdEpresso was the ability to easily create dozens, hundreds, or even thousands of ad combinations in minutes. AdEspresso could then automatically optimize spending per unique ad combo based on performance. However, once Facebook introduced dynamic creatives this functionality was not nearly as useful.
If you still prefer old school multi-ad ad sets this solution might be a good fit.
Plans are $99/month for most advertisers.
Summary
We're still seeing very good FB Ads performance for our clients using the Power5 approach. Before doing anything else we recommend implementing Power5, installing CAPI, verifying your domain(s), and prioritizing your conversion events.
Beyond that, it may be worth giving some of these Facebook Ads tools a try. It's obvious that enhancing user tracking, using powerful audience targeting, and performing robust split testing will all improve performance. Of course, some of these tools aren't for those on a tight budget, which is an important consideration.