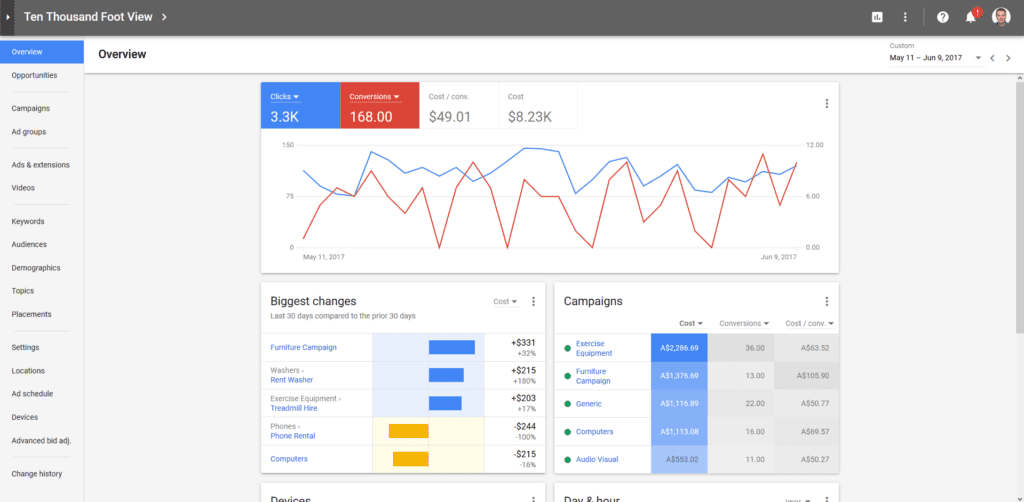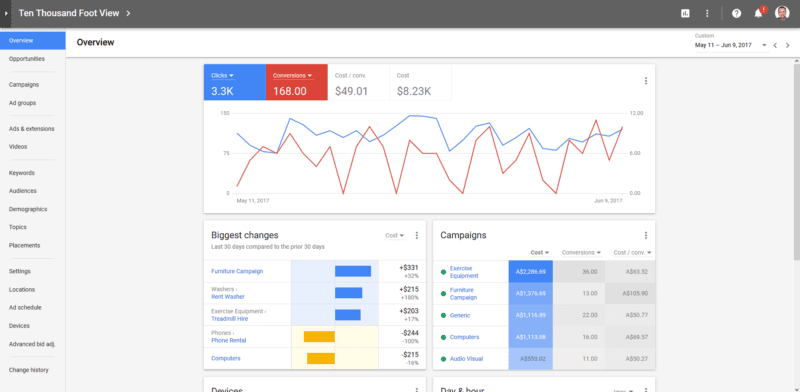 Google recently released the Beta of their new AdWords interface and made it available to a lot more advertisers. Based on our own client base, I estimate that about one-third of accounts now have access. The burning question is, then, should you switch or wait until the full release? Today I'll try to answer that question and provide more insight into the new GUI. I'll explain goals for the new interface, cover the main design features,  discuss some of the new targeting/creative options that are not available in the current interface, and what's not fully baked.
What is the goal of the new AdWords interface?
The new interface is designed for greater efficiency. By redesigning the interface to make more frequently used features easier/faster to access, the idea is to speed up the time to complete routine tasks.
Why does Google care?
If you are more efficient, you are more likely to keep your account up to date. Accounts that are up to date get higher CTRs, more clicks, and Google makes more money. In addition, making AdWords easier to use, will help them sell to DIYs that are choosing between AdWords and FB Ads.
What are the main design features of the new AdWords interface?
Speed
The new interface loads much faster than the old one. This may seem minor, but power users are going to love zipping around instead of waiting for page reloads.
Improved Account Navigation
Google has enhanced the navigation tree but there really isn't much new other than the layout.  The best thing about the new navigation tree is you can hide it to free up real estate. Vertical campaign navigation tabs replace the old horizontal ones. There are far fewer buttons than the old interface which is great, but the buttons don't have text labels; there will be a short learning curve. Many button functions have been moved to menus, such as Dimensions which can now be found under reports and uses the existing pivot table system. Menu items are also more sensible now, for example, ads & extensions are together on one tab as a logical group. Within extensions, you can now see all your extensions at once, or filter for just those you want to work on, bravo! And, hovering over extensions will show you what campaigns they are associated with.
In-line Editing
Further to being able to see all your ad extensions at once, you can also edit them in-line. Want to update a Callout? Click, change, save, done! In-line ads editing is also included. Clicking to edit pops up a simple editor window. You can expand the editor window to a full-screen that includes all the bells and whistles (ad preview, help, tracking template, etc.).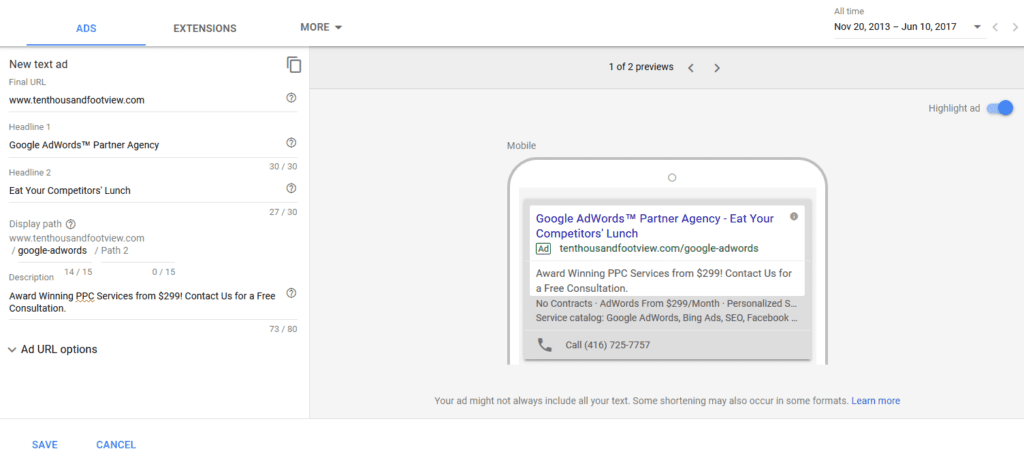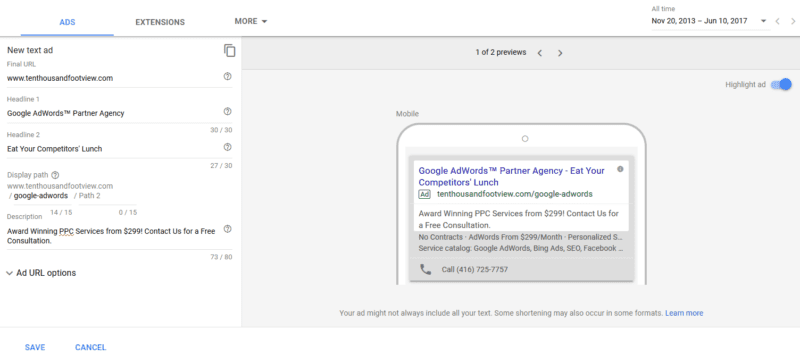 Integrated Overview Reports
Need a quick snapshot of performance for a particular campaign or ad group? No problem, click on the Overview tab to see a plethora of reports for search including performance over time, search terms & keywords, best performing ads, device breakdown, locations, ad schedule and more. Display campaigns, likewise, include the appropriate reports for audiences, placements and so on. This can be a great way to surface trends without digging down into the settings, dimensions, or audiences tabs. Think "Home" menu account overview, only much more visual and available as a drill down tool… great!
Change History
As it stands, it is extremely difficult to map what changes caused a downturn in performance. The new change history (I'll call it an Explorer) is now integral to campaign navigation and provides a lot more utility than the simple log we've had up until now. The "Explorer" window provides a performance graph and clickable KPI buttons that filter for different change types. This allows us to see where we had performance fluctuations and then drill down to the changes that affected performance. Filtering is also enhanced, so we can see what tool (method) was used to implement the change such as the web client, automated rule, script, etc. It would be super if Google would allow us to map changes right in the graph, pretty please?


Campaign creation flexibility
If you're like me, you don't create a campaign, ad group, ads, and keywords in the order that Google has designed for us. Thankfully, the new interface allows us to create different campaign elements in any order we'd like.
What are the new targeting and creative abilities of the new AdWords interface?
Google has added a couple of excellent features that won't be coming to the old interface.
First up, we have demographic income targeting for search & display. Like with other demographics, we can set bid adjustments or exclusions for different groups. Google doesn't use income in dollars like Facebook, however. You can target income by percentage, top 10%, 11-20%, 21-30%, and so on, noting that the "lower 50%" is one group. It has yet to be seen what % of users will qualify for income targeting vs. the "unknown" group.


Secondly, Google has added a new Promotion Ad Extension. Promotions are temporary offers (discounts) you run on specific products or services. You can select from pre-built occasions (Christmas, back to school, Black Friday, etc.) and set a date range for the promotion. Promotions include a % or $ amount discount, product description, and link to the offer page. You can optionally add a qualifier (minimum order value) or a promo code. This is brilliant and a long time coming! The Promotions extension eliminates the need to frequently replace creatives in situations where you are constantly changing promotions. Getting access to this feature alone may make it worthwhile for some advertisers to switch…. but keep reading.

What's missing from the new AdWords interface?
The new interface looks and works great, but when I tell you what's missing you're not going to like it. Here's a grocery list of what's not available yet:
Message Ad Extensions
Automated Rules & Bulk Uploads
Copy/Paste (this one is a huge inconvenience)
Some Business Data & Shared Library (negative keyword lists, shared budgets, bid strategies, etc.)
Mobile App Installs and Dynamic Ad campaign sub-types
MCC level scripts
It's worth pointing out that Google indicated many features as unavailable that have, indeed, rolled out to my account. Features not available in the new interface are generally available with links to a new tab that loads the old interface. With a planned full release by the end of 2017, I wouldn't be surprised if most of this gets sorted out over the summer.
My Recommendation
The lack of oft-used features makes the new AdWords interface kind clunky for most users as an everyday tool. Thankfully, you can easily switch back and forth between the old and new interfaces but that may be more work than it's worth. I recommend not changing just for efficiency. If you see a substantial benefit in having income targeting and promo extensions go ahead, otherwise give it a little more time. Of course, if you'd like to occasionally access the enhanced change log or integrated reports to perform some analysis, that's a great idea and exactly where I'm at right now.
Overall, the new AdWords interface is going to be a big improvement over what we have now. The Beta isn't quite ready for prime time, most users should give it a few more months to mature before taking the plunge.
Would you like help with your Google AdWords account?  Learn about our Google AdWords management services.