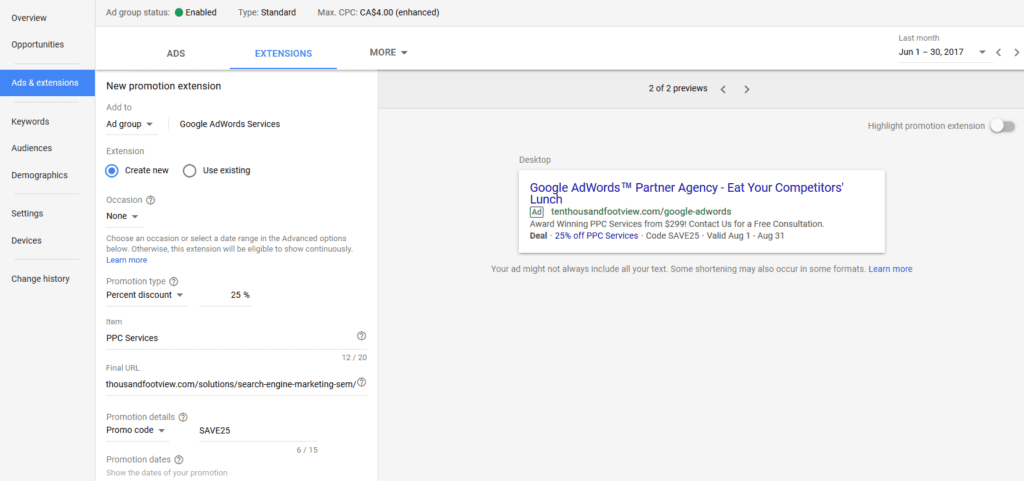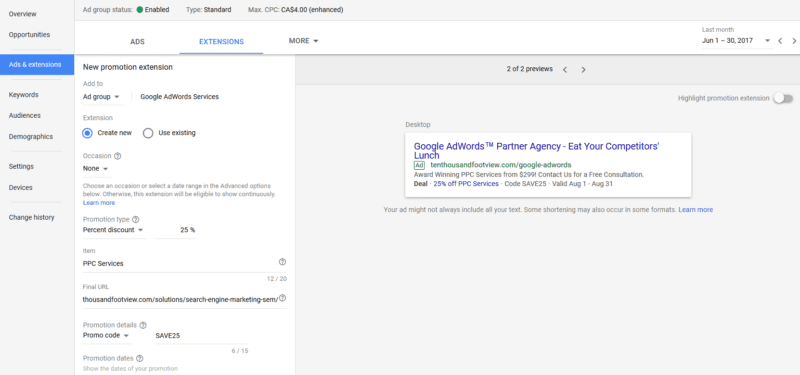 As part of the new AdWords interface, Google has introduced new Promotion Extensions. These are absolutely brilliant for any advertiser that regularly offers discounts on select services or products. If you have access to the new interface beta you can start using them right now.
Today, I'll go over the nuts and bolts of Promotion Extensions, and how you can use them strategically in your AdWords campaigns.
What are Promotion Extensions?
Promotion extensions are clickable discounts that appear below your main ad texts. Promotions contain several parts, which I will discuss in a moment. They can run at the account, campaign, or ad group level, and can be scheduled to run at certain times between user-selectable dates.
What are the benefits of using Promotion Extensions?
There are several benefits to communicating special offers through this extension vs. in ad text or Callouts. Let's say you are running a promotion for 50% off 3 of your 10 services. Let's look at the different options:
a) Replace ad text for the relevant services
Great, so now your ads include the promotion. But this, of course, comes at a cost. First, you have to remove other ad copy that may be providing important details about the features and benefits of your services. Second, you have just killed any ads split testing that was in progress. Third, you need to manually swap out the ads at the start and end of the promotion period. Are you really going to log in at midnight to make those changes? Fourth, what if you want to highlight this promotion across all your campaigns… change all your ads? I don't think so.
b) Highlight the promotion in Callout Extensions
This is the current best practice for most situations. By using Callouts you can avoid the issues the result from changing creatives, and you can roll the offer out to whatever ad groups or campaigns you want. But, don't forget to cut your Callouts down to a maximum of 4, or Google won't always show your promos. And, the problem of turning the offer off/on at the appropriate times still exists. Oh, and since that Callout is not clickable, people may have a hard time finding the offer page after clicking on an ad that points elsewhere.
c) Use Promotion Extensions
Enter Promotion Extensions, which solve all of these problems. Promotion Extensions can be set at the ad group, campaign, and account level so you can easily choose where they will run. Second, you can optionally schedule start/end dates for the extension to automate everything. Third, Promotion Extensions are clickable, you can send people directly to the relevant promotion page. Lastly, they stand out way more than a Callout and look great.
Great, how do we create Promotion Extensions?
Promotion extensions are fairly easy to create but there are a lot of elements to consider. Let's run through that long list right now.
Occasion
Google offers a preloaded list of popular occasions for running promotions. This includes common holidays like Christmas and Labor Day as well as shopping-related occasions "Back To School," "Black Friday," and "Cyber Monday." If your promotion isn't related to any of these occasions you can also choose "None." Note, that if you select an occasion your promotion can only run on qualifying dates.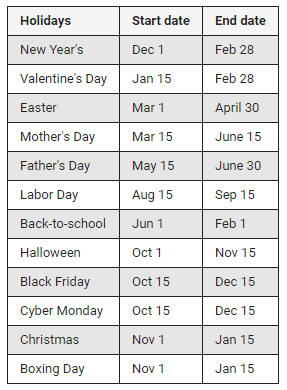 Promotion Type
There are 4 options for the different ways you can offer your discount. You can either offer a % discount or monetary discount, and you can optionally choose an "Up-To" qualifier for each of those options. For simplicity, Google provides a drop-down menu with the 4 options. Next to the drop-down menu, you can add your value, 15%, $50, or whatever.
Item
Pretty self-explanatory, this is where you describe the product or service that's on sale. As you'll see, space is a little tight with only 20 characters available, so be concise. Be sure to use a category name if a number of products are on sale, or just say "All Products" or "Everything" if you sale includes the kitchen sink.
Final URL
What landing page do you want to send people to when they click directly on the Promotion Extension link? That goes here.
Promotion Details
Here, you can optionally add a promo code or specify a minimum order value to qualify for the promo.
Promotion Dates
Not to be confused with Extension Scheduling, these dates are just textual and notify your audience of the dates when the offer is valid. For example, maybe you are offering 30% off on all items in your store from August 15th – 31st. You would set your promotion start date as August 15th and end date as August 31st. Don't want to show dates when the offer is valid, just select the "None" option for start and end dates.
URL Options
Here you can optionally set up a tracking template and an alternate URL for mobile devices, simple right?
Advanced Options
Under advanced options, you can choose to target mobile devices only, and you can schedule the extension. There are quite a few options for scheduling available. In the example above, you might set the extension schedule start and end days to match what you'll advertise to your audience, or you might not. How about starting the extension a week or two before the sale starts so that consumers are aware of the promotion ahead of time? Smart, right!
Besides setting the extension start/stop dates, you can also set up a customized schedule to run the extension at certain times on specific days of the week. Say your restaurant doesn't get many patrons on Monday & Tuesday afternoons. Perhaps you can run this promo to mobile devices during these days/hours to bring in more diners? Note that dates and times will sync up with the timezone set in your AdWords account.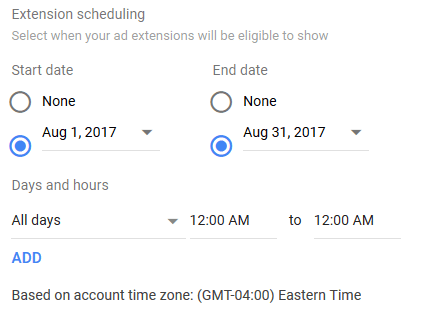 How do I know if the Promotion Extensions are working?
Like all other extensions, you can view reports on a full range of KPIs for Promotion Extensions.
Is it time to get professional help with your AdWords campaigns? Check out our Search Engine Marketing services to learn what we offer.