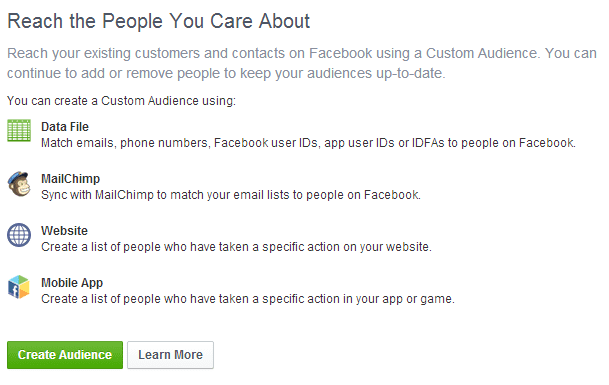 If you use email marketing in Canada and your contacts have not "opted in" under the upcoming Canadian Spam Legislation you may be at a loss for what to do after July 1st. In case you didn't already know, effective July 1st, 2014 all contacts on your email distribution list must officially opt-in for you to be in compliance.
If you are in the habit of scraping contacts, buying contact lists or using lists you have access to through association you need to stop emailing them next week or face potentially stiff penalties.
Ok, no more email marketing – so now what?
Facebook Custom Audiences
If your business is B2C you're in luck; Facebook Ads allow you target your own mailing lists. To create this new target group simply "create a new audience." You can do this by either importing your contacts from MailChimp or uploading a CSV file containing email addresses or phone numbers from your contact list(s). Facebook will automatically find FB users with those credentials and add them to your new audience. While you aren't going to capture 100% of your contact list we've seen very good results so far.
Once you've created your new audience you can target them with any type of ad campaign. If your goal is primarily lead generation we recommend domain ads or page post link ads. If you want people to sign up for a seminar or webinar Facebook event ads are the perfect vehicle.
What about B2B?
Unfortunately, if your business is B2B Facebook isn't a great solution. The vast majority of people that sign up for Facebook use their personal address and phone number rather than their business contact info. If you are B2B we recommend trying LinkedIn Ads. While you are not able to market specifically to your existing contact list LinkedIn has great tools for exact targeting by industry, company, job title and interest groups. If you try out LinkedIn and find you run a negative ROI (a common problem) consider trying a Google AdWords search campaign.
Think it's time to outsource your Search Marketing needs? Here's what we offer to our SEO clients.