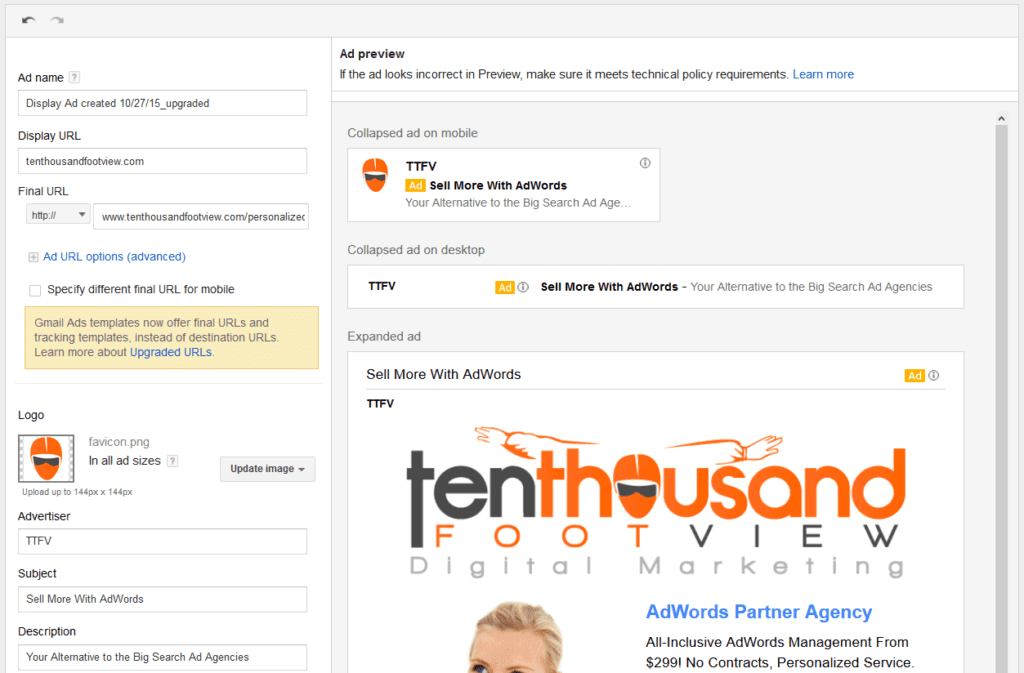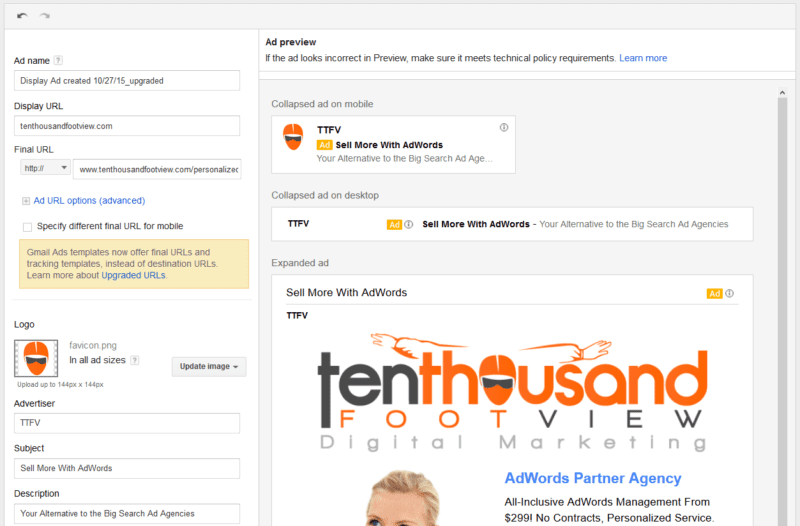 Note: Gmail campaigns are no longer available. This functionality is now included in Discovery campaigns.
Two years ago I wrote a post called "Eat Your Competitors' Lunch with Search Engine Marketing." Some people loved it, some hated it, some got up to grab a snack. Today I'm going to show you how to do the same thing using Gmail Ads.
Gmail Ads has been around for a while, but the ad type is poorly understood and infrequently used by AdWords advertisers. That's a shame because there are opportunities with Gmail ads that don't exist on the regular GDN. I will touch on some of these capabilities at the end of the article, but now, onto the meat of this post!
Domain Targeting
Note: Effective September 27th, 2017, Google discontinued Domain Targeting in Gmail Ads.
With Gmail ads you can target Gmail users that are sending and receiving emails to and from specific domains. Google will scan the most recent few hundred emails and if it finds a match, will show your ad. Armed with this ability, you can target your competitors' domain names. Just to be clear, you get to show your ads to people that are in communication with your competitors. This could be people receiving email newsletters, quotations for services, contacting support about a product issue, or getting a reminder to extend a subscription. There you'll be with your important offer!
To setup domain targeting, add all the domains of interest as keywords using the format domain.com. Be sure not to include anything but domains, or Google will default to using them as keywords.
Keyword Targeting
This method is somewhat less targeted than domains, but you can target competitor brands as keywords in Gmail ads. Instead of matching to email domains, Google will look for your keywords in email content. In addition to targeting emails to/from competitors, you will also target anybody that's discussing those brands. For example, you might match with an email recommendation about a brand from somebody's friend or colleague.
Audience Vs. Content Setting
GMail ads only works with Audience targeting so ensure you choose this or your ads won't run.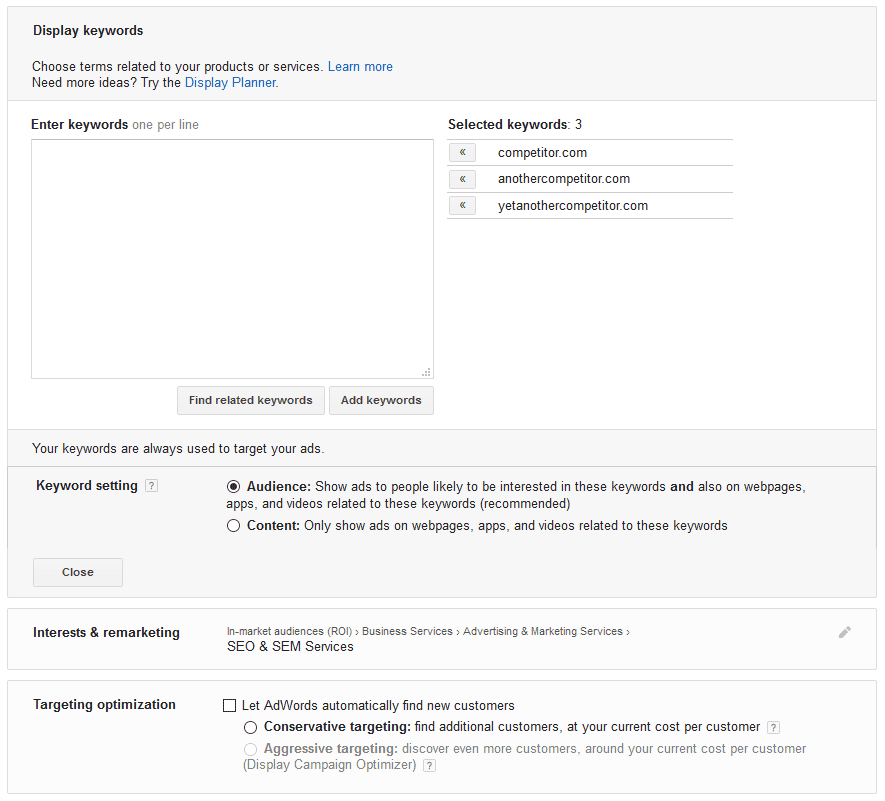 Creative
Gmail Ads use a special expandable ad format. The easiest way to create Gmail ads is to use the Gmail Ads option in the Ad Gallery. Here you can choose from 4 different ad types, depending on what you offer, or you can upload an ad you designed outside of AdWords.
Your offer should specifically consider that your audience is already familiar with, using, or interested in your competitors' products. Use messaging that distinguishes your product from others. Consider making a stronger offer than your normal search ad pitch to steal existing users away from another option. If competitor "x" offers a 14-day free trial, you offer a 30-day free trial. If competitor "y" is 50% more expensive, you highlight pricing in your ad. If you have 5 direct competitors that you can beat in different ways, segment them into different ad groups and run ads that explain exactly why you are better than each and every one.


Optimizing the Campaign
Like GDN, you can optimize your Gmail campaign in many ways. Here are the most common ways to optimize:
Adjust your ad group bid or keyword bids individually based on performance (also pause low-performing keywords)
Demographic targeting, either based on performance or on the demographic segments you are most interested in
Set bid adjustments for devices, locations, ad schedules
Optimize your ads, split testing and ad rotation settings
Limit the number of daily impressions per user (I usually start out at 3-5)
This is clearly not an exhaustive list.
Other Tricks with Gmail
While today's topic is "Eating your Competitors' lunch" it is worth a quick mention of some other ways to use Gmail Ads. You can also target your own domain or brands as a way to beef up your remarketing efforts. For example, if you sell 3 different brands, you can create individual ad groups targeting the respective brands as keywords with specific offers.
One really nice thing about this tactic is that Google does not restrict remarketing healthcare products through Gmail. We work with a lot of healthcare clients and always struggle with the inability to use RLSAs or display remarketing ads. Outside of turning to AdRoll or Facebook Custom Audiences, this is a pretty solid alternative.
You can remarket to a list of gmail.com users from your email subscribers and/or customer lists. This is a good option for you if you have at least 1,000 active gmail.com users (realistically a lot more) in your list.
Gmail Ads has some special KPIs for tracking ad saves, ad forwards, and clicks on the expanded ad variation, over to your website. These numbers can be helpful for storytelling, whether you are working on AdWords in-house or for a client.
Summary
Here's another opportunity to show up where your competitors' are communicating with your audience. If you've had success using competing brands as keywords in search, there is every reason to believe you can have success doing so with Gmail Ads.
Is it time for you to outsource your Search Marketing needs? Here's what we offer re: Google AdWords.