Instapage is our weapon of choice for landing page design and multivariate testing. We offer these pages to our clients under a turnkey service model. Instapage has always been great but has really upped their game over the past couple of years.
Today we're going to count down the top 10 new Instapage features from the past couple of years.
DISCLOSURE: Some of the products mentioned in this post may contain affiliate links that at no additional cost to you, we may earn a small commission. Importantly, we only promote products that we use ourselves.
10. AMP Landing Pages
One of the most recent updates over at Instapage is the ability to create AMP landing pages. As we know AMP is all about mobile speed. Faster loading pages lead to higher conversion rates, and that means more profits for advertisers. To add to that, you can now have fast loading AMP landing pages, plus the ability to split test, all-in-one. While this only made it to number 7 in our list, it's certainly something you should consider implementing.
9. Instablocks & Global Blocks
Instapage now supports "Instablocks" which allows you to save pre-existing blocks of content and then reuse them on other landing pages. This allows you to quickly insert common elements like footers, top content, call-to-action sections, and virtually anything else you might want to reuse across multiple pages. The truly magical part is "global blocks" wherein you can update those blocks and all pages will be updated automatically, just as if you're working with a content management system (CMS). Alas, global blocks are only available for enterprise clients.
8. Heat Maps
Google Analytics users were disappointed last year when Google pulled the plug on heat-maps. I'm sure the executives over at Hotjar were jumping for joy. If you don't want to pay for a Heat Map solution and already have Instapage, you're in luck. Instapage now has heat maps baked in. The heats maps feature supports mouse movement, clicks, and scroll depth and you can review performance for specific landing page variations too. This tool is perfect for determining where to split test and what elements are duds.
7. Image Masking
Just this past week Instapage announced their new image masking feature. Simply put, this tool allows you to reposition and/or crop images on the fly so that you can keep your content area the same size and shape without having to edit your image externally. While this doesn't improve the user experience it may shorten your page development time pretty significantly.
6. Pop-up Forms
Can't spare the space for your form, no problem! You can now create a pop-up form that's linked to a button. While we are still fans of embedded forms there are some occasions where you simply need another solution. Instapage claims that pop-up forms can increase conversions by up to 35%. We're not so sure but it is an easy matter to split test a page with and without the pop-up and judge for yourself.
5. Application Integrations
Instapage already supported a wide range of integrations but this year they've been adding a ton of new partners to their line-up. These integrations automatically pass contact data from your Instapage web forms into your CRM or email marketing application. Instapage now supports the following integrations (partial list):
Infusionsoft
Zapier
Hubspot
Mail Chimp
AWeber
Constant Contact
GetResponse
SalesForce
Madmimi
ZOHO
Webhook
ActiveCampaign
Campaign Monitor
Autopilot
Establishing your integration is super easy and can now be set up globally for all your landing pages within the control panel.
4. Pre-filled Forms
Another great upgrade is the pre-filled forms feature. This brilliant shortcut pre-fills user information based upon any Instapage form that was previously submitted by the visitor. Instapage claims this can increase conversions by up to 2x! And, with over 150,000 businesses using Instapage the odds are pretty good that many of your visitors are going to see pre-filled forms.
3. Facebook Page Support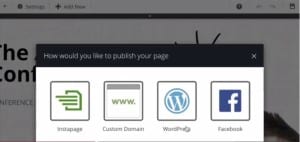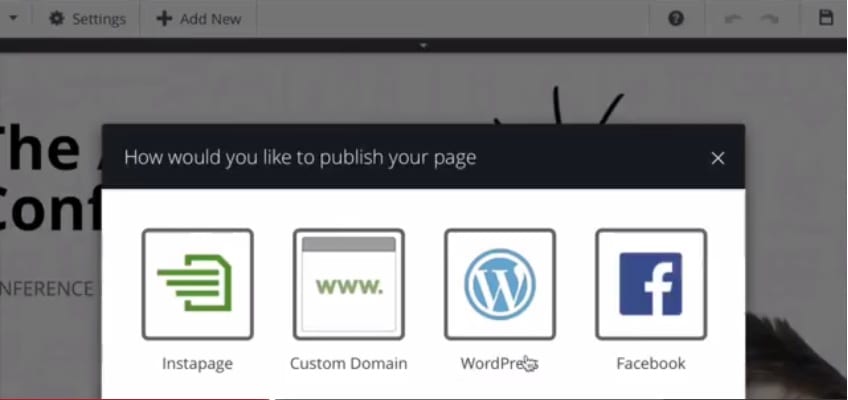 Back in December 2014, Instapage rolled out support for Facebook pages. This is an absolute game changer for small businesses that don't have a website or those that already do a lot of promotion through the massive social media platform. Uploading your Instapage landing page to Facebook takes seconds and represents a huge improvement over other Facebook landing page options. Check out the Facebook landing page feature here.
2. Mobile Responsive Landing Pages
With so much emphasis on mobile-friendly websites and ads this year this update was an absolute must.  Mobile Responsive landing pages from Instapage makes the process of developing mobile compliant landing pages a snap. This great time saver automatically builds a responsive mobile version of your regular landing page. Once you've completed your main page, click on the mobile icon and make a few tweaks to get things looking exactly how you want. Click publish and you're done… no more building two separate designs from scratch.
1. Template Importer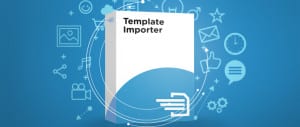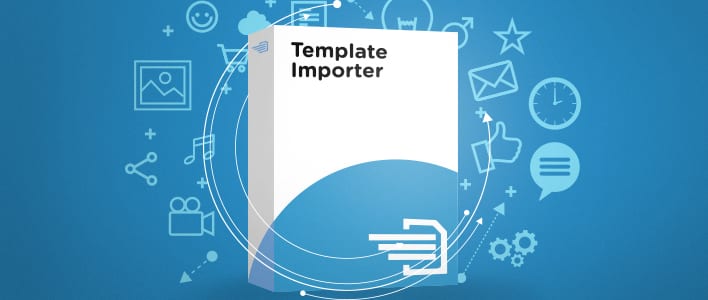 The new template importer is like black magic. It is so simple and yet so powerful:
a) Find a page you like anywhere on the web
b) Click "create a new page" in Instapage and select the Template Importer option
c) Enter or paste the web address of the page you want to copy and click Import…..
And you're done! Within 2 minutes your new landing page is built automagically. Once complete you can make some small adjustments like adding your own logo and copy. It doesn't get any easier than this.
Summary
Instapage has come a long way in the past year. The service has added loads of amazing features while still remaining easy to use for designers and non-designers alike. We can only imagine the service will only get better as time goes on.
If you have a need for a landing page we encourage you to check out Instapage. Need help with implementing this, check out our Landing Page Services.