About a month ago Google launched Gmail Ads for AdWords. Prior to this you had to run Gmail ads in the separate "Gmail Sponsored Promotions" platform. The change makes it easy for AdWords advertisers to expand their display campaign reach to Gmail users.
More importantly, though, Google just rolled out support for uploaded customer email lists. With the continued onslaught against spam, many email advertisers have seen open rates decline over the years. Add to that the fact that Facebook and Twitter already support uploaded email lists and it was inevitable that AdWords would soon include this ability.
Today we'll look at how these new features work separately and together for your business.
What's the big deal with Gmail ads?
For starters, Gmail reported 900 million users as of May 2015, and 75% of that user base is mobile. For comparison, Facebook boasts 1.5 billion users. This is a huge new opportunity to reach people with your targeted ads. In a few bullets, here's what you need to know:
Gmail has its own custom "expandable" ad format which you can find in ad galleries
You can upload html ads (great for folks moving from the old platform)
You can build your ads using a variety of solid tools provided right in AdWords
Targeting is similar to regular AdWords display campaigns (keywords, interests, affinities, demographics, location)
You can add remarketing lists from Google Analytics, AdWords, and Youtube – but they won't work, at least yet
You can target an uploaded email contact list – more on this later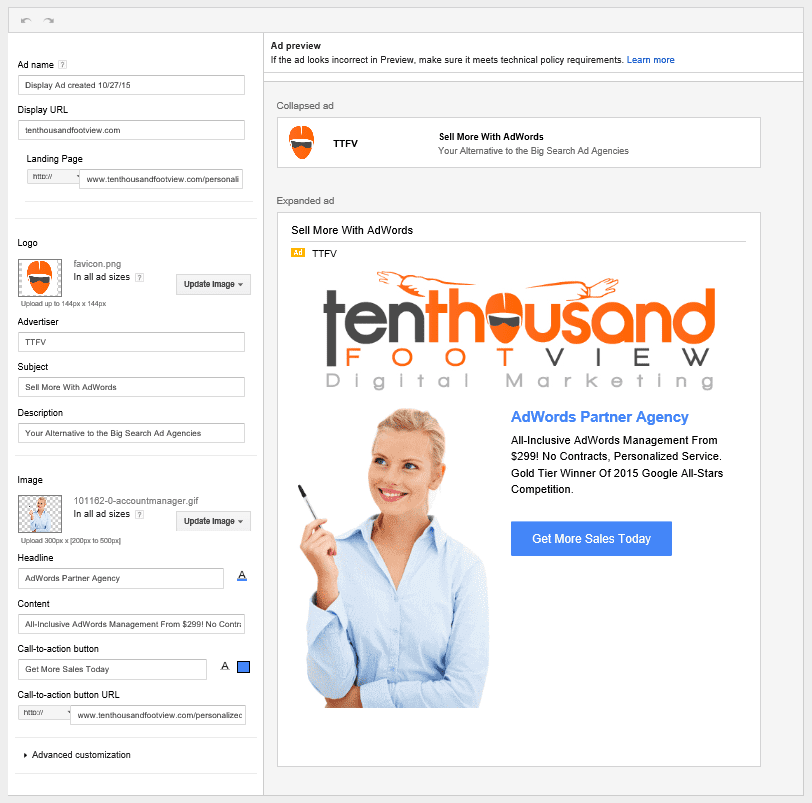 Creating an ad with the Gmail "single promotion template" was pretty straight forward, although there are a lot more fields/steps than creating other ad types. With expandable ads you need to set separate graphics and text for the folded and expanded versions, along with separate calls-to-action (you can use two different landing pages, if you wish). The ads, frankly, look great!
How do I upload and use my email lists in AdWords?
Uploading a list in AdWords works much in the same way you'd build a custom audience in Facebook. Go to "Shared Library," click on "Audiences," and click on the "+ Remarketing" button to get started. You'll need to include the following:
Name for your new list – make it meaningful if you plan to have multiple lists
Email contacts file – should just be a list of email addresses in CSV format and must be < 25 MB (if your list is bigger you'll need to split it and add one after another)
Email opt-out link – this is where people can go to opt-out of your email list
Membership Duration – the number of days new contacts will stay active (works the same as a regular remarketing list)
Once you've uploaded your list it'll take a bit of time for Google to review and match to Gmail users… about an hour in our test. Note also, that your list must contain at least 1,000 active users for your ads to run.
With list in hand you can start marketing to this target group. AdWords currently offers two options for this type of list.
Customer Email Lists and Search Remarketing
You can add an uploaded customer email remarketing list to any search campaign and include a bid adjustment for it. Say your ads are averaging 5th position which works well given your current goal to generate as many opportunities as possible within your budget. You know that previous customers (from your list) more likely to convert than first time visitors. Consider setting a bid adjustment here to display your ads in a higher position.
Customer Email Lists and Gmail Ads
You can add an uploaded customer email remarketing list as a target for any display ad campaign that includes Gmail ads. Like all display targets you can set a bid that's appropriate for your list. We all already know remarketing conversion rates are fantastic; here's another opportunity to drive more leads/sales, and in a brand new channel.
What you can't do with Customer Email Lists
Unfortunately you cannot target platforms other than Gmail. While it is probably true that most people stay logged into Google services 24/7, Google isn't allowing us to target them on the 3rd party Google display network (GDN). Also, there is no ability to target these people on YouTube, for now. As stated above, there is a minimum list size of 1,000 for your ads to run.
Also, all the policies that apply to regular display remarketing also apply to Gmail ads.
Summary
The new uploaded customer lists and Gmail ads features, alone or in combination, can expand your reach and increase profitability. Think it's time to outsource your Search Marketing needs? Here's what we offer for our Google AdWords clients.