Now more than ever before, Google is looking to social proof (reviews) as a component of E-A-T (Expertise, Authority, and Trustworthiness). Today I'll cover everything you need to know about reviews and how to get user ratings (stars) displayed in your organic results.
How can reviews help?
First, Google is watching! Google monitors reviews that are external to your site including review volume, recency, and rating. This includes Google My Business, Amazon, Yelp, Facebook reviews, Angie's List, BBB, and many more. Google uses these external reviews as an increasingly important signal for ranking your website.
Second, Google (Bing too) uses rating widgets from your website to add rating snippets to your organic search results. The snippets include a graphical "stars" display a numerical rating and total number of votes. Results with rating citations stand out over other results which leads to 10% average higher CTRs (click-through-rates). And we already know that higher CTRs is a signal of great content that deserves a higher ranking.  Note that while Google My Business reviews are specific to a particular business, the organic rating snippets can be for your business, or for a particular product or service. In the example below, our agency is "apparently" rated for Google AdWords but this rating really comes from our Google My Business reviews. I'll touch on how this works a little later.

Lastly, reviews help your prospective customers make a positive buying decision about your wares. While this may not help you rank higher it'll certainly help you sell more.
Which reviews should we focus on?
The short answer is, it depends. First, consider focusing on a reviews service that caters to your niche. If you run a hotel chain, you have to be on TripAdvisor, if you offer home renovations, you have to be on Angie's List. Are you the owner of a coffee shop, you had better be on Yelp! You get the idea.
If you don't quite fit into any of the speciality categories, and even if you do, you should be working on your Google My Business reviews. There are several simple reasons for this. Google trusts their own reviews above all others. It is extremely difficult to "game" the system and you can bet that Google isn't suddenly going to discredit their own reviews platform. Most importantly, Google My Business reviews are interoperable with organic and paid search results as well as your main business listing.
Additionally, consider fostering reviews anywhere you're already getting good traction. This may be Facebook reviews or Yellowpages, or wherever. People are much more likely to leave a review when they already see many existing reviews; herd mentality.
What if we have a shopping site?
If you sell a lot of different products online, you should absolutely set up product ratings. Product ratings are specific to each product you sell and appear in both organic results and shopping ads. As with reviews, these results really pop. All major shopping cart systems (Shopify, Magento, Bigcommerce, etc.) offer product ratings support out of the box or with plugins. Set up is really easy, getting ratings is a little more difficult, of course.

How can we get more reviews?
Honestly, you have to work at it. If you're great at what you do you might get quite a few reviews without even trying. But to accelerate the process you need to be asking for reviews. How and when you do so will depend on your business. Here are some general guidelines:
If you have a small number of clients consider direct outreach immediately after you do something great for the client
If you are in regular communications with your clients consider including review requests in those communications
Do include one or more ways for customers to leave reviews on your website
Where facilitated, respond to both positive and negative reviews
There are also some great tools for managing the entire review process.
Birdeye.com provides tools to request and accept reviews through email, SMS, website, social and more. In addition, they provide full-blown monitoring & management tools so you can stay on top of your reviews & responses. Birdeye works with all major review services so you're fully covered. This is my first choice for a full review management suite.


Another option is Trustpilot.com which sort of short circuits the review process. Rather than working with existing services, Trustpilot has created their own reviews service. This provides your business with greater control and a single place to grow your reviews. One downside is that many people haven't heard of Trustpilot and don't know what to make of their reviews. Another issue is that once you start using Trustpilot there is no way out of it, without losing all your hard earned reviews. Lastly, this system isn't appropriate if you need to be on one of the speciality review services like Tripadvisor.
How do we get organic star ratings for our site?
Getting rating snippets is really straightforward.
First, Google may decide based on your reviews volume and recency to automatically show seller ratings on some of your organic results. To qualify you must have at least 150 reviews in the past 12-months plus a rating of at least 3.5. This works fine for big brands but many smaller businesses don't have much chance of getting that many reviews.
Second, you can place review or product rating widgets on your website that includes structured data for the rating. For both seller and product ratings, this includes information about your number of reviews and average rating.
Once you have at least 5 ratings Google will start showing your ratings in results. Note that seller/product ratings are page specific so you'll only see your "star ratings" for pages where you've implemented the widget and structured data.
Implementing seller ratings can be done manually if you wish, and here's a help article from Google that explains exactly how to do that.
But there are easier ways for sure. Both Birdeye, TrustPilot, and similar review management solutions can place the seller widget and structured data right on your site. And, as I mentioned above, most Shopping Carts offer this functionality natively or as a plug-in.
Alternatively, if you use WordPress, you can use a standalone WordPress plugin to implement this. I like (and use) the Google Reviews Business plugin from RichPlugins. It's easy to use, highly configurable and costs just $65/year for the paid features. With it, you can display reviews or a simple badge. If Google My Business reviews isn't your thing, they also offer widgets for Facebook Reviews and Yelp!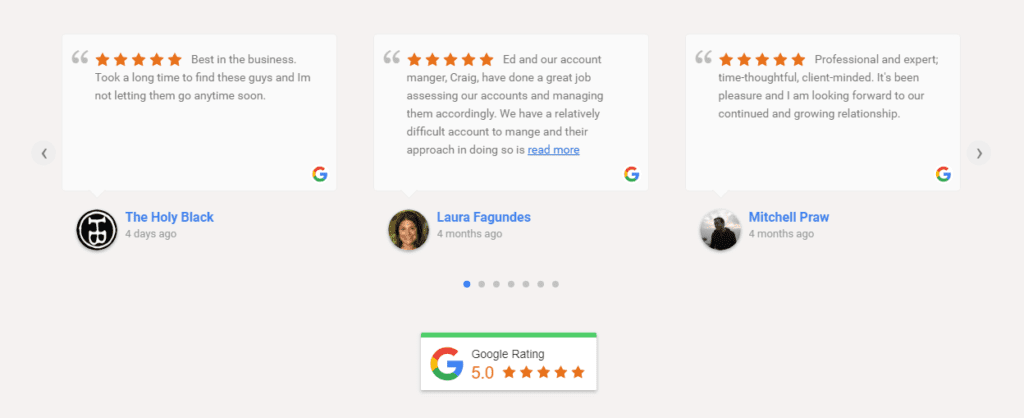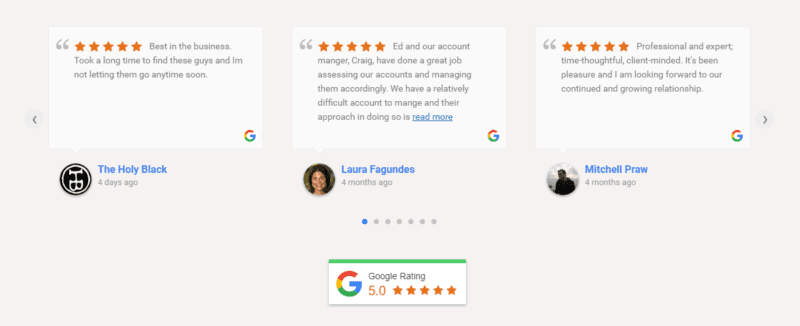 Summary
If you aren't managing your reviews as part of your overall marketing plan, now is the time to start. Social proof is not only for users any more, but it's also for Search Engines! Get started by taking stock of your current reviews portfolio and figure out which review services you should focus on. Next, build a system for generating and managing user reviews. Finally, get those reviews published on your site and showing up as seller/product ratings on Google and Bing. Building a great review portfolio is a long road but one well worth travelling.