Getting a low-quality lead is often worse than getting no lead at all. Having long conversions with go-no-where prospects does nothing but eat up time. And, when you get a lot of low-quality leads, you might be optimizing your campaigns for the wrong conversions.
But how do you improve lead-quality without scaring away the juicy prospects? That's what I'm going to cover today.
Adjusting Your Offer's Funnel Position
Lead-magnets are all the rage. You give something of value away for free (typically an e-book or webinar) and build a massive list of potential clients, or what you think might be potential clients. These "contacts" generally have a very low level of interest in buying anything from you. Can you convert some to clients? Absolutely, but it's a big numbers game.
Alternatively, you can go for the jugular, with a call to action like "book a free assessment" which gives you an opportunity to speak directly with your prospect about their needs.
If you're not having any luck with lead-magnets or a wishy-washy call-to-action like "contact us" consider putting out an offer that asks for the prospect to put some real skin in the game.
Bulk Up Your Web Form
It's no big secret that shorter forms tend to have higher conversion rates than their longer counterparts. The more "work" you ask a prospect to do, the more interested those people that complete the task are. If you're currently using a bottom of funnel offer but only ask for a name and email consider adding more qualifying questions.
For example, ask for a phone number and make it a mandatory field. People that are unwilling to provide a call back number are tire kickers and time wasters. They are simply seeking "information" rather than looking to buy products or services immediately.
If you're a B2B, ask some qualifying questions like budget, annual sales, and what business challenge they are trying to solve. This will give you a strong indication of whether they are a hot qualified lead, or too small for you to help.
If you're a B2C, ask about the prospect's timing, and get them to describe what exactly they need help with. Are they having problems choosing a color? Great! Are they "asking for a friend?" Not so great.
That said, be careful about asking too many probing questions or having a form that's longer than 5 or so fields. There is a tradeoff between getting high lead-quality and reducing your lead volume so low that it affects your ability to optimize campaign conversions.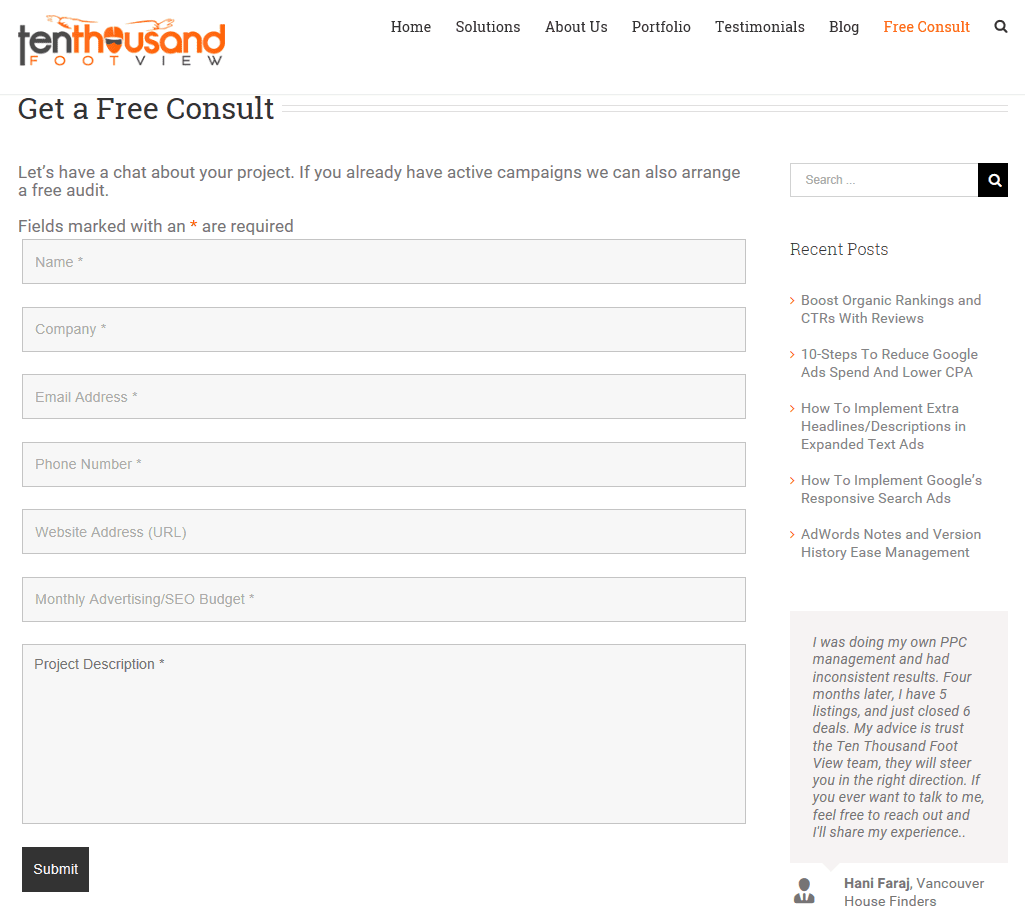 Target Contextual Keywords
In general, it's good to test a wide variety of different keywords including branded, topical, competitor as well as keywords with and without qualifiers such as location or intent to buy. This will capture more business overall and let you refine your keyword strategy over time. You can implement this using broad match, broad match modified, or phrase match keywords and then identify search terms that are driving results.
But if you're finding that your lead-quality is lacklustre you might want to make some cuts or load up on "buy intent" keywords.
First, be sure you're targeting your own brand(s). Branded keywords covert at very low CPAs (cost per action/conversion) and the users have a high intent to transact (they already know you). Second, cut out keywords from your competitors and those that are are from users in the research phase, in terms of context. Some examples include "running shoe brands" or "CRM solutions" or "fix a clogged drain" which are non-specific and don't include qualifiers. Third, refine your keywords to capture people that are ready to buy such as "order Nike shoes online" or "CRM for IT company" or "clogged drain plumber near me."
Pre-Qualify in Creative
If you are looking for a particular type of client, such as an enterprise vs. small business or serious athletes vs. weekend warriors you should tweak your ads. For example, in the first case, you can either state in your creative "for the enterprise" or include your presumably high price point to scare away the wrong people. In the second instance, you might use words like "for top athletes" or "when running is your addiction" to get the right people clicking.
You can add this style of copy directly in ad copy or get creative using ad extensions. Just remember that ad extensions don't run for all ad impressions so put your most important copy directly in headlines and description text.
Be careful with this strategy, however, because it's going to lower your CTR (click-through-rate) meaning fewer clicks and a higher average CPC. Be sure this is what you want to do and always compare the overall performance in terms of lead quality, lead volume, and cost per lead.

Optimize for Converted Leads
First, by converted leads, I mean people that have actually purchased your product or service. Using UTM parameters you can tag your campaigns (search queries, ads, and more) and then integrate your CRM or call tracking service with your landing page. Inbound leads will populate directly into these backend systems and include the keyword, ads, and other specified campaign parameters. The best and easiest way to do this is by setting up a tracking template in Google Ads.
Over time you can analyze your CRM sales data and identify keywords and ads that are generating revenue, not just leads. If you want to get fancy, you can even import this data back into Google Ads as "offline" conversions. Importantly, having this data will indicate which search terms and creatives you should be focusing more on to drive your business forward.
This doesn't mean you should suddenly stop all your broad match keywords, those still have a role. But certainly, you can refine your keyword strategy to improve your bottom line.
Summary
Using a combination of these strategies can dramatically improve lead quality. This will free up wasted time and drive a higher ROI for your business. But be careful that you don't become myopic and make cuts that are too deep. Consider lead volume and cost per lead metrics when working on lead quality improvements. The last thing you want is to do is stop your phone from ringing.