In 2018 we've continued to see an onslaught of new features and changes in Google Ads. In today's article, I'm going to run through the new features that are most important for small business advertisers. Use these tools to make your campaigns more profitable and easier to manage.
#10 – Notes
A seemingly simple feature, "Notes" makes Google Ads change management much easier. You can attach detailed notes at the account, campaign, or ad group level. Notes are date stamped and visible in the chart view, making it easy to find and refer back to them. While Google Ads has always offered a change log, that tool is scant on details and doesn't provide the "why" to support the "what" and "when." Notes are a perfect compliment for annotating significant updates such as replacing a landing page, launching new campaigns, or changing your primary offer.
#9 – Google Sheets Add-On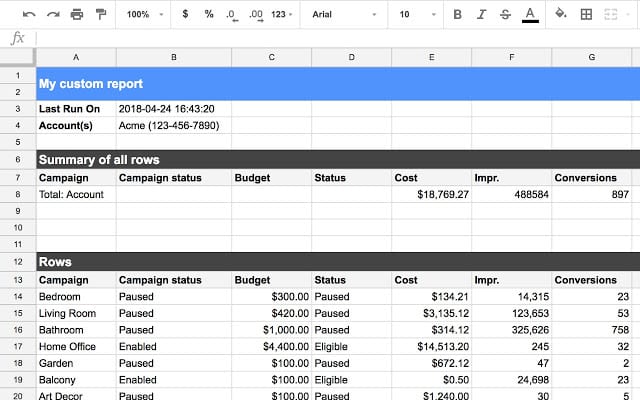 This add-on is super useful if you run Google Ads and need an easy way to build and automate good looking reports. You can quickly generate multiple reports across different tabs and then refresh them in seconds for each new reporting period. Reports are nicely formatted into easy to read tables, which is something the built-in Google Ads reporting tool simply can't do. If you're an agency you might want to opt for something more powerful such as Supermetrics or Swydo, but this is a perfect SMB solution.
#8 – Sitewide Tagging
Google finally followed suit with other ad platforms and now offers a sitewide tag instead of separate tags for remarketing and conversion goals. While you still need to install the "conversion" tag or configure conversions in GTM (Google Tag Manager) where appropriate this tag is more sensible. More importantly, the new tag offers unified support for Google Ads and Google Analytics. It's also worth pointing out that the old tags no longer support Apple's Safari browser, meaning you can't track conversions from those users.
#7 – Ad Version History
Goodbye copy & edit, hello straight up edit! In the past, editing an ad would delete the original ad and performance history, and create a new ad. To retain history and the older version of the creative, we had to make a new ad and then pause the old one. With ad versions, we can now adjust a single ad over time. Google retains the previous ad versions and KPIs associated with each version.
While we still need to create new ad variations for parallel split testing we can make small edits to existing ads when merited. Some use cases for this are if you make an offer price change, update your final URL, or need to correct a typo.
#6 – Smart Shopping
Google has released a lot of "smart" things this year. Advertisers and agencies alike are still wary of anything fully "automated" including smart bidding and smart display campaigns. But Google definitely hit the mark with Smart Shopping campaigns. Most advertisers are seeing substantial improvements in Shopping performance using the new campaign type. My best guess is this works so well because optimizing shopping campaigns manually, without "positive" keyword matching, is difficult for many to master.
#5 – Google Attribution Models
As Google keeps telling us, it's a multi-device world. In the past, we only had last-click attribution conversion models. With "last-click" a conversion is assigned to Google Ads when the converting user visited directly from an ad click. This meant that previous visits from ad clicks were disregarded and overridden by the users' last action. With a range of attribution models now available we can assign proportional conversion value to ad clicks that happened in the past, even if the most recent visit is from say an organic search click. This gives us greater visibility into how different keywords contribute to conversions. In turn, we can optimize our campaigns more effectively.
Which attribution model you choose will depend on your situation, but in general will provide more accurate value tracking of your paid search campaigns.
#4 – New Google Ads Interface
You knew it was going to be on the list, and I'm sure many of you are cringing right now. Yes, in some ways the new Google interface is more clunky than the previous version. But the new "experience" does come with many goodies that shouldn't be overlooked.
The new campaign development workflow makes more sense.  The new interface is a little easier to get around in. And, most of the deficiencies we saw in earlier versions have been resolved. Some things I like about the new interface include:
a) the ability to see KPI date range comparisons inline without expanding each column
b) the overview screen, which can alert you to trends you might not otherwise notice
c) the ability to see all extensions associated with a campaign or ad group in a single view
d) the easier to use recommendations tool, yes many "recommendations" are still bogus, but the workflow is better
#3 – Message Extensions
The early version of message extensions wasn't that useful for most advertisers. As you required a designated SMS client or mobile phone, it made it hard to adopt for most small businesses. Fortunately, Google has upgraded functionality to allow for SMS messages to be forwarded via email. With this in place, message extensions are a fantastic way to reach users that prefer to text over call, um, Millenials. If you're not already using message extensions it's a must for 2019.
2 – Responsive Search Ads
Responsive search ads (RSAs) are a terrific new format if your goal is to up your clicks in well-performing ad groups. With RSAs, you add several variations of headlines and descriptions and Google automatically serves the variations that (a) closely match the search query/keyword combination and (b) perform best.
While in many cases you'll see improved conversion performance compared with ETAs, you'll mostly notice an increase in impression share and clicks.
#1 – In-Market Audiences for Search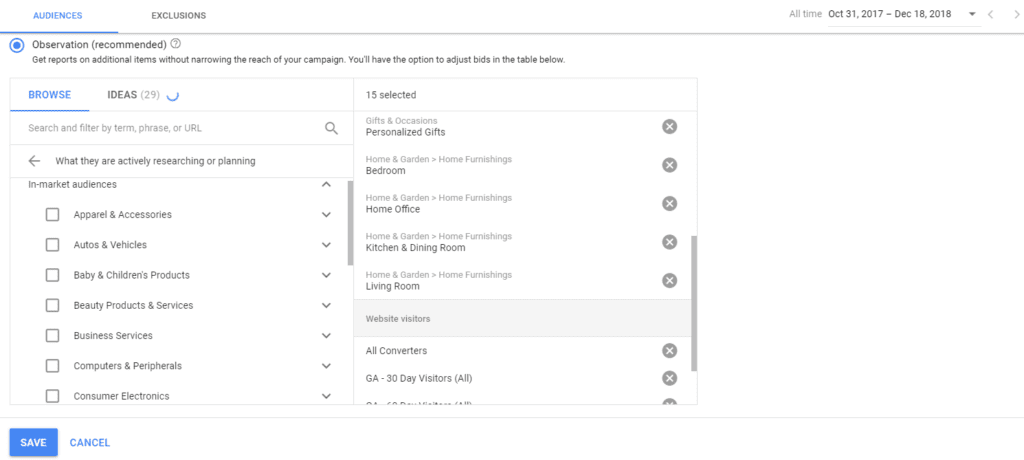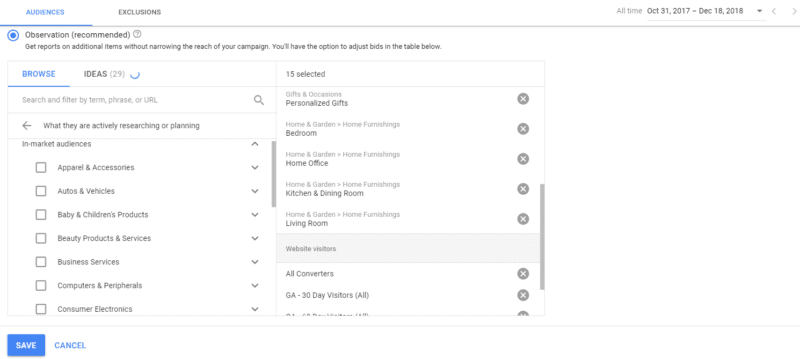 If you're already running RLSA (Remarketing Lists for Search Ads) you know how powerful targeting relevant audiences with search ads can be. This year Google launched In-Market Audiences for search. In-Market audiences are preset lists of people that have been actively researching specific products or services. Users "qualify" for In-Market based on clicks, conversions, and sites visited across various Google properties.
There are two efficient ways to use In-Market in search campaigns. First, you can add relevant lists set for "observation" and then apply positive or negative bid adjustments based on how they perform. Second, you can create a stand-alone campaign or ad group using "bid" and target a broader range of keywords to reach In-Market audiences.
What's Next?
Google is running a number of exciting open and closed beta tests right now. While I can't share what's in closed beta, I can say that Google's march towards more automation will continue in 2019. In short, as an agency, I'd say we will spend more time working on strategy, planning, and analysis, and less time on manual optimizations over the next year and beyond.