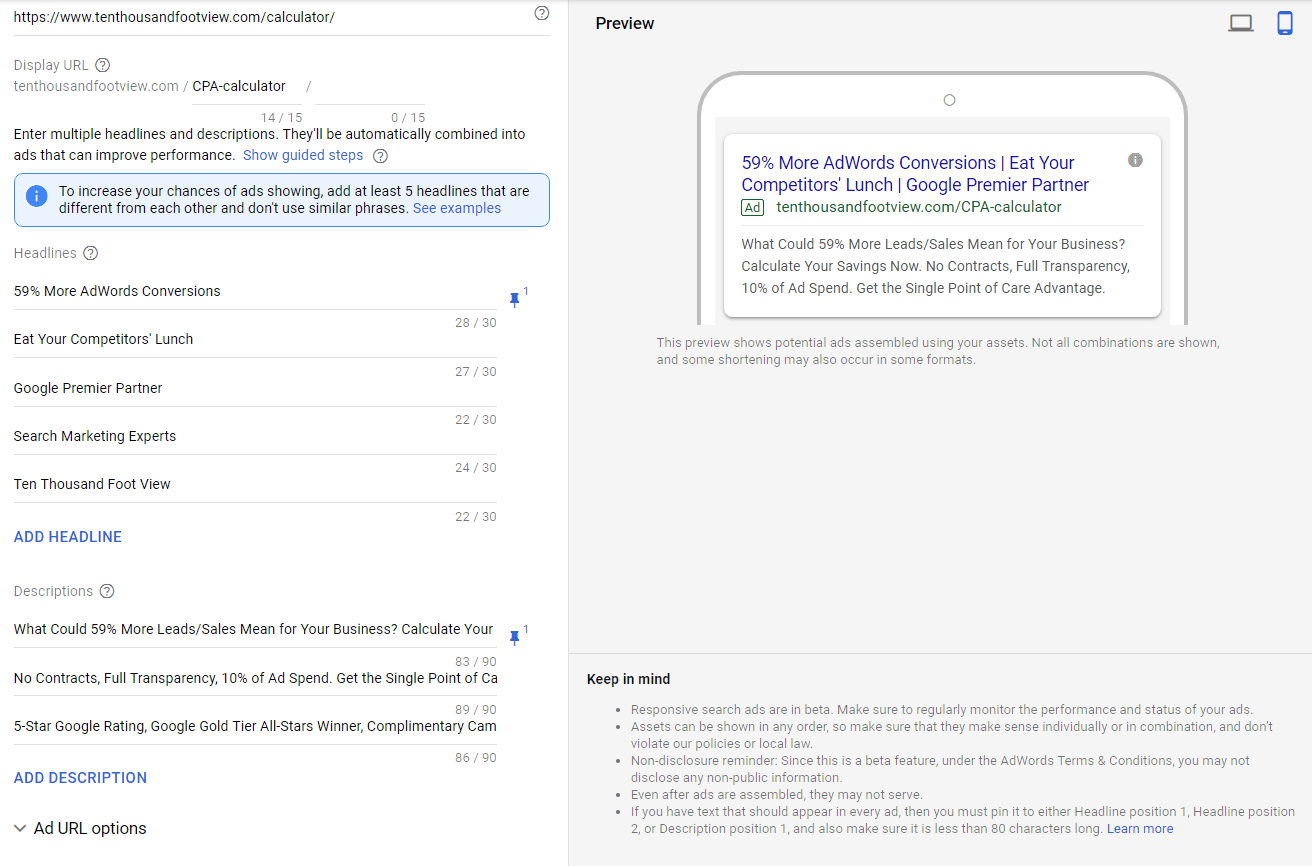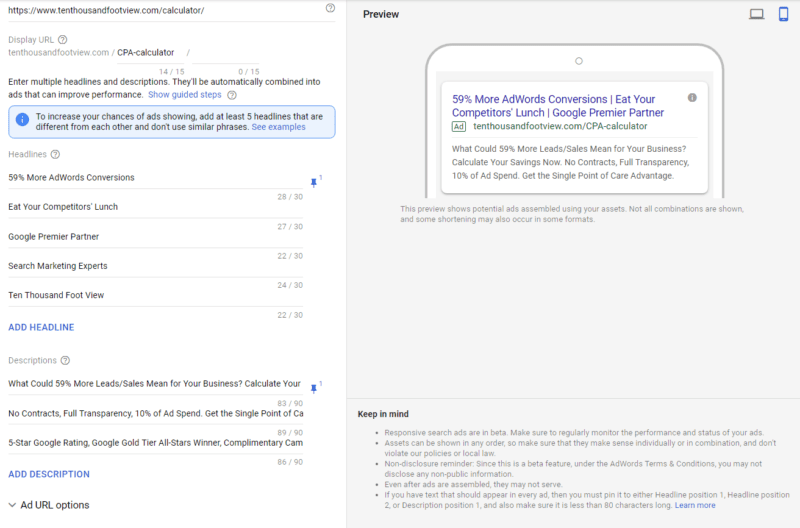 With another Google Marketing Next event in the books, we'll now play catch up with the various new and announced features coming to Google Ads (yep new name too). By far, the feature I expect to be most widely implemented is the new Responsive Search Ads (RSAs).
As a Premier Partner agency, we've had access to RSAs for a while and have been testing them out with a few clients. Today I'll explain what Responsive Search Ads are, what they aren't, and how to implement them.
You may not have access to Responsive Search Ads yet, but you should within the next couple of months.
What are Responsive Search Ads?
RSAs mix and match a variety of headline and description ad copies to dynamically generate a search ad. Ad copy is selected based on relevance to the search term and rotation is optimized for performance over time. Importantly, this new ad format offers up to 3 headlines and 2 description texts compared with Expanded Text Ads' (ETAs) 2 headlines and 1 description text. That's 90% more text available in your search ads!
In terms of ad copy, you can create up to 15 different headlines and 4 different descriptions. Other elements of the ad, such as display URL, final URL, mobile URL, and tracking template work exactly as in ETAs.
RSAs are primarily designed to generate more clicks, capturing more search queries that might not have high relevance with your ETAs. Google claims that ad groups with RSAs generate between 5-15% more clicks on average. While you might also see better CTRs and/or conversion rates from RSAs, that is coincidental.
What Responsive Ads Aren't
Here's a grocery list of items to dispell what you're already thinking RSAs can or should do:
a) A replacement for ETAs
Don't delete your ETAs! At this point, RSAs should be used in conjunction with your Expanded Text Ads. Yes, I understand you'd like a set it and forget search ads solution, this isn't it, at least not yet.
b) To be used like ETAs for split testing
Don't create more than 1 RSA per ad group! The ad, itself, automates split testing. To split test more copy, create more variations inside of the RSA.
c) A way to test slightly different copy variations
As I'll explain in the next section, don't plan on creating slightly different variations of the same benefit or feature. RSAs are designed to test different benefits and features, not different ways to express those benefits and features.
d) A better ad type for branded ad groups
Google recommends against using RSAs in branded ad groups. Presumably, this is because there is little variety between matching search queries, i.e. ETAs will do just fine.
How to Implement RSAs
I recommend starting small, with RSAs in a few ad groups, and then expand over time. Since RSAs are designed to generate more clicks, place these in your high-volume best-performing ad groups.
To create a new RSA click on the usual "+" button in your ads tab and select Responsive Search Ad. The ad editor should look pretty familiar to you by now. Instead of 2 headlines and 1 description text you'll be presented with 5 headlines and 2 description texts. You can add more headlines (up to 15) and more descriptions (up to 4) by clicking "ADD HEADLINE" or "ADD DESCRIPTION" respectively.
Since this ad format displays 3 headlines and 2 description texts, you'll need to create at least that many variations. Google recommends creating at least 5 headlines, which makes sense, since having only 3 means running the same headlines over and over, simply in different positions.
When writing copy, focus on making each snippet a unique benefit or feature. Don't use similar headlines or descriptions; since these will be randomly rotated, doing so would end up in stating the same benefit/feature more than once.
One very powerful feature of RSAs, is the ability to "pin" ad copy. You can pin a particular headline or description such that it'll always run in one of the three headline or two description positions. You can also pin content into a specific headline or description position. And, you can pin multiple snippets. Heck, you can even pin different headlines into the same position. When you do so, Google will always run one or the other variant in that position.
The "pin" utility is super helpful for placing boilerplate copy like your main benefit or offer wherever you want it in your ads. I also recommend pinning ad copy that contains your call to action text… don't want to leave that out, right?
Reviewing Performance
The tools for measuring performance are a little lacklustre at the moment. Just this past week, Google did roll out the ability to view impressions by asset (ad copy snippet) as well as impressions by combination (complete ad units). It'll be interesting to see if Google will add other more useful KPIs in the future. With that in hand, you could easily modify RSAs to perform better, as well as extract the best performing copy to integrate into new ETAs.
As I said from the start, RSAs are not specifically designed to beat ETAs on raw performance. The main goal here is to incrementally increase your search impression share and clicks. That said, you can of course, compare cumulative KPIs for RSAs against your existing ETAs.
An RSA Hack?
Say you want to take advantage of all that extra ad copy, but want to create one unique ad in doing so? There's no reason why you can't (for the moment) write 3 headlines and 2 descriptions, all pinned in sequential order. Voila, a super ETA!
Summary
RSAs may turn out to be an excellent upgrade for search ads when used correctly. But use them the wrong way and you may see your performance plummet. Follow the guide above to ensure you get the most out of this exciting new Google Ads feature.