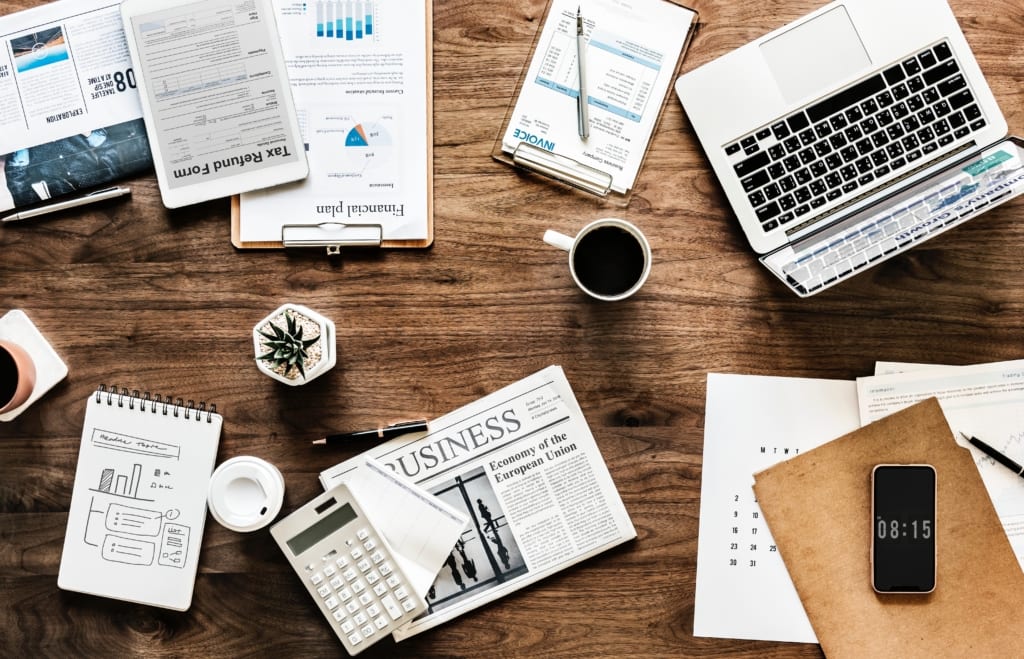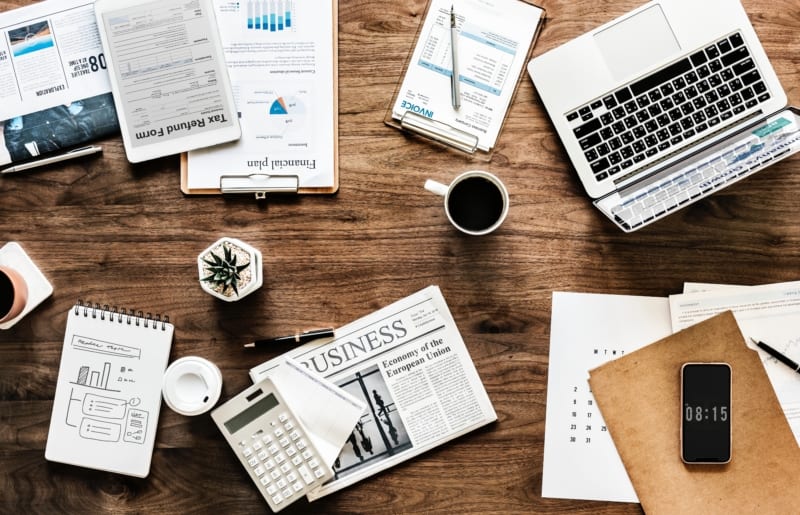 In-Market Audiences for Search was announced by Google last May. They've finally gotten around to releasing the new feature (currently in open beta), and it's a good one! Today I'm going to discuss a few different scenarios how and when to target In-Market audiences.
What are In-Market Audiences?
In-Market Audiences have been around in display for 5-years and work similar to user "interests" targeting.  Simply choose your In-Market audience(s) from a categorized list of products & services. Here's a description directly from Google on how they qualify users for In-Market:
To qualify someone as being in-market for a specific product or service, Google takes into account clicks on related ads and subsequent conversions, along with the content of the sites and pages they visit and the recency and frequency of the visits. In this way, Google accurately categorizes users so you can target those most interested in your offerings.
To sum up, these users are demonstrating they are currently researching products and services in these categories.
In some cases, you'll find a great match for what you offer, and in other cases not so much.
Let's say you offer SEO services. You'll find a great match under Business Services > Advertising & Marketing Services > SEO & SEM Services.
What if you sell sunglasses? Unfortunately, while there are quite a few categories under Apparel & Accessories, there's nothing specifically for eyewear. Choosing Apparel & Accessories probably isn't going to be specific enough to get in front of the right users. But it is certainly worth a test if you plan to use the Observation method as described below.
How do you Target In-Market Audiences?
As with other audiences, you can add In-Market at the campaign or ad group level and use either the "Targeting" or "Observation" method. I'm going to discuss Observation first because it's what makes sense for most advertisers. First, go to Audiences, add a new audience, and choose "What they are actively researching or planning."
Observation
Selecting "Observation" means that Google will continue to run your search campaign normally, and will report KPIs for users in your selected In-Market Audiences. If you're confident that your chosen categories are likely to convert better than average, you can set a positive bid adjustment(s) immediately. Not so sure? It's best to add the audience, wait for a while, and then make data-driven bid adjustments.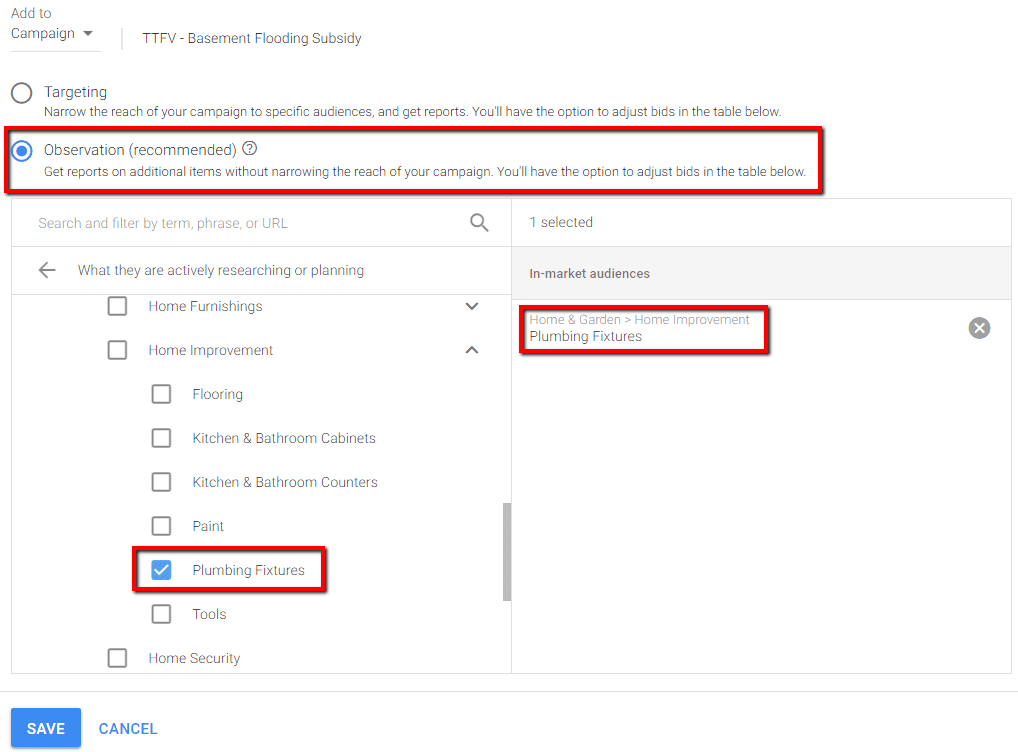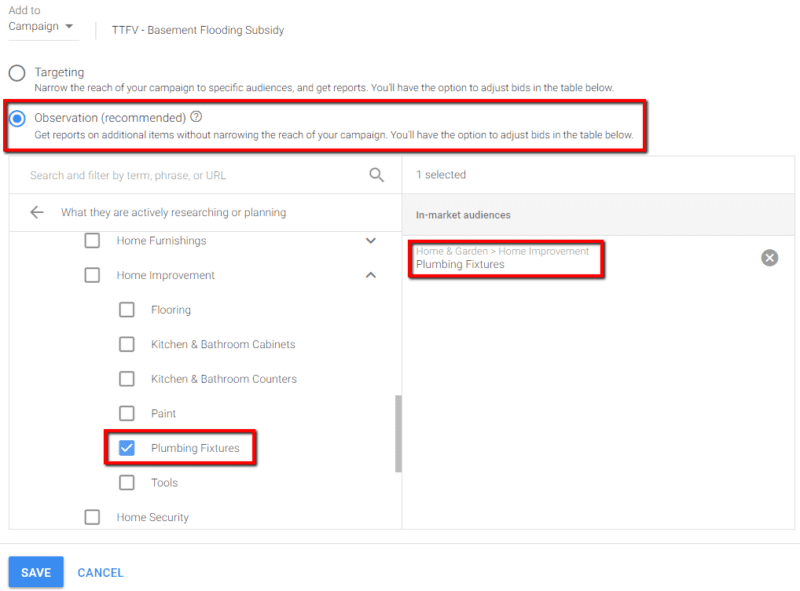 For most advertisers, I recommend adding all relevant audiences and start collecting performance data. Worst case scenario there's no advantage to targeting In-Market Audiences and you've proven it. Best case scenario, you start bidding higher for users that are ready to transact and buff your overall campaign performance.
Targeting
Selecting "Targeting" means that Google will only show your search ads when the user is in your In-Market Audience(s). This will massively reduce the potential reach of your search campaign. By the same token, you can be highly confident that you're going to get quality clicks.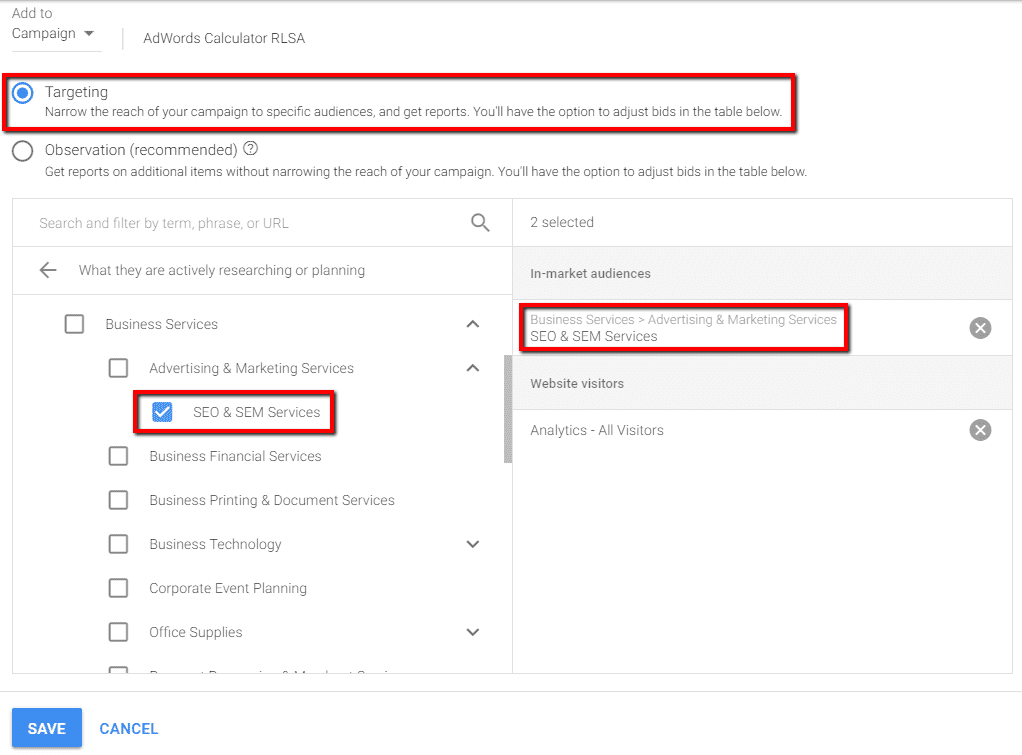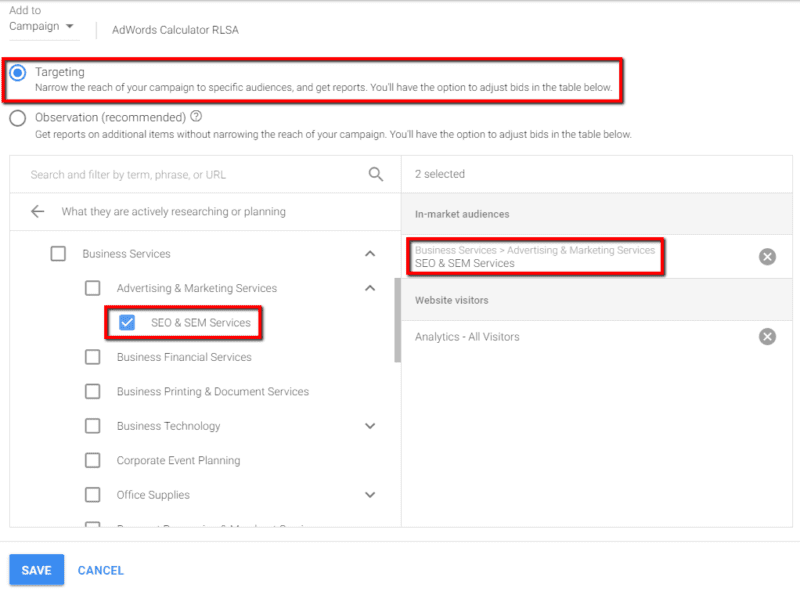 There are three situations when I do recommend running a dedicated In-Market Audiences search campaign:
a) You're in a mass market with a large advertising budget
If you're selling a major brand and have a large budget to work with, you might want to carve off some of that budget for a specialized In-Market Audiences search campaign. You can probably acquire enough performance data in a reasonable timeframe to make sense of your results.
b) Your target CPA has been unattainable
If you've run Search with professional help and can't reach your target CPA, you might want to try out a dedicated In-Market Audiences search campaign. Combining "In-Market" with your existing search campaign may move the CPA needle to where you need it.
c) You are already running RLSA or other audiences in a dedicated search campaign
If you already have a specific Search campaign running exclusively to remarketing lists or similar audiences, this is the perfect place to add your In-Market audiences.
What Kind of Results Should You Expect?
It's impossible to say, really. Clearly, if you have an exact match In-Market category you should see a nice uptick in conversion rates. But for many reasons, you may not see any improvement at all. As with all methods of audience segmentation, what you think is going to happen isn't always what actually happens.
Take an example of targeting gender for a lingerie shop. Presumably, there are more women shopping for lingerie, hence a positive bid adjustment for females would generate a higher overall ROAS. But in reality, when men buy lingerie (for their significant other) they typically spend more since these items are for a special occasion. It turns out, then, that setting a positive bid adjustment for males drives a higher overall ROAS. Now we could get into a lengthy discussion about client life-time-value, but that's not the point. The point is to be data driven!
Summary
We've been waiting a long time for In-Market Audiences to come to search. How to implement the feature and how effective it'll be is specific to each advertiser. But it's a no-brainer to add any and all relevant audiences and see how they perform.
Oh, and one last thing. Bing Ads has beaten Google to the punch this time and have formally released 170 in-market audiences to US advertisers. Once you're done setting up your in-market audiences for AdWords, head on over to Bing Ads and do it all over again.