The only thing that stays the same with pay-per-click is that it constantly changes. Given various trends in the industry here are my top 10 PPC tips for 2022.
1. Implement Google Ads Smart/Automated Bidding
Google's Smart bidding has matured to a point where it outperforms manual bidding on most campaigns that see 15+ conversions per month. First, for clarity, Smart Bidding and Automated Bidding are not exactly the same things.
Smart bidding is specifically for optimizing bids for conversion volume or conversion value goals. It uses Machine Learning and many signals to bid automatically. It includes Maximize Conversions, Target CPA, Maximize Conversion Value, Target ROAS, and Enhanced CPC (ECPC).
With the exception of the ECPC bidding strategy, all of these options are automated bidding with almost no options to set your own bids or adjustments. ECPC, on the other hand, uses your own bids and bid adjustments to partially inform Google on the final bid. For this reason, ECPC is not a fully automated bidding option.
Automated bidding, therefore, includes all of the remaining bidding strategies above, plus Maximize Clicks and Target Impression Share. These last two methods are not focused on conversion goals, and hence aren't part of Smart Bidding Options.
If your campaign goal is conversion-based, you should focus on migrating to Maximize Conversions, Target CPA, Maximize Conversion Value, or Target ROAS. Here's an article I wrote about all available bidding strategies.
If your campaigns have a common conversion goal, you may also want to consider using a portfolio bidding strategy. This will treat all the selected campaigns as a group wherein the goal is to achieve your overall conversion goal regardless of what each campaign achieves. This means some campaigns may generate higher or lower performance than your target, but your overall goal will be met.
2. Update Your Facebook Ads Account to Meet the New iOS14/15 Requirements
Apple's new initiative requires users to choose whether or not apps can track them. If you're running social media ads, and Facebook/Instagram in particular, you need to take some immediate steps to optimize your campaigns for this major change.
Facebook has published an iOS14 directive as to what you need to update and how the platform and reporting have changed.
Even if you have addressed these items, you may have seen a downturn in overall Facebook Ads performance from about the middle of 2021. More specifically, you may have also found that your audiences decreased in size. And, you may be seeing fewer conversions because some conversions can no longer be tracked and because attribution window time limits are shorter than before.
And this leads perfectly into my next of PPC tips.
3. Test One New Marketing Channel
Social Media ads, and Facebook's platform, in particular, are almost certainly never going to perform as they did back in 2020.
To bolster sales or leads, every advertiser should consider adding at least one new marketing channel to their mix. This may include an additional social media platform (Twitter, TikTok, Snap, and many more) or maybe revisit or grow your SEO efforts.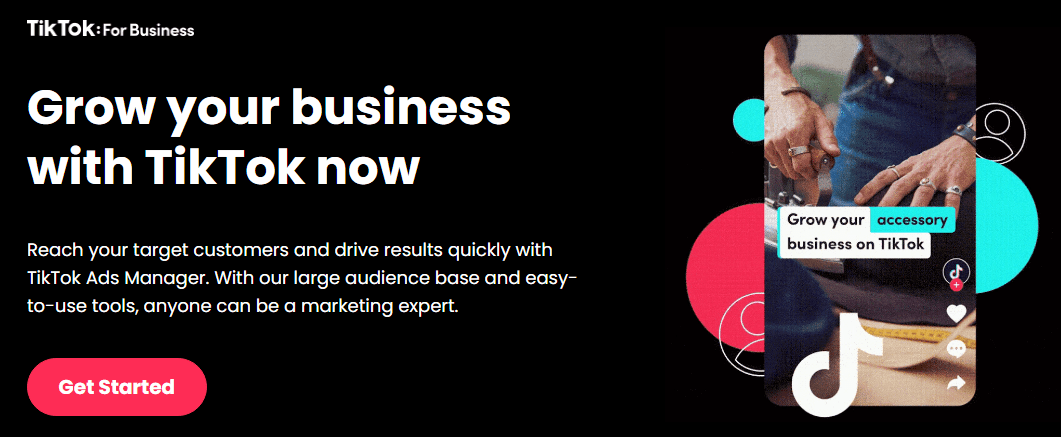 If you're already running Google search ads, what about expanding to MS Ads?
If you've been relying on a single channel to sustain your business it's crucial that you change that this year.
4. Keep Your PPC Knowledge Current
Change in the PPC world is relentless. If you're not keeping up to date with those changes you will soon find yourself and your campaigns falling behind.
For PPC news I recommend Search Engine Land. Independent and unbiased, they cover all the new feature rollouts and news for major ad platforms. If you want comprehensive training I'd check out various courses offered on Udemy.
And if you need help with something specific I'd head over to the Reddit PPC Sub. I am very active there myself, mostly helping, but sometimes even asking for help.
Lastly, don't forget to maintain your credentials on the platforms you regularly work with.
5. Upgrade Google to Value-Based Conversions
Consider how you're tracking conversions and what you're currently optimizing for. If you're currently only counting leads can you instead start to set values for your conversions? Using value-based conversions and optimizing for those can be game-changing for campaign performance.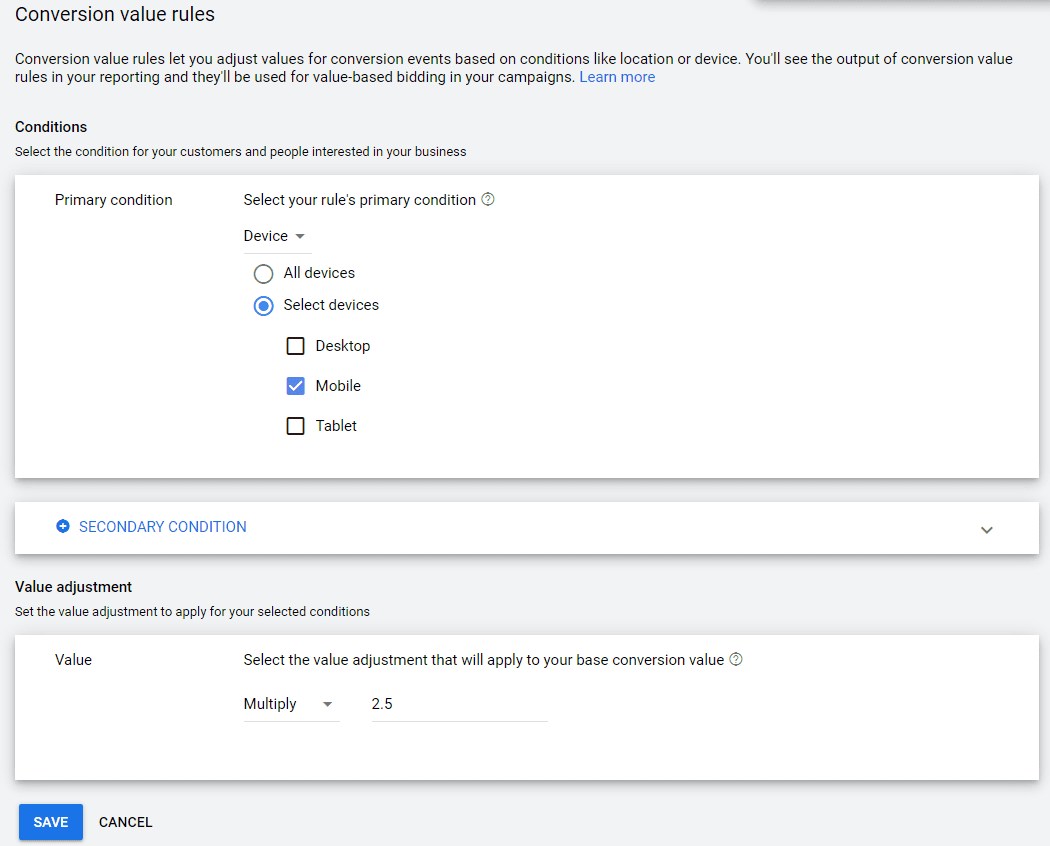 Google now offers a number of different tools for managing conversion value. Here are a few options:
a) upload offline conversions from a spreadsheet for leads that turn into sales
b) sync your Salesforce, CallRail, or other CRM "deals" back to Google Ads through their respective integrations
c) set conversion value adjustments for known high-performing segments like audiences or device-types
Once you've implemented variable conversion values you can switch over to Maximize Conversion Value or tROAS bidding.
6. Migrate to Performance Max Campaigns
Like it or not, Google's Performance Max is the future. If you run Smart Shopping, Google is going to migrate you to P-Max if you don't do it yourself.
In addition to a replacement for shopping, P-Max is a replacement for virtually everything except for core search, remarketing, and branding campaigns. This "swiss-army" campaign can replace your existing GDN, Discovery, YouTube and Dynamic Search efforts in one go. This is, assuming, that your goal is incremental conversions.
So get with the program and start testing. Check out our Performance Max How To article for more.
7. Refresh Your Microsoft Ads Campaigns
When did you import your Google Ads search campaigns into MS Ads? If the answer is 3+ years ago or you don't remember, it may be time for a refresh. What you're doing with MS Ads will have diverged pretty significantly from Google over time. And on the surface, that's okay, until you realize that you've probably optimized significantly better on Google given their gee-whiz automated bidding and much larger volume of conversions to work with.
Also, if you last imported before Microsoft copied a particular Google feature (RSAs is a good example) you can easily import those changes to upgrade your campaigns.
Before you start it's a very good practice to first sync your account to Microsoft Ads Editor. This will give you a temporary backup you can restore from just in case you do something stupid during the next step.
When importing from Google Ads into an existing MS Ads campaign, be careful! Go through all of the options one by one and only select those things you want to update or override. Mainly this should be adding new keywords, negative keywords, ads, and appropriate extensions. Do not import other campaign changes unless it absolutely makes sense to do so.
Also, please don't ever just do a one time import from Google and assume you're done. This is a common mistake that causes all kinds of campaign issues. Please see our Google Import for Microsoft Ads Done Right article.
8. Wind Down Your Google ETAs
Effective June 30th, 2022, you will no longer be able to create or edit existing Expanded Text Ads (ETAs). Google's recommended best practice is to run a single Responsive Search Ad (RSA) per ad group. This is exactly what we'll be doing at my agency.
Our strategy (yours may differ) is to pause all low performing ETAs between now and June 30th. High-performing ETA ad copy will be rolled into RSAs, something we were doing anyway. We don't have a specific date in mind to kill any remaining ETAs after the deadline, but it'll likely come to that at some point.
In terms of any new ad groups you create, you should already be avoiding ETAs at this point.
If you insist on "ETA" like functionality you can, of course, make RSAs with 3 pinned headlines and 2 pinned descriptions to emulate the old ad format. This will work perfectly fine but your ads will all be flagged as poor quality, which may be a concern if you're managing campaigns for somebody else. Whenever you have a situation where you go against the "Google" grain, it is best to provide a heads-up to your stakeholders to avoid difficult questions later.
One other thing to note here is that Microsoft hasn't announced a corresponding change to ETAs. You may wish to keep using 1 RSA + 2 or more ETAs per ad group there for now. Or you may want to switch to single RSAs for symmetry and simplicity. What you choose should depend on what kind of click and conversion volumes you're running per ad group.
9. Start Experimenting with Interest-Based Facebook Audiences
What was old is new again, or so it would seem with Facebook Ads targeting. Lookalike audiences have been crushing every other targeting option for the past few years. But that no longer seems to be true. We have found that reverting to interest-based audiences has revitalized a number of campaigns that were not performing as they used to.
Keep in mind that you should still be aiming for fairly broad audiences, absolutely never less than 100,000 users per $50 of daily ad spend. And, never make a wholesale change when you can just as easily split test your old and new targeting strategies.
10. Update Your First Party Audiences
Everybody is talking about first-party audiences (FPAs) yet most people don't even know what that means. Put simply, these are users made up of your customers, website visitors, and social media followers. In each case, you can save the users into various lists and target them later.
The reason why everybody is talking about FPAs, is because our targeting capabilities for other audiences have been and will continue to degrade over the next 12-24 months. The biggest example of this is Apple's default blocking of app tracking on iOS and Opera. This has effectively sliced off advanced targeting options for about 40% of Facebook's users. The next tranche is coming from Google soon and will start to affect Android mobile and Chrome browser users.
Having an effective FPA strategy can soften the blow by (a) prioritizing and segmenting your "fans" to enhance those segments and (b) by informing ad platforms what your ideal customers look like.
Google Ads
Google has relaxed some restrictions that prevented small advertisers from uploading their customer lists and using customer match audiences. If you haven't already, you should be segmenting your customers into logical groups and uploading those lists to Google Ads. If you're able, create customer match audiences for each group. Add your customers and customer match audiences to all relevant campaigns using the observation option.
Google will not only optimize bids for these folks but will also use the information to enhance bidding on similar and dissimilar folks.
Ideally, you should keep this list updated with automation and Google now supports Zapier integrations so you can connect your list from a Google Sheet, etc. If you don't use automation Google will remind you to update every 6-months via their recommendations tab.
Besides customers, spend some time reviewing your remarketing audiences. Could you enhance these by extending the date range up to the max (540-days) or is that dumb? Should you be segmenting audiences into more specific groups, such as those that visited a particular landing page, viewed a white paper, etc? Don't go nuts for the sake of making more lists, be strategic in your decision making.
Facebook Ads
Assuming you've followed all the recommendations for iOS14/15 you should already be collecting the maximum amount of user data possible.
Spend some time reviewing and updating your custom audiences. For customers and other uploaded lists, you should consider setting up an integration to keep the list constantly up to date. This can be done through most major email marketing platforms, CRMs, or Zapier. Uploaded lists should be segmented into customers and other logical groups such as newsletter subscribers or eBook downloaders, etc. This will make it easier for you to target and optimize ad copy per segment.
Facebook works way better with large audiences. Max out all your website visitor lists with 180-day versions unless it really makes no sense to do so. Segment your lists by important on-site actions such as purchases, add-to-carts, key page visits, etc., but only to the extent you can generate at least 1,000 users per segment.
If you haven't before, try experimenting with Facebook followers, video watchers, and other users that take action directly on Facebook.
Remember that lookalikes, while powerful, are not first-party audiences. Lookalike performance has degraded quite a bit since Apple's privacy changes.
Consider selling directly on Facebook. Users that interact with your Facebook shop are 100% trackable.
Summary
PPC continues to evolve and the name of the game for 2022 is feeding the automation engine. This means doing a better job of tracking and targeting, focusing on the value of conversions, and cranking up automated bidding and creatives. I hope you found these PPC tips helpful and if so please comment below.