Google's Performance Max campaigns are here! In this article, I'm going to discuss what Performance Max is, how it works, when you should use it, and how to set it up and optimize it for success.
What is Performance Max?
Performance Max is a campaign format that incorporates all of Google's ad inventory in one: Google Search, Google Display Network (GDN), Google Discover (Newsfeed), YouTube, Gmail, and Maps. In addition, we already have the ability to reach Shopping inventory through feed integration in several accounts we manage.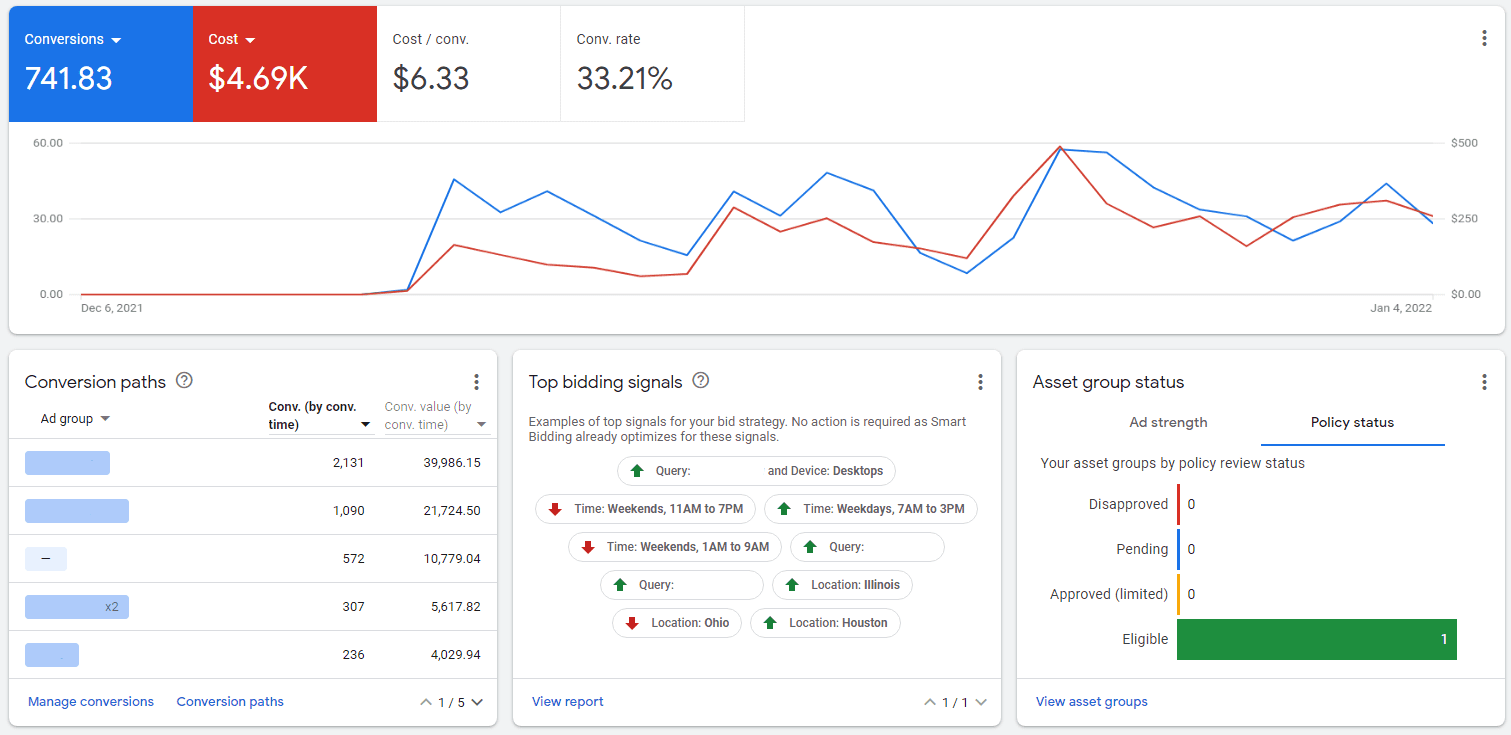 The intention of Performance Max is to supplement your existing paid search campaigns by expanding your reach across more inventory. Here's what we'd typically have to run in place of one Performance Max campaign:
Dynamic search campaign
Display campaign
Discovery campaign
Video campaign – optional as this can be incorporated into Display
Smart Shopping campaign – launching sometime in 2022 but already available for some advertisers
Performance Max campaigns are designed to generate conversions and use automated targeting informed by audiences you add. Performance Max is not appropriate for branding objectives nor can it be used to target specific audiences such as for remarketing.
In terms of search ads, Performance Max will run like dynamic search and can target any keywords you do not specifically target in existing search campaigns.
When Should You Use Performance Max?
Performance Max is ideal in the following situations:
a) Your total daily Google "display" ads budget is between $100 and $500
b) You already get a healthy volume of conversions through search ads and want to build on that
c) You are finding it difficult to scale up your existing search campaigns
d) You want to maximize conversion performance while minimizing your management time
When Should You Not Use Performance Max?
If you have large budgets assigned to video and display you should probably stick with campaigns specifically for those placements. Those specific campaign types (display, Discovery, Video) offer many more levers to pull with better control over creatives, and you can target audiences directly.
If you want to run campaigns specifically for branding or influencing decision making you should stick with campaigns that allow you to focus on those goals.
If you don't yet have a robust paid search strategy in place Performance Max is probably not a good option for you.
Building a Performance Max Campaign
There are some prerequisites before you start building a Performance Max campaign.
Placement Controls
First, you should set up inventory controls for your account. Go to "settings" and then choose "account settings." Under inventory type I recommend choosing standard or limited inventory depending on your own brand standards. Particularly for B2B, I would lean more towards limited inventory. This will control the content types where your video ads can run.
Under excluded content, you should check any boxes as appropriate for your brand. This will block "sensitive" placements based on the display network.
Similarly, under excluded types and labels, you should check any content labels that aren't appropriate for your ads. We almost always select DL-MA and unlabelled content options. As for content types, we usually block all of them except for below-the-fold content.
Goal Selection
You can now start building your Performance Max campaign.
Performance Max campaigns work with sales, leads, and website traffic goals. But since you will need to choose a conversion-based bidding method it really makes no sense to focus on website traffic. Once you choose your campaign goal you will be presented with your conversion goal options. In most cases, you should choose all of them, but there can be cases when you want to focus on a sub-set of account goals. Once you've selected your goals the Performance Max campaign type should appear as an option.
Budget and Bidding
I recommend setting a budget that's at least 3x your average CPA or $100, whichever is larger. I do not recommend spending more than $1,000/day on a single Performance Max campaign. If you're going to spend that kind of money on display campaigns you should be investing the time into building out more specific dynamic search, display, video, and Discovery campaigns. That will give you much more granular control over spending, targeting, and creative strategy.
In terms of bidding strategy, there are four Smart bidding options:
Maximize Conversions
Maximize Conversion Value
tCPA
tROAS
Here's a detailed article that fully explains which of these bidding strategies you should choose based on your business goals.
If you do choose tCPA or tROAS you should probably go along with what Google recommends, or choose a higher tCPA / lower tROAS to ensure your campaign serves a healthy volume of clicks and spends your budget. You can always adjust these numbers once things get rolling.
You'll notice as you add your budget and bid that Google will show you estimated results. These numbers will be refined and you continue to build out your campaign.
Campaign Settings
As with all campaigns you need to choose your location targets and languages. Google offers most of the usual functionality here, however, there are some limitations. There are no advanced location targeting options. Therefore Google is going to target both presence and interest options. Also, as Google Ads Editor doesn't yet support Performance Max, long location lists can mean a lot of manual data entry.
For example, we have one client with over 500 radius targeting/coordinates targets. Inputting these one by one won't be fun.
Before moving past this screen make sure you open up "more settings" to reveal more campaign settings. Here you can set start/end dates for your campaign, set ad schedules, and add a tracking template if needed.
The last setting "final URL expansion" may be one of the most important ones for Performance Max.
Here you can choose whether to run ads for your entire website, a website with URL exceptions or specific URLs you include directly in your ads (turn off URL expansion). If you have one or more specific landing pages I strongly recommend only targeting those. If you have a large eCommerce site it may make sense to run ads universally, but I would still exclude non-product and non-product category pages. Note that you can exclude specific URLs or create rules to block URLs. For example, you could exclude entire sections of your site or product categories using keywords that appear in those URLs.
Asset Groups
In this section, we'll create what we've all come to know as ad groups. Each asset group contains one Responsive style ad and one Audience Signal. If you want to target different audiences or create different offers, this is how you'll separate those in the campaign.

Responsive Ad
By now you should be very familiar with Responsive Ads. That said, each Responsive ad type has certain nuances you need to be aware of.
The Final URL is your primary target page. If you've turned off URL expansion this is the only page your ads will point to. If you have URL expansion turned on, Google will point ads to other pages of your site.
For images, you have the ability to add up to 15 total. Aspect ratio options include landscape, square, and portrait. You can see the exact requirements by highlighting the "?" icon on the add images dialogue box. These are the same requirements that you'll see for Responsive Display Ads (RDAs). Likewise, you have several ways to capture or upload images here.
I recommend focusing mainly on landscape and square images, but always include at least a couple of portrait shots.
Next, you need to add your logo(s). At least one square logo is required while a landscape 4:1 version is optional but recommended.
You may, optionally, upload up to 5 videos from Youtube. I strongly recommend using your own video content here. If you do not upload videos Google will create simple videos from images which is a pretty poor option in my opinion. I'd say if you don't have any videos that you should avoid running Performance Max campaigns.
Next, you will add your headlines 5 x 30 characters, long headlines 5 x 90 characters, and descriptions 1 x 60 characters and 4 x 90 characters. Before starting on your copywriting it's crucial to understand how the different placements come into play with respect to combining different headlines and descriptions.
Fortunately, Google provides a preview tool for each placement type. Spend some time to review how your ad copies are fitting together and ensure it makes sense in every placement before proceeding. This can be a bit tricky as you want to include a call to action in your ad copy for search ads, but there's an automated call to action already included for image ads. As always, follow best practices for Google Ads copywriting.
For your call to action, you may choose a completely automated option or choose a specific one.
Next, you need to include your business name; pretty straightforward operation I would hope.
Finally, you may add one or two display paths to append to your final URL. These will appear in search ads.
Audience Signal
Now that you've created your ad, you need to inform Google what your audience looks like. Start by creating a new audience. This is where it may be a bit confusing. In the context of Performance Max campaigns, an "audience" is a combination of existing audiences and demographics you select. More specifically you can add audiences in each of these sections:
Custom segments – custom audiences you've previously created based on search activity, websites visited and apps used
Your data – uploaded customer lists and website visitors, aka remarketing lists
Interests and detailed demographics – in-market, advanced demographics such as company size, and life events
Demographics – which ages, genders, parental status, and income levels to target or exclude
When finished you will give your new "audience" a name and save it.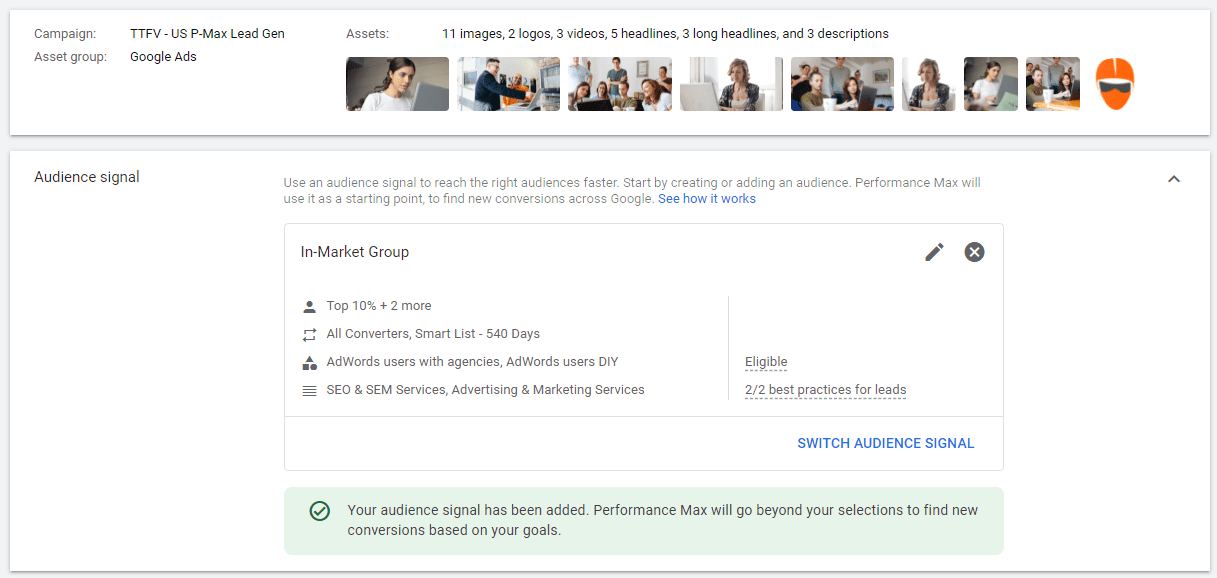 It's very important to understand that adding any of the targets above does not mean Google is going to specifically target them or exclude anybody. Google will use all of this information to inform targeting.
Extensions
This is the final step in Performance Max campaign creation.
Here you can optionally add any/all ad extensions that you feel are appropriate for the campaign. For the most part, these will mainly only run on search placements, but there are some exceptions. I highly recommend using all the extensions you can, let Google figure out which ones are driving conversions and self-optimize accordingly.
Campaign Summary
Once you're done Google will provide a summary and display any issues you need to resolve. Once you're satisfied you're ready you can go ahead and publish your campaign.
Optimizing Performance Max Campaigns
There aren't many levers to pull in Performance Max. And, you should count on a few weeks from launch before you'll be able to get asset reporting from Google.
Adjusting Asset Sets
Keep an eye on your budget and CPA or ROAS per asset set. Some asset sets may work better than others. Consider replacing poor performing sets with new ones. This may include making brand new offers or changing target audiences. I recommend against adjusting audiences or offers on the fly.
Instead of that, duplicate the asset set and make adjustments in the new version. Consider running these asset sets simultaneously against your originals to see whether the changes improve performance.
Adjusting Creatives
Creative optimization works the same as for Responsive Search Ads.
Google will show you the "highest performing" combinations, those that are shown most often. You can get an idea from this as to what overall messaging is hitting home with your audience. And, you can view performance ratings for each ad element, be it a headline, long headline, description, image, logo, or video.
Swap out your lower-performing elements with new ones to improve your overall performance. But stay on theme. If you find that you want to modify your offer it's time to create a new asset set.
Adjusting Asset Set Audiences
You can swap in a Performance Max audience you've already created, create and apply a new Performance Max audience, or edit the existing Performance Max audience. But as I mentioned above, I would always create a new asset set, otherwise, it'll be difficult to keep track of what changes were made and what's causing increases or decreases in performance.
Negative Keywords
Google has stated they will be adding the ability for advertisers to add negative keywords in the future. In the meantime, you can contact your Google rep (if you have one) and ask them to add your negatives list to the Performance Max campaign. This may take a few weeks so be prepared to wait or launch without negatives in place. Also, Google will currently only add negatives for brand safety. That means what they will accept for blocking will be extremely limited.
Performance Max campaigns will not target keywords you are already targeting elsewhere. But they may well target search queries you've blocked elsewhere. And, you might want to create a robust negative strategy for this campaign type, particularly if your search campaigns mainly run exact and phrase match keywords.
One really important thing to consider is your branded keyword strategy. If you're not currently running branded keywords Performance Max will be by default. This can make your results look fantastic while most of those conversions are low hanging fruit. Importantly, since you weren't already running branded, I'd imagine this is not optimal for your account. Be sure, in this case, to add negatives for all variations of your brand, once that functionality becomes available.
Placements
Unlike display and video campaigns, there is no "built-in" way to review the placements your ads ran on directly within the Performance Max campaign. Instead, you'll need to run a Performance Max Placements report. Google does offer instructions for that right here.
Thus far, our client campaigns run almost 100% in Google Owned Properties. Unfortunately, Google doesn't provide detailed breakdowns on those. As for the 3rd party display network, you get a basic impressions report, which really isn't that useful. Furthermore, there is currently no way to block placements anyway. While you can add placements to an exclusions list, you cannot apply that list to Performance Max campaigns. Hopefully, Google will provide a solution for this in the future.
Summary
Performance Max campaigns are a great option when you have a medium-sized budget and want to expand on your already effective search campaigns. Follow the best practices in this article and you should see incremental conversions and a nice boost to brand awareness for your business.