Automated bidding continues to improve at breakneck speed. If you haven't already implemented it you had better do so sooner rather than later. Once you do, you're going to eliminate all that work to manage individual keyword bids and bid adjustments for devices, locations, ad schedules, audiences, demographics, and more.
Besides watching Seinfeld's 'The Opposite' episode for the 72nd time, you should spend some of that free time on creative strategy and ad optimization. Okay, let's get real, you should be spending a good chunk of your time on creatives no matter how busy you are.
In today's article, I'm passing along my top 9 creative tips for developing top-performing expanded text ads. Follow this guide and you should see a boost in across the board campaign performance.
DISCLOSURE: Some of the products mentioned in this post may contain affiliate links that at no additional cost to you, we may earn a small commission. Importantly, we only promote products that we use ourselves.
1. Prioritize Messaging
There are several different elements you can include in your search ads:
unique value proposition
landing page offer
call to action
features & benefits
trust factors
Here's a description of what each element is, it's relative importance, and where you should include it. Always keep in mind, however, there is no exact "right way" to organize or prioritize ad copy. What strikes a chord with your audience will always be unique to your business. Hence the section on 'Always be Testing.'
Unique Value Proposition (UVP)
Your UVP is a clear statement that describes the benefit of your offer, how you solve your customer's needs and what distinguishes you from the competition. Creating your UVP involves:
a) explaining how your product solves your clients' problem or improves their business situation
b) how your product or service delivers specific quantifiable value
c) telling your customers how your product is different and why they should buy from you instead of your competition
Here's our own UVP, does it meet the criteria above?
Our Google Ads clients average a 59% increase in conversions! Hire us for exceptional management of your paid & organic search marketing campaigns.
Get agency-quality & tools without giving up the personalized service of a dedicated consultant.
Okay, it does but it's lengthy. How about this for a search ad?
Get 59% More Google Ads Conversions, Personalized Service & Agency-quality.
If you've developed a great UVP for your business (so many advertisers haven't), it should be included prominently on all of your landing pages and in all of your marketing materials. In terms of search ads, it should appear in one of your headlines, or if too long, in your first description.
Landing Page Offer
Your offer is the initial thing you will do for your prospects or new clients. Here's a grocery list of common offers:
free product trial
discount off the regular price
free service or product
free consultation
bonus product or service
completely free service (often referred to as freemium)
What all of these offers have in common is that you are giving your prospective clients something of value for free or at a lower than the regular cost. This incentivizes them to click through your ad and to transact on your landing page.
Your offer should always be stated in your ads, ideally in one of the first two headlines, but worst case, in your first description. And, importantly, the offer in your ad must match the offer on your landing page. I can't tell you how many times I've seen a different offer in the ad than what's on the landing page, ouch!
Call to Action (CTA)
Your call to action is what you want your prospects to do when they arrive at the landing page. At the high end of the funnel, this could be to download an eBook or sign up for your newsletter. At the low end of the funnel, it could be to sign-up for your service or register for a free trial.
The CTA is almost always integral to the landing page offer. You can, therefore, usually integrate those elements of copy into a single snippet. Here are some examples:
Download our free eBook
Register for a free 30-day trial
Book a free account audit today
Shop now and save 50% on your first order
Features & Benefits
Features are different than benefits, but so many people get that wrong. A feature is a part of your product or service, whereas a benefit is a positive result that the product provides to your customer. Because benefits are impactful to the customers' experience, they tend to be much more powerful motivators than features.
Also, features and benefits are intrinsically linked together. For example, the non-drip feature of a travel coffee mug leads to the no messy coffee spills to clean up benefit.
When given the option, it's usually prudent to advertise benefits over features. In terms of including this in ad copy, it's a good idea to include 1-3 of your benefits anywhere in headlines or descriptions. In addition, include additional benefits and features in callout extensions.
Trust Factors
Trust factors are a unique feature set that is related to your company and brand rather than the product features or benefits. They demonstrate that your product works as stated and/or that you stand behind your offer.
Some common trust factors include:
social proof, user ratings and reviews
product guarantees and warranties
industry associations and accreditations
company awards
company longevity, i.e. years in business
location, being local or even being based in the same country of sale
being accessible, including a phone number and other contact information on your landing page
If you have space, consider including your most prevalent trust factors in ad copy. Otherwise, consider including this in ad extensions such as callouts or site links. For location and accessibility, activate location and call extensions.
2. Use Creative Best Practices
Following these best practices is super easy and will almost always yield better results than free-wheeling with your own style.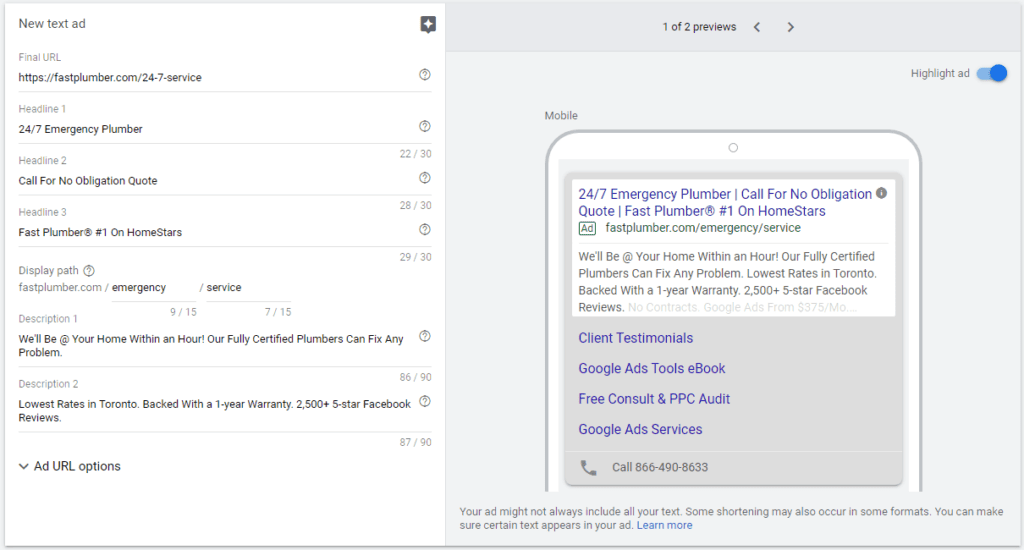 Case Selection
Use capitalized case or title case for headlines and title case for descriptions. Capitalized case means that the first letter of each word is capitalized. Title case means the first letter of major words are capitalized while the first letter of minor words are not.
major words: Nouns, verbs (including linking verbs), adjectives, adverbs, pronouns, and all words of four letters or more are considered major words.
minor words: Short (i.e., three letters or fewer) conjunctions, short prepositions, and all articles are considered minor words.
It can be hard to remember the rules for title case until you gain some experience writing in this format. Thankfully you can always use convert case to correct your ad copy. But keep in mind that this tool doesn't recognize all proper nouns (particularly brands) so you should always proofread prior to saving.
Keywords
Include your most relevant keywords in ad copy whenever practical. If you have too many disparate ad group keywords to choose from you probably need to split up your ad group into tighter keyword themes. Ideally, your keyword should appear in one of your first two headlines, but worst case in your first description. Also consider adding your keyword in your sub-directory display link(s).
Punctuation
Use one question mark or exclamation mark in your ad copy. This is allowed and used in the right place can make the most important ad copy pop.
Numbers & Symbols
Using numbers and symbols allows you to write more meaningful (longer) ad copy and makes your ads appear more interesting to the eye.
If you want to shorten existing ads one good trick is to replace words with symbols or abbreviations. Symbols are a powerful tool to make your ads appear more interesting and to add value. If your brand is registered, for example, using the ® or ™ symbol can add more credibility to your brand. WordStream tested this and showed a 12.6% increase in conversions simply by adding the ® to existing ads.
Call to Action
We've covered this in the 'Prioritize Messaging' section above, but it's so important here's another reminder.
Always include a call to action in your ads. Calls to action should be as specific as possible. Please avoid using 'contact us' at all costs! As with your main offer, avoid putting your call to action in the 3rd headline or 2nd description, where it may not be seen in many ad impressions. And while we're on the topic, try to make your landing page call to action as unique as possible. Everybody offers a 'free consult' so consider offering something of value such as a 'free analysis' of some sort.
3. Use Power Words
Use these 20 power words in your ads to boost your click-through-rates (CTRs) and post-click actions. These words use psychology to make your ads much more persuasive. Want even more power words? Check out this Buffer article with 189 powerful words that convert.
You
Click
Learn
Easiest
Find

Free
Save
Try
Opportunity
Ends

Grow
Fear
Exclusive
Love
Compare

Time
Fast
Unique
Advantage
Value
4. Try Long and Short Versions of Ad Copy
Old school thinking with Google Ads was to always use as many characters as possible for your headline and description. But with 3 headlines and 2 descriptions that has changed some. We now have space for a lot more ad copy, not to mention all the ad extensions we can run to state even more features and benefits.
Benefits of using all your characters:
State more selling points
Make your ad more visually bulky (can increase CTRs)
Drawbacks of using all your characters:
Your most important selling points can be lost in the long ad copy
It's less likely that your 3rd headline and 2nd description will be shown
Google's ad preview tool will show you how which headlines & descriptions will typically be shown on different devices. However, this isn't definitive, as Google will show different combinations based on device type, browser settings, and projected/historical ad performance.
For this reason, always put your most important copy, like your unique value proposition & call-to-action, in your first 2 headlines and/or first description.
5. Include Qualifiers in Your Ads
Even if your keyword strategy is fully dialled-in, your ad will almost certainly show to some unqualified folks. You can prevent paying for clicks from unwanted visitors with ad qualifiers. This will lower your CTR which could pump up your CPCs some, but you'll typically see much higher conversion rates as a result. Not only that, but your lead quality will tend to improve significantly.
Here are a few different examples:
Minimum Price
Stating your minimum price point such as From $1,499 will stop bargain hunters from visiting your site.  But be thoughtful with this, as sometimes your landing page can justify your higher price and convert visitors that were aiming lower. If you're not competing on price this is a no brainer for split testing (see the section below).
Business Size
If you're a B2B and don't want to deal with 'mom and pops' this qualifier is perfect. Consider ad copy like For Enterprise Clients or Businesses with 100+ Employees.
Non-Consumer Product Versions
If you sell laser printers for small business you don't want consumers clicking on your ads. Including the higher price point (see above) is one way to qualify your audience, but you can also state Business Printers or Office Printers or even mention 24-Month Lease Available to get your point across.
Minimum Term
Don't want to sign-up fly by night clients? Make it clear that you have a 1-Year Minimum Contract.
6. Create Scarcity
Running a limited time offer or having a limited supply of something creates scarcity; urgency to buy and a fear of missing out. Besides saying the obvious in your ad copy such as 'valid for a limited time' or 'limited stock available' consider quantifying your copy. Instead of the previous ad copy, you could say 'sale ends October 31st' or 'only 100 units available.'
Taking that to the next level, you can use customizers to make the copy even more compelling.
For time-limited sales use the countdown function to show the exact time remaining for your offer, e.g. 'sale ends in 5 days.'
For items you sell you can use ad customizers to update the inventory value for what's left in stock, e.g. 'hurry, there's only 7 left.'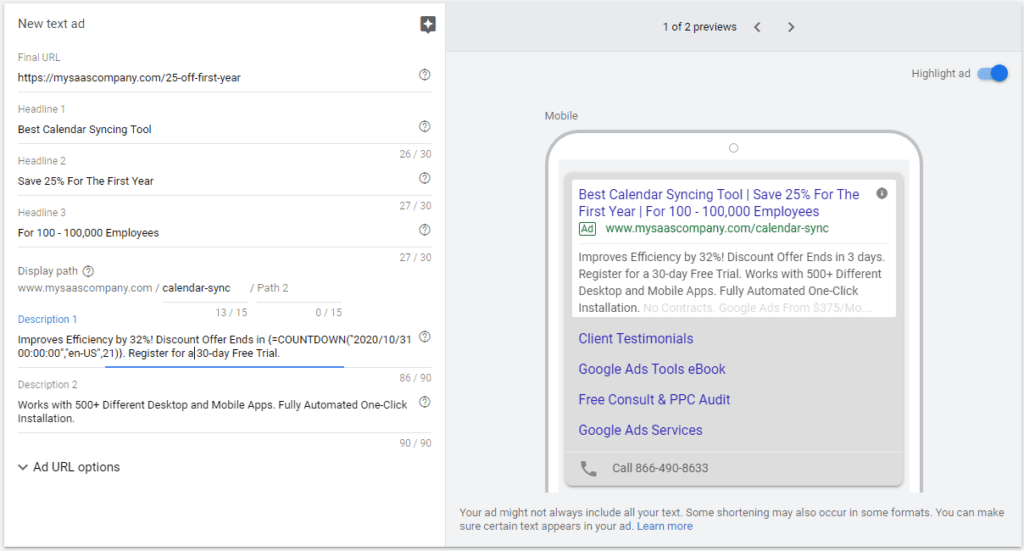 Also, don't forget to set up promotion extensions and shopping promotions for your special offers. These extensions can really boost performance.
I cannot emphasize enough, that you must never use dodgy tactics to create made-up scarcity. Don't say the sale ends tomorrow and then run that same discount offer for the next 3-years. Don't tell people the sale ends when your stock runs out, and then just keep replenishing stock.
It's perfectly fine to run a series of different sales with legitimate start-end times or quantities. And then start a different offer when that one expires.
7. Use Ad Extensions
Use all the ad extensions that make sense for your ad/offer. Google will automatically show ad extensions that lead to more conversions (assuming that's your campaign goal). Also, don't forget to monitor extension performance and replace low performing variations.
Keep in mind, too, that ad extensions tend to run more often on ads that appear near the top of results. If your ads are nowhere near the top of the page, you probably won't benefit much from ad extensions.
Site Links
Perhaps the most powerful extension, site links provide additional links and a lot of space for a link title and descriptive text. Site links bulk up your ads significantly making them much more appealing to click on. They also afford you the opportunity to route traffic to pages that may be more appropriate to some users than your target landing page. However, be careful that you don't create site links for low-value pages that likely won't lead to conversions.
The biggest mistakes we see with site links are:
a) not adding descriptive text for each link
b) including low performing pages like 'about us' or 'shipping policies'
Callouts
Callout extensions are a great way to add additional key selling points that you can't fit into ad copy. This is where you mention those 500+ 5-star Google reviews, your 90-day money-back guarantee, and same-day shipping. Best practice here is to add a bunch of these, at least 6-7, and then replace those that perform below par.
It may be difficult, but try not to duplicate your primary ad copy with callouts, there's nothing worse than using valuable ad copy space to say the same thing twice.
Call Extensions
Call extensions display your phone number in ads, people can call directly from the ad before visiting your website. In the case of mobile, they can click to call or dial the old fashioned way. Unless you really don't want inbound calls, I strongly recommend including call extensions. Not only does it give potential customers a fast & easy way to connect, but also makes your ad/business appear to be more credible which can increase your CTR.
Unless you have a vanity number I highly recommend using the call forwarding option so you can track calls from ads as conversions. Alternatively, consider a tool like CallRail, which uses a designated number for your extensions.
Location Extensions
Location extensions work directly with your Google My Business listing to pull in and display verified business locations in your ad. This is an absolute must-have if customers visit your business. Even if they don't visit, I recommend activating the feature to boost buyer confidence as your business will appear to be more legit. Particularly now, where 'buying local' is being emphasized more than ever, it's important to show you're just around the corner from your customer.
Promotion Extensions
Promotion extensions display clickable discount offers and are highly configurable to run at set dates/times. And, you can optionally add a coupon code. If you frequently change your special offers this is a great solution to avoid constantly having to update your creatives with new prices or % discounts. And you can run promo extensions account-wide to get your latest deal in front of your entire paid search audience.
Structured Snippets
This extension displays a categorized list of items based on preset categories provided by Google. Far less powerful, in my opinion, than callouts, they can add some value if a list provides helpful information for your customers.
Price Extensions
As implied, price extensions display price information for 3 or more products or services you offer. You should absolutely run price extensions if you sell on price as these will tend to bump up your CTRs. Even if you don't sell on price, it can be worth testing these to see how they impact overall performance. For example, if you're in the premium price range, they can pre-qualify visitors and reduce wasted clicks.
It's worth noting, also, that price extensions shouldn't replace stating the prices in your ads. I recommend doing both if price consideration/differentiation is important for your audience.
App Extensions
If you offer an app, app extensions great are a way to boost app installs by including a direct link to your Play Store listing. Keep in mind, though, that this can draw people away from your main offer, so consider the value app installations deliver for your business compared to landing page visits.
Lead Form Extensions
Still in beta, lead form extensions provide a way for users to submit their contact information directly from search ads (other formats to follow soon). This can be a great way to boost your conversions, but there are some issues with this. Unless you're handy with creating webhooks, you will need to periodically download these leads from a CSV file. This isn't great if your leads are time-sensitive and may create more work than it's worth. I would hope that Google will eventually offer lead forwarding via email or some connectivity to popular CRMs such as Salesforce.
Other Extensions
The remaining extensions are designed for specific business types (affiliate location extensions and hotel callout extensions) or are soon to be discontinued (message extensions).
8. Follow Google's Rules
Google has an extensive list of requirements ads must meet for ads to be fully approved. In most cases, compliance is intuitive, but there are some gotchas.
Importantly, often ads will get approved but later on, Google will restrict them with the dreaded "approved limited" flag. Under these conditions, ads often only run for a tiny fraction of potential impressions. And in some cases, a fully approved ad can suddenly be flagged as disapproved.
For these reasons, you should always include a few follow up reviews for your ads. At our agency, we check 48-hours after initial ad approval, and again in 1-week.
But, it's way better to write ads that have no chance of getting disapproved in the first place.
Here are the most common reasons for limited ad approval or disapproval:
Trademarks
This can be one of the most tricky of the bunch. Using trademarks in your ads is generally allowed without prior trademark owner approval, providing you are a reseller or brand partner. But, Google's trademark status can change at any time; ads that worked perfectly can suddenly get disapproved. And, oddly, we've often found that some ads using the trademark get approved while others get rejected.
For that reason, it's always best to apply for trademark approval with the brand owner prior to including it in ads.
Healthcare Policies
If you offer or mention pharmaceuticals or provide services that require pharmaceuticals, you must have a pharmacy license to run ads with Google. Do some ads slip through? Yep, they do, but it's more of an exception than the rule. Some examples of said services are Med Spas, clinics that provide any kind of injectables, and others.
Ad Copy Editorial Rules
There are some basic ad copywriting rules you must follow to get your ads approved. These are pretty easy to deal with because ads that don't meet the requirements are flagged as soon as you save them. Also, most of the rules are common sense such as not using all caps for non-acronyms, avoiding gimmicky punctuation, don't use misleading copy or unclear calls to action, and so on. Google provides a great article on what's allowed and what's not allowed.
9. Always be Testing
When we pick up an existing Google Ads account we'll often find ad groups with ads that haven't been touched in months. And that's not because there aren't clear winning and losing ads. On the contrary, the previous manager just played set it and forget it.
How Many Ads to Run?
You should always have at least 2 ETAs (expanded text ads) and a single RSA (responsive search ad) in each of your search ad groups. You can run more than 2 ETAs, but as a rule of thumb, don't do so if you're typically not completing a test cycle at least monthly.
How to Split Test Ads?
Reviewing and updating ads should be part of your optimization routine. Thankfully, Google now offers a full ad history, so it's easy to check when a particular ad was created; this helps tremendously in figuring out your test window.
Assuming you're optimizing for conversions (but not revenue), consider adding a custom column to calculate conversions/impression. This is a better way to look at conversion performance as it'll highlight the ad that will lead to the most conversions. However, if you have a hard CPA cap, always ensure that your "winning" ad is below that target.
But, before you touch anything, you must ensure there is statistical significance in your performance metrics.
You can use any of numerous split test calculators you can find around the web. Here you can input your visitors (or impressions) and conversions to compare different ads. I really like this calculator from AdWords Robot, as you can enter all of your ads in a single calculation.
Is There an Easier Way to Test Ads?
This all sounds like a lot of work, and it is if you have hundreds of active ad groups. At our agency, we use a script to automate reporting on winning/losing ads. This saves us many hours a month in lost productivity. Check out this free script from Karooya to implement this for your account.
Alternatively, if you use a 3rd party Google Ads management tool, it may have split test reporting built-in.
Summary
At the core of Google Ads are still keywords and ads. At my agency, we spend about 20% of campaign management time on creative development and testing. If the last time you touched your ads was 3-months ago you're not doing it right. Likewise, if you slapped together your ads in 5-minutes, you're not doing it right. Follow the tips in this post for cohesive and comprehensive ads and watch your performance numbers climb.
Want to see what's new with responsive search ads (RSAs)? Check out our How to Use Responsive Search Ads (RSAs) New Features article.