For many, the end of 2020 couldn't come fast enough. As an agency, we saw COVID shut down a number of our clients, witnessed big brands back away from Facebook & YouTube Ads, and experienced crazy-bad performance while political ads gobbled up inventory. On the positive side, our online shopping clients enjoyed massive gains.
Despite being such a down year for our industry, there were some great innovations in pay-per-click. As with previous years, the best new PPC features are not ranked and are in no particular order. Let's jump into it.
1. TikTok For Business
The fastest growing social media platform also became a sensation with PPC advertisers last year. While we haven't taken the plunge ourselves, several of our clients have told us stories of nearly unbelievable success.
It'll be interesting to see if advertiser growth outstrips user growth, and if so when we'll see a big degradation in ad performance. As of September TikTok had 850 million users with no signs of slowing down.
If you're already running social media ads TikTok needs to get into your budget now.
2. Explanations – Google Ads
Akin to "tooltips" Google now offers mouse-over pop-ups for KPI performance changes. Mouse-over any "linked" KPI and Google Ads displays the weekly variance. Subsequently clicking on "view explanation" will pop-up a detailed report indicating the reason(s) for the difference.
More often than not a change in volume (impressions, clicks, conversions, cost) is due to a change in search interest. This can be very helpful in avoiding wasted time looking for "Gremlins" that simply don't exist. Whether you're reporting to a senior manager or working for a client, this can put a quick end to "what's going on" conversations.
More importantly, when it's not "search interest" Google will indicate other things that may have affected performance.
In a perfect world, I'd love to see the "found explanations" displayed in the initial mouse-over detail.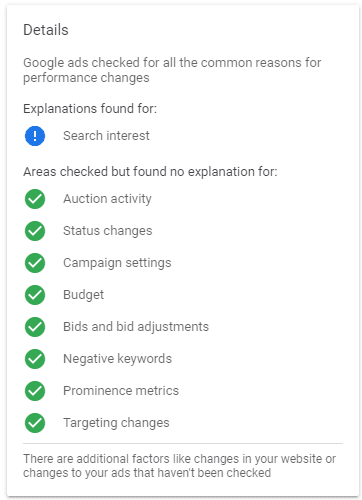 In addition to "explanations," Google also indicates when you are likely to generate more conversions within your current date range. The feature is available for all conversion KPIs whenever you select a date range that historically sees more conversions back-fill.
For example, if you are looking at October 1st – 31st, and it's November 2nd, Google may indicate it takes up to 6-days for conversions to be reported. In addition, Google Ads will recommend an end-date to view more complete conversion numbers.
This tool can save a lot of headaches when analyzing performance, particularly when you're working on campaign optimizations.
3. Auto Bidding – Microsoft Ads
Microsoft Ads seems to be desperately trying to catch up to Google Ads, and that's certainly not new. Google has been pushing advertisers and agencies to switch to conversion-based bidding for a few years. In the meantime, MS Ads hasn't even offered a similar solution until just recently.
So far, Microsoft has unveiled Maximize Conversions and tCPA bidding for search and tROAS bidding for search and shopping. It's worth noting that while Google did away with the 15-conversion minimum some time ago, it's a restriction that MS Ads has in place. Keep that in mind if you're importing Google Ads campaigns, you might have to revert to a different bidding method to get things working.

It's hard to compare between the two platforms because there is almost always a disparity in ad spend and conversion volume. But so far, our performance experience has been mixed. We've had campaigns that work great, while others start out great and then crash. And we've had campaigns that performed similarly to ECPC bidding.
To be fair to MS Ads, they do typically have smaller conversion data sets to work with and far less user information to lean on. But with any luck, we'll see automated bidding improve in time. It will be crucial for Microsoft to see success here as leading platforms are already so far ahead.
4. Google Analytics 4 (GA4) Beta
While not specifically PPC related, Google Analytics 4 offers us the promise of a better way to track, analyze, and optimize campaigns for our online customers.
First, GA4 uses AI to surface insights and predictions automatically. While Universal Analytics (the current version of Google Analytics) offers some automated observations, the new system is an order of magnitude more advanced.
Better audience integration with Google Ads means that users can automatically be removed from a list once they complete a certain action. This elegantly eliminates the need to build exclusion lists and reduces wasted ad spend. We'll also all end up with happier audiences that don't see ads for something they've already purchased.
Machine learning will fill in the gaps for missing 3rd party cookie data as we move into the next phase of internet privacy controls.
GA4 also offers a design that's more oriented to measure customer performance and to provide a deeper understanding of the client life cycle.
5. New User Interface – Facebook Ads
Facebook updates its user interface far more frequently than other ad platforms. Last year, Facebook redesigned the UI to offer simpler navigation and added shortcuts to make your most-used tools faster to access.
While opinions vary, I strongly support these changes. Despite Facebook's interface still being overly complicated, finding my way around takes less time and is more intuitive. In particular, I appreciate that all pixel/conversion related tools are located in "events manager" instead of being spread out across 3 different places.
6. Custom Audiences – Google Ads
Custom Audiences is more of an evolution than a revolution. Google has simplified custom audience management by combining custom intent and custom affinity into one type. The best part is that the new custom audience builder has improved a lot in the process.
In addition to adding keywords, domains, and apps, you can now also add places. Not to be confused with "locations" these are venues like dog parks, shoe stores, or car dealers. Google offers an autocomplete function, which works fairly well, albeit it isn't that intuitive for some places.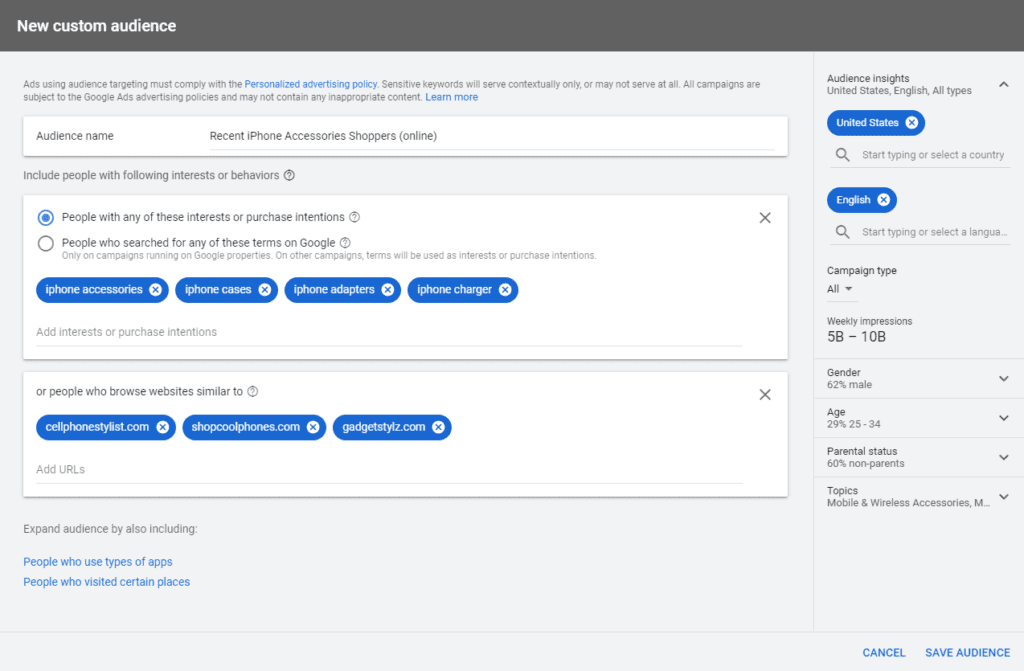 Google now displays an audience breakdown in addition to estimated weekly impressions. You'll see gender, age, and parental status, along with topics of interest for your audience.
These features make it easier than ever to tune your audience to suit your campaign objectives.
7. New User Interface – Microsoft Ads
The new interface is still rolling out to advertisers. We've been working with it for several months and I will say personally that it's a big improvement!
MS Ads now closely mimics that of the top search ads platform. This makes life easier for search marketers that have their noses in Google Ads most of the time. Enough said.
8. Campaign Budget Optimization (CBO) – Facebook Ads
This isn't a new feature for 2020, but rather about Facebook's decision to make this option mandatory.
In the end, Facebook decided not to make CBO mandatory for advertisers. This has frustrated a lot of advertisers that spent much time and effort to update all their "flagged" campaigns. But, on the positive, advertisers will continue to have a choice whether or not to use CBO.
For most advertisers and campaigns, I do recommend using CBO. Campaign budget optimization generally improves overall campaign performance and we use it for the vast majority of our campaigns. In some cases, such as when we include remarketing ad sets, we do set min or max ad set spending levels, but that's only a minor inconvenience.
CBO is part of Facebook's Power5 methodology. For more, check out our article for how we implement Power5.
9. Budget Simulator Improvements – Google Ads
In November, Google rolled out a number of significant improvements to its in-app budget simulators. Most notably, Google has integrated smart bidding, so you can see how changing your tCPA or tROAS will affect performance. In addition, you can now set the date range up to 90-days in the future, which will automatically incorporate seasonality in calculations.
This allows you to make quick informed tactical changes instead of taking a guess or spending time in the Performance Planner.
In the end, this is still just a simulation and needs to be taken with a grain of salt. Never-the-less, this tool has suddenly become much more powerful and useful.
10. Facebook Business Suite – Facebook
In September, Facebook launched its new Business Suite. While the tool isn't designed specifically for advertisers, it provides direct support for post-based ads. The new tool offers a central place to manage posts, messages, and notifications across Facebook and Instagram, with WhatsApp to follow this year.
Simplifying post-management can help SMBs optimize social proof which is only going to boost promoted-post performance.
Summary
There is a big shake-up on the way with Apple's introduction of new privacy features in iOS14. It'll be interesting to see how ad platforms, particularly social media, innovate this year to keep performing. I'm already looking forward to next year's new PPC features article.