With the internet being overpopulated with companies and competitors, it's quite difficult to stand out. One of the most effective digital marketing tactics is pay per click (PPC). This tool enables your company to garner more traffic to your website which will ideally turn into high conversions — which is always the goal for online marketing.
Although PPC can take some time before you see positive results, it sets up your company beautifully in the long term.
With our clients averaging a 59% increase in conversions, Ten Thousand Foot View can provide you with next-level search marketing! Our focus is to run smart and effective marketing campaigns that are dedicated to giving you the highest profits for your business.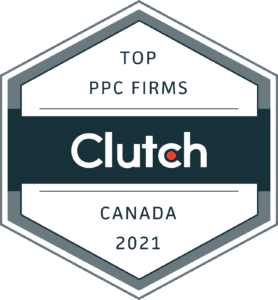 But right now, we would like to take this opportunity to announce that Clutch has recognized us as a top PPC agency in Canada! Clutch considers businesses such as ourselves, as one of the best vendors in 2021 thanks to the boundless efforts of our clients. Their positive feedback has made us an award-winning company.
We are delighted to have been selected as one of the leading ad agencies in Canada by Clutch! – Ed Goss, Managing Director
Our complete digital marketing services got us a 5-star rating from one of our awesome clients! This is what they said: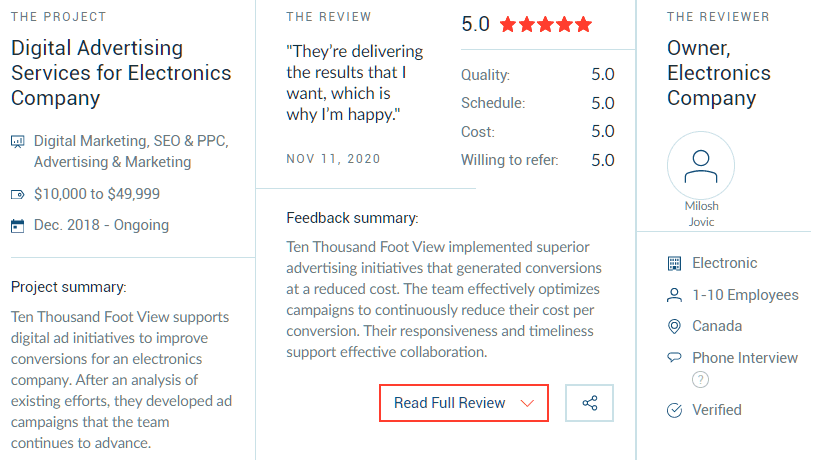 The continued support of our clients is already a reward in and of itself. Thank you for your positive words. We'll continue to work hard to give you the best service possible!
Also, check out our listing and other great search engine digital marketing agencies on DesignRush.
Want to start optimizing your business online? We'd love to hear from you! Please visit our Clutch page if you're interested in reading the rest of this review.