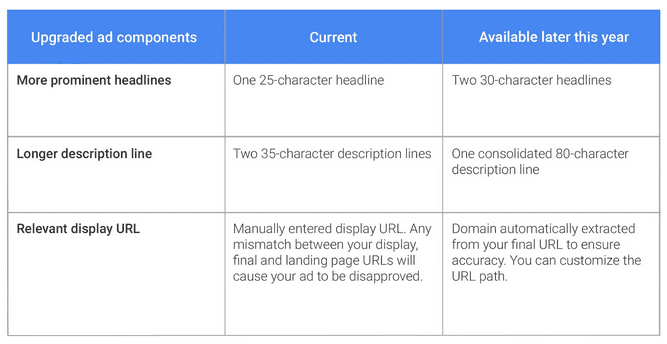 Some big changes are coming to AdWords. If you tuned into the Google AdWords keynote last month you already know about the upcoming AdWords search features. If you didn't you should set aside an hour to check out the new features and changes. Anybody running AdWords needs to be aware of, and plan for what's coming next.
Today we're going to talk, specifically, about the 3 big changes coming to paid search ads:
Expanded Text Ads
New Device Targeting
Demographic Targeting in Search
In combination, these new features will help many advertisers significantly improve CTRs and conversion rates. And, that means more profits!
Expanded Text Ads
The most important change is the one that's mandatory, new Expanded Text Ads. Word on the street is this has already started rolling out to some accounts.
The new format is vastly different from what we've been using for years. And not only is ad copy space expanding but the way we implement display urls is changing as well. This means every single one of your text ads will need a complete rewrite.
How Will the New Ads Differ?
With 47% more ad copy, 140 characters vs. 95, you can say much more. In many cases, you can probably fit your offer, unique value proposition, a few key benefits, and call-to-action into each of your ads. Space will be tight for all that; use abbreviations and special characters to cram it all in. And, try to include keywords and CTA in your headlines to make your new ads really pop! If you need some ideas to fill the space, consider pulling in copy from your existing callout ad extensions. If you're really stuck, go back to your original landing page and start from scratch.
Main Benefits
With more copy, it'll be easier to differentiate your offer from those of your competitors. This will benefit advertisers that have stronger UVPs with higher CTRs.
In beta tests, Google has shown increases in CTR of up to 20%. Of course, it isn't clear whether those tests were for 7-ads all running in the new format, or 1-ad in the new format competing against 6-ads in the old format. If the former, these numbers are great… unless you count on organic for 100% of your search traffic, of course.
How to Prepare?
You could simply wait until the new format is available in your account, jump in and get to work. Google will likely pop-up a notice in your AdWords interface once you're eligible for expanded text ads. You can also keep an eye on Google's blog and new features page for updates.
If you want to get ahead of the curve, you can start working on new creative right now. To that end, we've created a free easy to use AdWords Expanded Text Ads Template. Once you've generated an ad you like you can email it to yourself. Generate and email up to 12 ads per day… we've capped the number to keep our website from getting hammered.
New Device Targeting
Currently, you can set default bids for "Computers" and bid adjustments for "Mobile devices with full browsers" (smartphones). This provides flexibility to apply premium bids for smartphones, bid less for smartphones, or turn off bidding for smartphones altogether, i.e. -100% bid adjustment.
What You Can't Currently Do
While you can see "Tablets with full browsers" performance data, you aren't able to set bid adjustments for them. That means, up until now, tablets receive the same bids as computers. And this doesn't make sense because people use tablets differently than computers. Also, to bid only on smartphones, you have to create ad groups that only contain mobile ads.

How Will The New Device Targeting Differ?
First, the update will allow you to set default bids for either computers or smartphones. In this way, you can target smartphones exclusively by using standard ads, smartphone default bids, and applying a -100% bid adjustment for computers. Second, you will be able to set bid adjustments for tablets. This will, essentially, allow full control over which 3 device types to target, and allow granular bid adjustments for each type.
Main Benefits
For the majority of advertisers, overall conversion rates can be increased by implementing +/- bid adjustments for tablets. And, advertisers that are focused primarily mobile ads will find it easier to setup and manage their campaigns.
How to Prepare?
Keep an eye on your account for notices from AdWords. When the new device targeting becomes available here's how to set it up. If you don't have or plan to have smartphone only campaigns, the implementation is pretty simple. Pull up a report on device performance for each of your campaigns. Set bid adjustments for mobile devices and tablets to even out your cost per converted click. Note, that if you value leads by device type differently, you will need to also account for that.
If you plan to have a "mobile only" campaign, you may have more work ahead of you. Google hasn't disclosed the migration path for changing your default device bid. Our guess is that there will not be a "wizard" to automate this. Existing campaigns will likely continue to get default computer bids but you should be able to change that setting. Once you set it to mobile devices, you will need to set bid adjustments for computers, and optionally tablets, to -100%. After that, you can, if you wish, update your ads to remove the "mobile" designator.
Demographic Targeting in Search
This is a feature that agencies and AdWords end users have been clamoring for. With demographics for search, we expect to be able to target users by gender, age, and parental status… just as with GDN ads. This is tremendously beneficial to any advertiser that focuses on a specific demographic, particularly for B2C but also has applications for B2B. Like with GDN, part of the target audience will be "unknown" which includes anybody that isn't logged into Google services. We expect that we will be able to disable "unknown" which ordinarily makes up between 15-20% of all AdWords users in North America (using our own client data).
How Search Demographics Will (Probably) Work
A new option for demographic targeting will appear under the Audiences tab in search campaigns. Setting up targeting should be as easy as it is for display ads. We expect that this is going to work much like search remarketing. You will set your target demographics and choose whether you want to target and bid, or bid only. If you choose "target and bid," your search ads will only show for the demographics you have chosen. If you choose "bid only," your ads will show for all searchers, but you will be able to apply a bid adjustment up/down for certain target demographics. It is entirely possible that we're dead wrong about how this will work… but we're pretty confident this is it.

Main Benefits
Any advertiser that caters to specific demographics will see enhanced (across the board) performance by implementing search demographics targeting. Even those that don't necessarily target certain demographics may identify and take advantage of trends they were previously unaware of.
Summary
Keep an eye out for these great new AdWords search ads features coming over the next few months. Get them implemented ASAP to enhance campaign performance and stay one step ahead of your competitors.
Need help implementing AdWords?  Check out our Search Engine Marketing services.