We've come to the end of another year. It's time to look back at what new PPC features and innovations were the most important for small business advertisers in 2019. The "features" are not ranked and are in no particular order.
1. Pay-Per-Conversion Display Campaigns – Google Ads
Most small business advertisers struggle mightily to make Google Display Network (GDN) ads convert. Sure they're brilliant for remarketing or branding; when you actually have a branding budget. But what about generating a CPA (cost per action) somewhere in the neighbourhood of paid search? As an agency owner, I'll tell you it is extremely difficult to pull off for two main reasons.
First, it's a numbers game. To optimize display for conversions you need a lot of conversions, and that means spending some serious coin. Most small companies simply don't have the budget to optimize display campaigns in any reasonable timeframe.
Second, most small businesses lack brand awareness among their target audience. This makes it extremely difficult to get anybody to click on your ads, let alone transact if they do manage to make it to your site.
This all adds up to most advertisers never trying GDN or trying and quickly giving up after a month or two.
But, Google has made it much more attractive to try GDN. Most advertisers with at least 100 account wide conversions per month qualify for Pay-Per-Conversion display ads.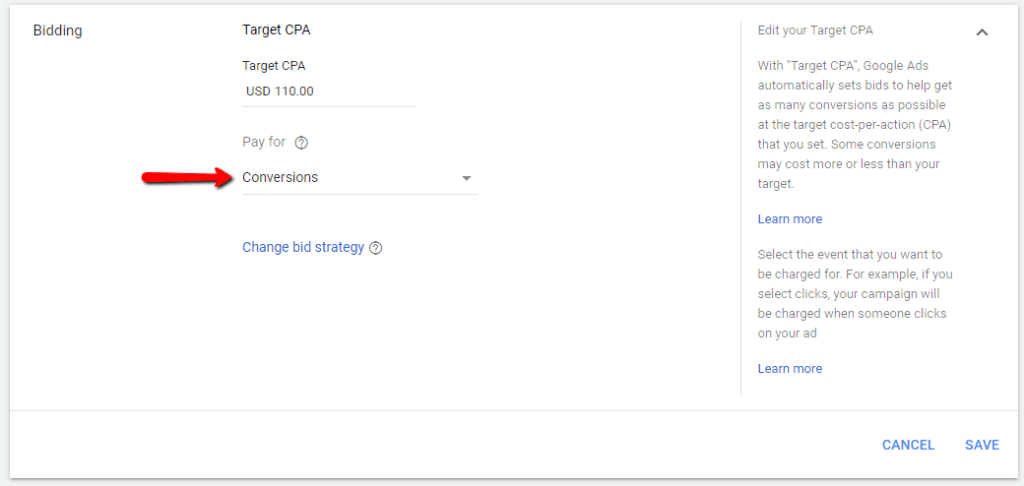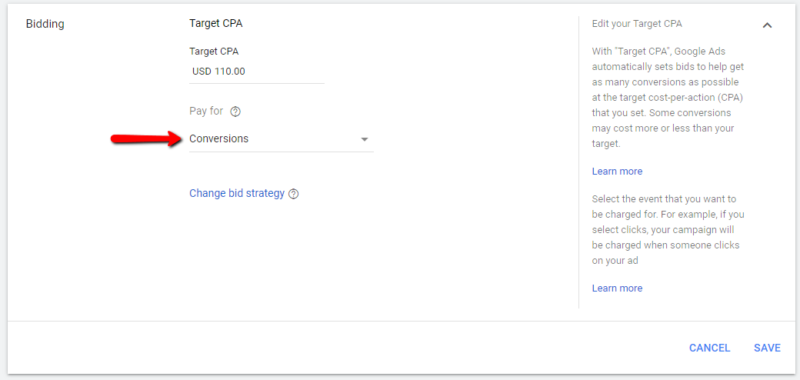 Just as it sounds, Google will only charge you for conversions, at your own tCPA, rather than impressions or clicks. This allows advertisers to give GDN a risk-free trial. The worst thing that can happen is getting a ton of free ad impressions and clicks but no conversions. The best thing that can happen is finding a new cost-effective channel for driving more conversions.
Google offers Pay-Per-Conversion for Smart Display and Standard Display campaigns. What are you waiting for?
2. Discovery Ads – Google Ads
Always on the hunt for fresh inventory, Google has started to dip into its Newsfeed with Discovery Ads. The new campaign type is currently in Closed-Beta but is expected to be released into the wild shortly.
The Newsfeed runs in the Google Now, Google News, and YouTube mobile apps, as well as in Gmail. This represents 800 million users globally!
Because Newsfeed content is curated for users and ads appear in-line as native content (just like Newsfeed Ads in Facebook) click-through-rates and conversion rates are substantially higher than on the GDN (Google Display Network).
Discovery campaigns are like other "Smart" campaigns in that there are not many levers to pull. You can, however, target a range of different audience types (even run just remarketing), demographics (ads on or off), and ad schedules (ads on or off).
All Discovery campaigns are set to maximize conversions, and you can optionally set a target CPA if that's more important than spending your target budget.
As for ads, the creation process is very similar to responsive display ads (RDAs) but the end product is more immersive and interactive when using the carousel option.
3. Local Services Ads – Google
While technically not part of the Google Ads ecosystem, this new service from Google has profound implications for paid search marketing.
Instead of all the complexity associated with running Google Ads campaigns, local businesses can simply pay a fixed cost per lead to Google and let them figure it out. This did exist in 2018 but has rolled out much more broadly in 2019 and appears to be here to stay.
There are currently about 30 service types supported in 30 major US cities (there are some Canadian cities too such as Toronto).
Local Service Ads, not surprisingly, run at the top of search results above paid search ads. A "Google Guarantee" of money back is offered to consumers if they're not satisfied with a service. When a consumer clicks on an ad they will see a list of sub-services they can choose from. For a plumber, for example, they could select "find and repair a leak" or "install a water heater." As an advertiser, you can choose which categories to offer.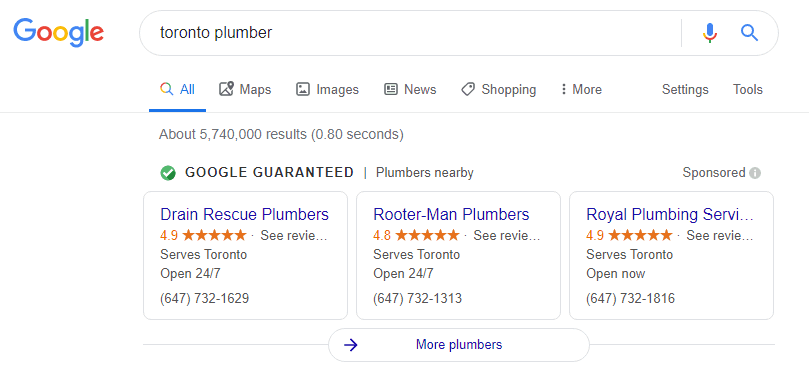 Signing up for the service is a fairly complicated process which includes background checks for your entire roster of service providers and well as verification of licensing & insurance.
New leads are managed in an online console as are your weekly budget and target CPA. Note that these ads also run in an auction; if you bid too low you are not going to get many ad impressions or leads.
Word on the street is that leads currently cost a little less than what's achievable with a good Google Ads campaign. However, as more competitors opt for LSAs, we expect things to at least even out.
4. New User Interface – Facebook Ads
Unlike Google, Facebook hasn't received much pushback about their new user interface. That's probably because the new interface is highly intuitive and delivers features the old interface lacked.
Most importantly, we now have an integrated search/filter, streamlined navigation, and tree view for our campaigns, ad sets, and ads. Drafts are now automatically background saved too, no more lost work!
If there's a knock on the new interface, it's that we still have about a bazillion different settings pages for pixels and conversions.
Overall pretty pretty pretty good.
5. Target LinkedIn Audiences With Search Ads – Microsoft Ads
LinkedIn targeting allows advertisers to set bid adjustments for LinkedIn users using 3 different targeting options:
Employees of over 80,000 different companies
People in 145 specific industries
26 different job functions such as marketing or engineering
LinkedIn targeting can be found under demographics in MS Ads interface. Advertisers can add any combination of LinkedIn targeting at the campaign or ad group level, but each target runs independently from others. Thankfully, there is a search function to quickly find appropriate target groups.
If you're a B2B that wants to hone in audience targeting, you can set low base bids and then set positive bid adjustments for LinkedIn users up to +900%. This will effectively demote your ads for less desirable folks. Conversely, you can also (almost) exclude certain LinkedIn users by setting a -90% bid adjustment for those groups.
While still in closed beta, it's expected this feature will roll out broadly very shortly. Until then, most advertisers can request and get approved for access.
6. Ads Library – Facebook Ads
Facebook has continued to work on improving transparency. The new Ads Library tool allows Facebook users, as well as digital marketing types, to view all ads that any advertiser is running. To use the tool simply go here and type in the name of your competitor. The autocomplete feature makes it a snap to identify the right Facebook company page.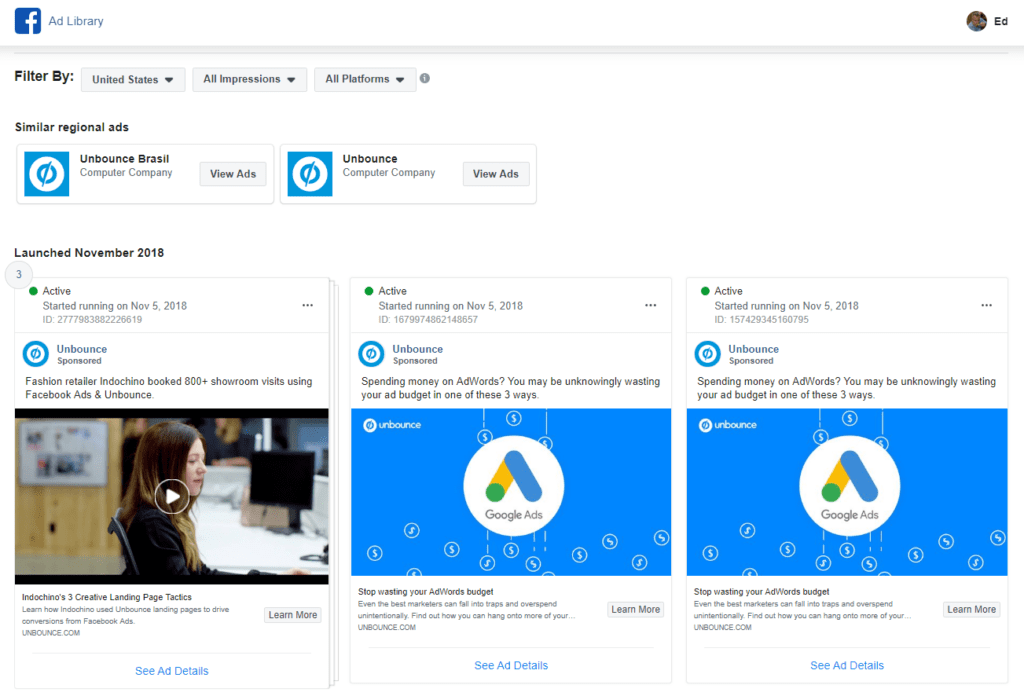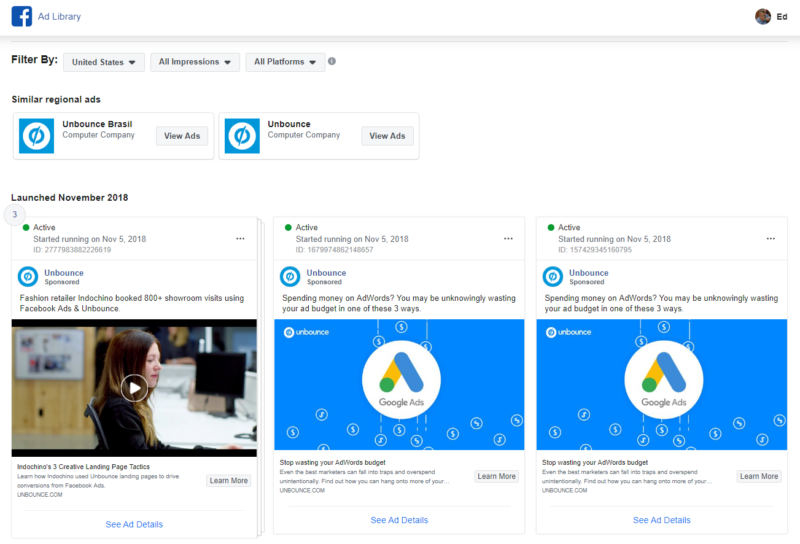 All the ads that have run with at least 1 impression in the 90-days are available to view.
Facebook also conveniently provides the following filters:
Country – you may also select "All"
Active or Inactive Ads, or both
Ads with any impressions or with impressions in the last day, last 7, 30, or 90-days
Ads that ran on all platforms or any combination of Facebook, Instagram, Audience Network, or Messenger
You may also open any ad to see if it contains multiple versions.
This is an absolutely brilliant, must-use tool for understanding your competitors' creative strategy.
7. Google Shopping Actions – Google Ads
This year Google upped the ante in their consumer products war with Amazon. "Google Express" became "Google Shopping" with many new features for shoppers and a new business model for advertisers. Before we move on, don't confuse "Google Shopping" for consumers with "Google Shopping" Ads for advertisers. They are completely different products.
The new Google Shopping offers consumers the ability to search and shop different vendors on one platform and checkout instantly without leaving Google's eco-system. While the interface is quite a bit different, this isn't much different than the way Amazon does business. Check out this article from TechCrunch for more details.
As for advertisers, they can opt in to the program through Google Shopping Actions in their existing Merchant Center Account. There are a number of qualifications, most notably being in a supported market (currently only France and the USA), and being able to meet certain fulfilment obligations.
Once live, your products will show up virtually anywhere people search for them across Google. This includes search, so you may end up competing with yourself if you continue to run traditional shopping or search ads. Shopping Action Ads offer a new business model to advertisers. Instead of PPC, advertisers pay Google a sales commission from 5-20% depending on the product category.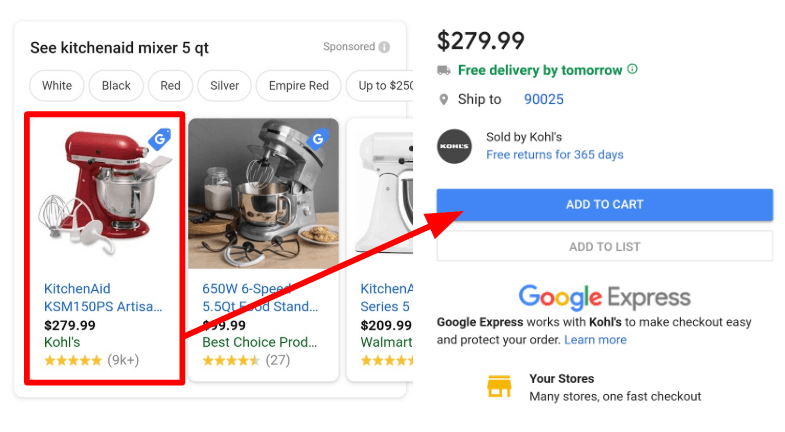 Also, consumers get a "Google Guarantee" which can help overcome problems with lack of brand recognition for start-up/smaller brands.
This can take the worry out of managing complicated Shopping campaigns and trying to hit that elusive target ROAS to ensure profitability. But, keep in mind that Google is going to prefer ads for products that convert at higher rates. Despite the "guarantee," this could leave small brands and those that don't have competitive prices out in the cold. It'll be very interesting to see how this evolves in 2020.
8. Sponsored Display Advertising – Amazon Ads
At long last, Amazon released Sponsored Display Advertising or "remarketing" display ads in layperson terms.
While Amazon has offered remarketing ads through their Demand Side Platform (DSP) for a long time, the minimums were simply too high for small companies to participate. Sponsored Display is available for virtually all advertisers and is simple to set up.
Sponsored Display runs both on and off-platform to visitors that haven't purchased and advertisers can target specific products and categories to target. Currently, there is no way to further segment audiences such as by the number of visits, last visit date, etc., but this is a good start for sure.
9. Responsive Ads – Google Ads
Although Responsive Search Ads have been around for nearly 18-months, it was only a few months ago that Google finally took them out of beta. At this point, it's the norm rather than the exception to use RSAs alongside ETAs (Expanded Text Ads) across the board.
Responsive Search Ads (RSAs) allow advertisers to mix and match a variety of different headlines and descriptions to test different creatives. Instead of split testing RSAs against other ads, you simply let Google do the variation testing right inside the single ad unit. Google learns which combinations work best and automatically optimizes delivery over time.
RSAs don't necessarily boost conversion rates or lower CPAs; they help boost ad group relevance by providing more coverage for keywords that may not exist in your ETAs. This can boost ad group impressions, clicks, CTR, and conversion volume.
While reports do not currently include conversions, you can get an idea of which ad copies are driving interest by looking at individual and combination impressions for the RSA. This can help you optimize ETAs in the same ad group.
In addition to RSAs, Google launched Responsive Display Ads (RDAs) several months ago. In a similar fashion, advertisers can add multiple headlines, descriptions, videos, images, logos, call-to-action text, and custom colors. An upgrade to the previous "Responsive Ads" for display campaigns, the newest format also supports virtually all placement types, making it a snap to reach the entire Google Display Network.
At our agency, we've seen RDA performance improve about 30% over the previous "Responsive Ads" format and deliver far superior performance to traditional banners in most campaigns.
10. Dynamic Creatives – Facebook Ads
While this launched officially at the end of November 2018, most advertisers have started adopting the new format in 2019.
Following suit to what Google has been doing with their Responsive Search & Display format, Facebook's Dynamic Creatives allows users to add multiple copy/content variations to a single ad unit. Facebook then mixes and matches all variations self-optimizing high-performing combinations and individual components.
Over time, advertisers should see campaign performance improve automatically. Importantly, Facebook provides detailed variation performance reports. This "intelligence" can be used to revise ad copy in future Dynamic Creatives or to create high-performing stand-alone traditional ad units.
Ad variations are available for:
Images
Primary text
Headlines
Descriptions
Call to Action
You cannot currently create variations of thumbnails for videos, but Facebook offers dynamic thumbnail creation which will test different options automatically. Of course, you will not see variation reports on these, unfortunately. I'm quite sure Facebook will eventually allow for manual thumbnail variation testing.
Summary
It's been another whirlwind year for PPC. The launch of new features has been fast and furious and won't be slowing down in 2020. In fact, numerous upcoming platform features have already been announced.