Google has announced that Universal Analytics (UA) will stop collecting data on July 1st, 2023. That means you have an unlucky 13-months from the original post date of this article to get sorted with Google Analytics 4 (GA4).
And while one option is to flip the switch in about a year from now, that means you won't have any access to historical data in your GA4 account. In this article, I'm going to explain what we're doing in cooperation with our clients to ensure a smooth roll-out of the new Analytics system.
Note: This article was updated on March 20th, 2023
GA4 Basics
Before jumping into implementation, it's important to understand how GA4 differs from UA.
GA4 takes AI-insights to the next level. Not only does GA4 find deeper trends such as increasing sales for a specific product. But GA4 can also predict the performance of different audiences.
Reports have been reorganized to represent the customer life cycle. As we continue to move towards a multi-touch customer experience, it's essential to wrangle your acquisition, engagement, and retention numbers. To that end, the next Analytics version fully supports cross-device tracking, a feature that has been sorely lacking from UA for way too long.
To round out reporting, the excellent Analysis Hub has been brought over from Analytics 360 and enhanced with more capabilities.
GA4 also supports codeless event tracking. Common events like page views, clicks, scrolls, video interactions, and more are all tracked automatically. You can easily convert an event into a conversion, and while that seems slick, it can be problematic too.
Indeed, conversion tracking is vastly different in GA4 than UA. And as this is still pretty new, it's a bit of an adventure for non-experts. I will touch on this more later.
Lastly, GA4 will use machine learning to fill in data gaps as we move into a cookieless world next year. This will help with the transition, although how much is hard to say.
GA4 Initial Setup
I recommend starting with a basic installation of GA4 and running in parallel with UA. This will facilitate collecting visit data in both systems and set the stage for rolling out GA4 conversion tracking.
If you log into Universal Analytics you'll see a top of page notice to start upgrading to GA4. The "wizard" will allow you to install GA4 to run in parallel with UA. Depending on how you've installed UA you may need to add the new tag to Google Tag Manager or directly on your website.

Once you've completed that task you can go ahead and optimize GA4 settings to suit you. Go into your new GA4 property and choose admin. You'll notice there are no views in GA4. This simplifies things quite a bit. From here you can manage the property settings directly or access most of them through the setup assistant. Here's how I recommend configuring GA4 for most users:
Property Settings
You can use your domain here or a descriptive name, and I recommend including "-GA4" on the end to distinguish this from your UA property. Fill in the rest of the fields here as appropriate for your business. If you have a lot of different properties in your account I suggest marking those you use most often with a star to ease account navigation.
Property Access Management
Access settings will be copied over from UA when you migrate. As with UA, you can set user access at the account level or property level. Since GA4 doesn't have views you cannot, obviously, add users there.
Note here that GA4 uses defined user access roles instead of multi-select user access rights. The language is similar, however, so selecting "Administrator" provides full access while "Editor" removes the ability to add/adjust/remove users. In addition to user roles, you can disable access to cost and revenue metrics for any user. This can be useful for technical users that don't do any marketing.
Data Streams
Data streams define the associated property types which can include "Web" for websites and "Android" or "iOS" for those respective app types. What's interesting here is you can have a group of multiple websites and apps all included in a single property.
Data Settings
Data settings are broken down into 3 sections including collection, retention, and filters. Collection, importantly, can be set to include enhanced collection features. I strongly encourage you to enable Google signals data collection, granular location and device data collection, and advanced personalization settings. This enables cross-device tracking, location and device info, and remarketing, respectively. If you offer services in Europe or California I suggest you learn about and employ appropriate settings to ensure you comply with their regional privacy policies.

In terms of data retention, you can set this up to 14-months and reset the clock when a user visits again. I recommend setting this to the maximum notwithstanding any privacy requirements of your target market.
Data filters can be set up to exclude internal traffic from being included in reports.
Data Import
GA4 supports syncing or uploading offline conversion data from various sources. I'm not going to spend any time here but this is worth checking out if you track sales in third party systems such as CRMs.
Reporting Identity
I recommend selecting to report User-ID and Device. The truth is that most businesses won't benefit from this but you may if your customers log in to use your website. In a nutshell, including the User-ID allows you to pull some reports on how logged in users behave compared to non-logged-in users, and you can create audiences based on the User-IDs.
Attribution Settings
These settings are very important. Unless you have a very good reason why not to, you should use the data-driven attribution model and max out your lookback windows to collect as much conversion data as possible.
Product Links
If you're using Google Ads you should, of course, link to that account. This will facilitate accurate campaign reporting in GA4 as well as conversion syncing. I also recommend linking your Search Console whether or not you're actively doing any SEO (search engine optimization). This will bring the Search Console organic impressions and traffic reports into GA4 to simplify access.
One new option here is to link Merchant Center. This gives you the ability to view your Google Free Listings KPIs inside of GA4. Note that in order to take advantage of this you need to set up free listings in Merchant Center and activate auto-tagging.
Summary
Now you've got all the basics covered and should be collecting visitor data in GA4.
Configuring GA4 Audiences
If you plan on doing any remarketing in the future, or all already doing so with UA audiences, now is the perfect time to configure your GA4 audiences. By starting to build up your audiences in advance, you can add them to campaigns in the future and hit the ground running. This is particularly important if you use audience exclusions such as your regular customers.
Audiences are available from the GA4 "configure" menu. Click configure and you'll see it in the list of options. Google has taken the odd decision to split configuration between settings and configure for some odd reason. It'll probably take you a little while to remember which settings are accessible from each area.
Here you can create audiences from scratch by adding your own parameters. The tool has been reworked from UA and is more intuitive to use in my opinion. Google has also provided a "suggested audiences" tool that recommends new audiences and provides templates for different audience segments such as demographic breakdowns.
Lastly, Google offers some predictive audiences. This allows you to target groups of users that are more likely to purchase in the next 7-days, for example. This could be a game-changer for remarketing if it actually works.

You'll notice that the membership duration has a time range or you can set it to the maximum limit. The membership duration range is still 1 – 540 days, although some systems allow for longer durations. If you plan to max this out you may as well select the max option.
If you will be running UA and GA4 in parallel for a while I would go ahead and add audiences from both systems to your campaigns. As UA audiences roll off after that version is sunset you can eventually remove those UA audiences from your campaigns. This will ensure your remarketing campaigns are not disrupted as you transition Analytics platforms. In addition, it's likely that you'll start to notice GA4 collects more users than UA with its enhanced tracking capabilities.
Configuring Conversion Tracking
And now we come to the potentially difficult part. As I mentioned earlier, GA4 and UA share very little in the way they track conversions. To add to the challenge, GA4 has yet to offer an e-commerce module to automate online store conversion tracking. Furthermore, many 3rd party tools don't yet support GA4.
CallRail finally rolled out support for GA4 at the end of February. As all CallRail dimensions and variables must be entered manually plan on 15 minutes of punching in all of those. But once that's done it works quite well. Here's the how-to-install CallRail article.
Indeed, for these reasons, and others, I strongly suggest running UA and GA4 in parallel until UA is discontinued.
That said, some conversion types are relatively easy to install, and Google rolled out a conversions migration tool a few months ago.
Before I jump into creating conversions, I'll discuss how these work in GA4. Unlike UA, GA4 conversions are effectively just events that you set as conversions. GA4 automatically tracks many event types including page views, clicks, scrolling, and more.
To configure a conversion, you simply use an existing event or create one, and then activate the conversion switch.
Now I'll run through some implementation of new conversions in GA4. Note that events and conversions are accessible from the "configure" menu.
Conversion Migration Tool
Google rolled out a new "conversion migration tool" that allows you to import your goals from UA. But, unfortunately, that doesn't mean the new events/conversions are going to necessarily work. In this case, the tool will, at least, cut down the time involved to manually copy over the event details.
A prerequisite to using the migration tool is to connect your new GA4 tag to the original UA tag. To do so, go into the relevant UA property and under admin select tracking info/tracking code.  Here you can connect a new tag. Note that you need prefix your GA4 ID with "G-" for this to work.
Once that's done you can return to GA4, go back into the setup assistant, scroll to "conversions" and select "Import existing goals from your connected Universal Analytics property."

Most goals may be imported simply by selecting them. But there are some restrictions you should be aware of. If these restrictions are preventing you from importing sometimes you can make changes to the UA goals to allow import. Otherwise, you may have to create new GA4 events and conversions manually as I'll describe below.
Note that using the conversion migration tool will automatically add the events and conversions in GA4 without any additional steps or having to wait for events to resolve. You may, however, have to create corresponding events to fire on your website using Google Tag Manager (GTM).
Lead-Gen Confirmation "Thank-You" Page Conversions
This goal type has always been the easiest to implement in Universal Analytics as it doesn't require touching the website. As with UA, implementing this goal type in GA4 is very straightforward.
Go to events and click "create event" to make a new custom event. You'll see any existing custom events here and can click "create event" again to craft a new one.
Add a custom event name, this will be the same for your conversion – event names may only contain alphanumeric characters and underscores
Under matching conditions, choose "page_location" and the appropriate operator, then input the URL or portion of URL for your thank-you page as the Value
Add the event_name as page_view. This will ensure that you don't track conversions across multiple event types
If you want, you can add another condition for "page_referrer" and set that to the landing page containing your form – this is helpful if you want to set up unique conversions for different landing pages that share the same thank-you page
Optionally, you can add a fixed conversion value by including those parameters for "value" and "currency" as per below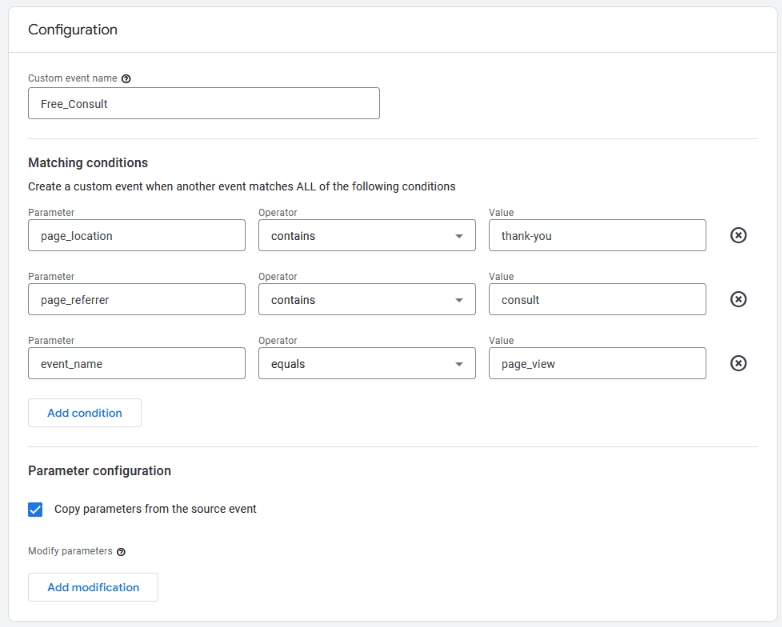 Once you have created the new event you can test whether it fires by submitting a dummy form or even just visiting the thank-you page (depending on your configuration) and view whether that shows up in GA4 real-time overview (found under reports).
Once you confirm the event is firing you will have to wait for  24-48 hours before the event shows up in your active events list. Yes, this is annoying and should happen in near real-time. Perhaps Google will address this in the future.
Once the event appears you can simply click on "mark as a conversion" and you're all set. The new conversion will show up under conversions and in various GA4 reports. You will also be able to import the new conversion into Google Ads.
Don't want to wait? A simple workaround for this is to go to the conversions page in GA4 and manually add a new conversion using the matching name to the custom event you just created.
Event-Based Conversions
The other common type of UA goal is one that uses events. In UA events may have a category, action, label, and value. The first 3 variables allow you to uniquely identify the event while the last one allows you to pass a value into your goal. GA4, on the other hand, uses a completely different model for events. Therefore there is no way to simply replicate the events in GA4.
In order to fire similar custom events for GA4 you will need to set those up using Google Tag Manager. Here's a short guide from Fishtank Consulting on how to do this.
As with other new custom events, plan on waiting for 24-48 hours after the events are first created before you can set them as conversions. Also, these events won't appear in your events list until and unless they fire. Therefore, if your site doesn't get a lot of conversion activity you should probably generate a few dummy conversions to force the events to appear.
Of course, if you imported the goal as an event/conversion from UA using the migration tool, you should be all set.
Third-Party Events/Conversions
Some events and goals are generated via 3rd party Universal Analytics API integrations. In my experience so far, most 3rd parties haven't addressed GA4 yet. This means there is simply no way to set up these conversions right now.
Before planning your GA4 rollout you should audit the various 3rd party integrations you use to determine what's supported. If there's no documentation on the provider's website it's worth checking their community forum and/or contacting them directly.
At the very least, ensure the provider is committed to having a solution by the July 2023 deadline. If they aren't you had better start looking at other options as your plan B.
e-Commerce Conversions
Right now there is no easy way to set up e-commerce conversion tracking. Instead of offering an elegant solution such as in UA, GA4 currently refers you to their developer site. I hope that Google plans to launch an e-commerce module in the future. But unless that happens you're either going to have to create the appropriate events manually or by using a third-party tool.
Here's an article from Analyzify that shows step-by-step how to configure GA4 e-commerce tracking for Shopify with GTM. It's a chore!
The same company, naturally, offers a plugin for Shopify that automates the entire process. The cost for that solution is $449 which is pretty steep for many small store owners. That said, their tool also automates the installation of virtually all the major scripts you need to track and enables remarketing for major platforms like Google, Facebook, TikTok, Microsoft and more. That might be worth the price of admission for a new store or one looking to simplify its tracking system.
You might also have a look at Elevar for Shopify which offers Google Tag Manager automation for GA4 starting from $50/month. Right now third party support and instructions for implementing GA4 on other shopping carts is even more spotty.
My recommendation for the moment is to hold off on e-commerce tracking configuration. The conversion migration tool was a complete surprise that Google sprang on us. It's quite likely they will eventually launch a quick and easy integration method for online stores. And, it's also likely that more third parties will step up to offer low-cost conversion tracking options for all major shopping carts. Either way, you can probably save yourself a big headache if you sit tight for a while on this functionality.
Summary
Now is the time to start working on your UA to GA4 migration. At the very least, small businesses should have a basic setup of GA4 running in parallel to UA. This should include a proper system configuration and audience creation.
Setting up conversion tracking may also make sense at this stage, if it's viable for your business. If there are unsupported third-party integrations or you're running an online store it may make sense to put conversion tracking on the back burner for now. But keep an eye out for better conversion support. If things are still shaky by the end of 2022 you may have to consider changing technologies.