Google's Performance-Max campaigns heralded a new way to target audiences. Rather than direct targeting, Google introduced audience "signals" which instead use aggregate targeting to identify your ideal users.
The Google Ads audience signals targeting method is akin to Facebook's Lookalikes. But instead of matching to a single list of users, "signals" incorporates virtually all possible audience targeting methods.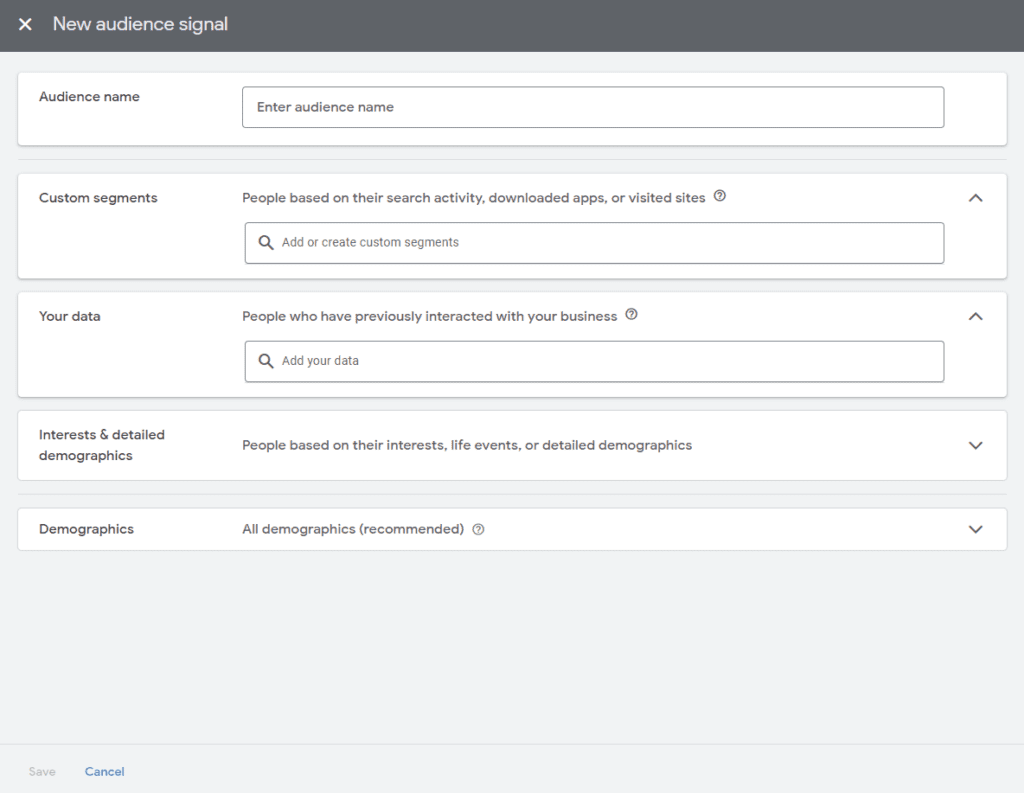 The main benefit of audience signals is a flexible audience size that will suit any budget while also self-optimizing to ideal prospects over time. The main drawback of audience signals is the inability to target audiences directly, gain clear insights from those specific targets, or run remarketing campaigns.
Indeed, Google remarketing may be going the way of the Dodo shortly. Discovery campaigns now use audience signals, and it's likely that display and search will follow suit at some point.
That issue aside, it's crucial to get audience signals right with P-Max or Discovery Ads when launching a new campaign.
For most businesses, you can often get away with a single audience signal for your entire account. But if you have different offers for target groups, e.g. lawyers, doctors, and accountants, you should consider creating a different audience signal for each of those so you can customize your targeting per campaign or asset set.
Here's how we do it at my agency.
Audience Name
Give your audience signal a descriptive name. I'll often do this as the last step before saving my audience as my original thinking might change as I progress through the various steps below. We include a summary of the key audiences we've included along with any demographic restrictions we've set. Importantly, each audience signal you create should be distinctive from the others.
Custom Segments
When there isn't a direct in-market match for what you offer you can build your own. You can choose any existing custom segments you've created or create a new one on the fly. Assuming the latter…
Here you will be presented with two primary targeting options. Both are keyword based. The description of the two options is a bit confusing. What you need to know is that the "People who searched for any of these terms on Google" is higher precision and generally what I recommend choosing.
Note that the keywords you enter here are broad match only. Consider choosing 10-25 of your highest-performing keywords from the relevant campaign(s).
You can also expand the audience by adding relevant domains that these users visit. This is often a good place to include a list of your main competitors or sites that these people uniquely visit. And, lastly, you can add apps that they regularly use, same criteria as for domains.
We typically only include one custom segment per audience signal, and only if we cannot find a direct in-market audience match.
Note that while Google has added a new Combined Audience Segments feature, it isn't yet available for audience signals. This new feature allows you to combine and filter multiple existing audiences using AND, OR, and NOT arguments to build out something new. For example, you could combine the "Business Professionals" Affinity and  "Tax Preparation Services" In-Market audiences to target only business people looking for tax preparation services.
While Google may add this to audience signals, it's not for certain. Since you can exclude certain groups with "NOT" statements that would sort of go against the whole concept of the way "signals" currently works.
Your Data
There are a few different types of "your" data that you can include in audience signals. We'll typically add one customer list and a long/broad website visitors list when only one major product type is on offer.
Customer Lists
By customer list, I mean either your existing customers or leads, people that have genuinely expressed an interest in buying from you. This doesn't include a list of emails you purchased from somebody else or scraped from LinkedIn, which can get your account suspended if you're not careful.
A customer list is by far the best data source for audience signals as you're telling Google exactly who your customers are.
Any uploaded list must match at least 1,000 Google contacts to qualify for targeting. That typically means you need at least a few thousand contacts, preferably a lot more than that for this to work. If your customer list isn't large enough to qualify consider uploading your newsletter subscribers instead.
To upload a list go to Audience Manager, hit +, and select the "customer list" option. Ideally, you have the list saved in another tool such as Hubspot, Mailchimp, or Salesforce among hundreds of others. If you do, you can easily sync your list and it'll be maintained up to date all the time.
If you don't have that capability, you can upload the list as a CSV file, noting that you will need to manually update it periodically to keep it up to date. I recommend at least monthly unless your list only gets a trickle of new contacts.
Note that you can download a template at this stage and then format your CSV file as required to simplify syncing.
Website Visitors
Self-explanatory, website visitors are people that have visited your website or app. These can be broad, such as all website visitors for the past 540-days or very narrow, visitors over the past 7-days that came from Google Ads and visited the "request a quote" page.
One great list we use a lot is converted visitors over 540 days. This can be used positively or negatively as the situation dictates. For example, you should add this to your audience signals list. You might also add this to account exclusions if these people represent prospects that contacted you. No point in spending advertising dollars on them once you've already had a meeting with them.
These lists can be created in Google Analytics and synced to Google Ads or created directly in Google Ads.
Interests & Detailed Demographics
This section contains four different list types. Don't go too nuts but it's okay to end up with one of each or multiple of one list type. We try to include no more than 6 lists in total.
In-Market Audiences
These audiences are pre-built by Google and contain a list of users that have recently (defined as 2-weeks) been looking for the product or service identified in the list. Over time the number of lists has become extensive. If you haven't researched lists in a while it's worth a fresh look to see what might be a match to your offer.
Affinity
Affinity audiences are probably the least important for audience signals, and for that reason we rarely include them. These lists refer to the general interests of your target audience. For example, if you sell treadmills you might include the "health and fitness buffs" affinity.
Life Events
Life events can signal a new need for various products and services. For example, "starting a business soon" can indicate somebody that's primed for logo design, incorporation, bookkeeping services, marketing, coaching and more. Similarly, "adding cat to household soon" can indicate that somebody is ready to buy cat food, toys, supplies, training, vet services and other related products.
Detailed Demographics
Not to be confused with "demographics" which I'll touch on next, detailed demographics are targetable lists like the others I've just described. There's a short list of detailed demographics categories and much longer detailed sub-categories for some of those. For example, under employment there are 3 company sizes and 8 industry types.
Demographics
This section is for general demographic targeting including age, gender, parental status and household income. It's important to remember that excluding certain demographic groups here will not necessarily prevent Google from targeting those groups, although it's less likely they will do so.
Of all the targeting options, this one is the least important. Part of the reason for that is that Google only has this information for about 30% of its user base.
But sure, if you know that people under 65 are not qualified for your offer you should definitely set that age range and uncheck "unknown" as well.
Optimizing Audience Signals
Audience signals can be amended at any time although according to Google is probably unnecessary once a campaign is performing well. While Google starts out using your audience signals it'll automatically adapt and adjust over time based on conversion data.
You should periodically check P-Max campaign insights and review your audience details. You may be surprised to find what Google has identified as already "optimized" audiences.
If you're using this audience signal in other P-Max or Discovery campaigns, it may well be worth updating it with new segments as appropriate.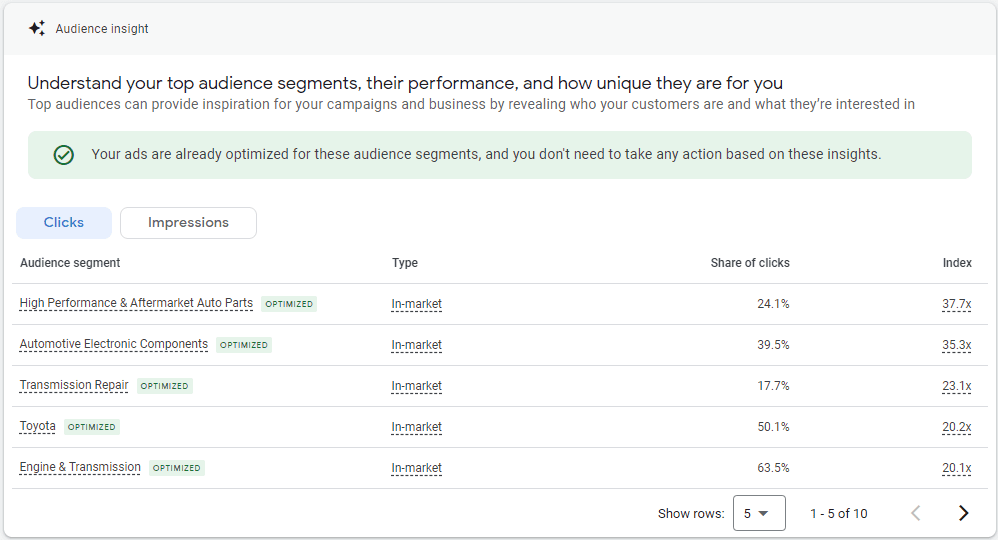 Summary
Creating and maintaining Google Ads audience signals is one of the most important elements to achieve success with P-Max and Discovery campaigns. Where possible, try to add 1 or more audiences in each section but don't go too nuts. For example, adding a grocery list of every affinity group is unnecessary and isn't going to improve targeting. Try to stay focused on your most relevant groups.
Once your campaign is running efficiently you probably don't need to adjust your audience signals. But consider doing so if you plan to include this signal in new campaigns to give them a more effective launch.
For more on building high-performing P-Max campaigns check out this article.