If you haven't been asked to verify your Google Ads account yet you probably will be very shortly.
The Google Advertiser Verification Program was slow-tracked over the past couple of years. But starting in April we've seen a big uptick in the number of clients Google has sent notices for.
In this article I'll explain what the program entails, how to verify, and the key benefits and drawbacks of being verified. I'll also discuss how you can use the program to enhance competitor research.
What is Advertiser Verification?
Google's verification program has been around in one form or another for a couple of years. The current iteration includes advertiser identification and business operations verification in one process.
The main purpose of the program is to protect Google users from fraudulent ads and to provide advertiser information to increase transparency. On the first note, the need to verify an account will help prevent bad players from running ads in the first place. It may also cut down on advertisers that are double-serving, i.e. running multiple ad accounts and websites simultaneously for a single business.
On the second note, advertisers will need to disclose their registered business name and location.
This information, along with all the ads you are running will be visible/accessible from a widget next to your ads. Users will also have the ability to like or report your ad, choose to see more or fewer ads for your industry, as well as see why they are being shown your ad. This is very similar to Meta's transparency tool.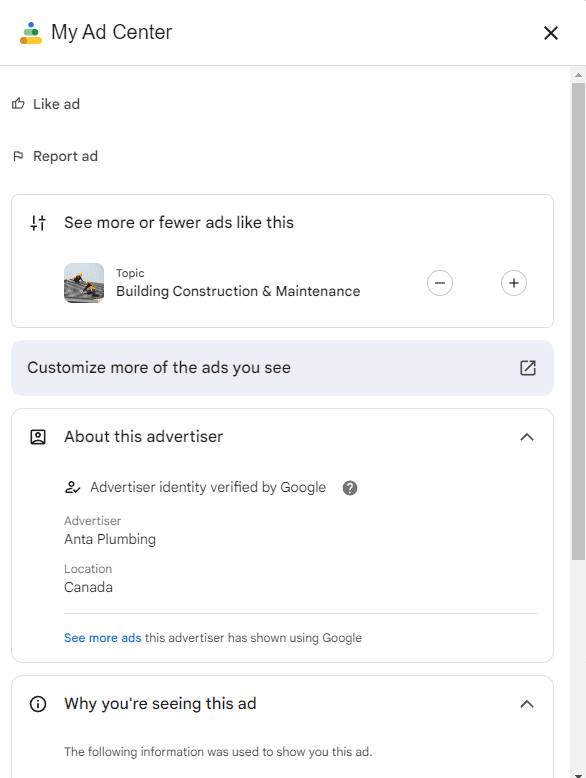 When Should You Verify Your Account?
You can't verify until Google invites you to do so. By the same token, when Google sends you an email notice you have 30 days to start the process. In addition to an email notification to the account admin, notices will be sent to account managers such as your agency and will be posted at the top of your account.
If you're not sure if your account has been verified or whether you are in the queue to be verified you can check that from Tools & Settings > Billing > Advertiser verification.
Here you'll be able to tell whether you are already verified and if you can start verification.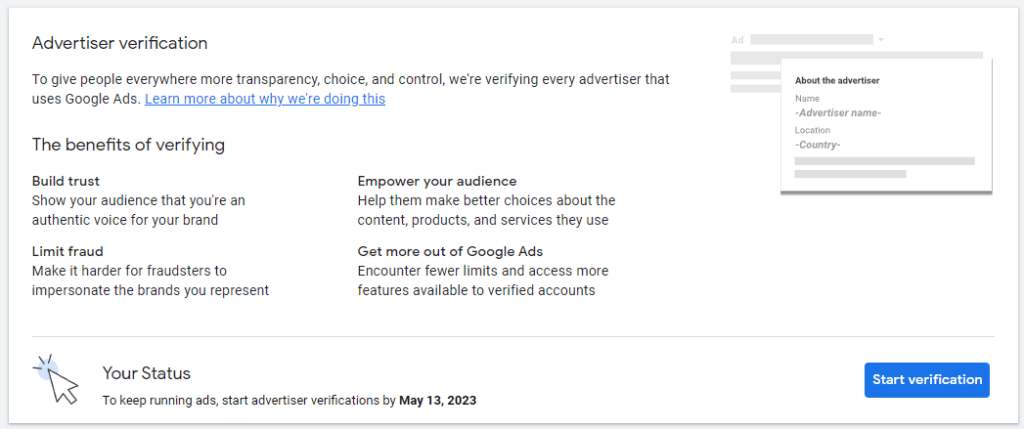 More recently we have seen verification notices in some accounts that don't carry a deadline. As there are some benefits to verifying it's worth jumping on it as soon as you have the opportunity to do so. When Google has given you a deadline, you can restart the 30-day clock by initiating verification, even if you're unable to complete it.
If your verification times out your account will be suspended until Google receives and approves your verification request. While we usually see fast turnaround times this process can take up to 7 business days, so it's important to take this seriously.
What's Required for Verification?
Google will ask you some questions about your business such as the industry, billing country, and whether you are the seller or a third-party advertiser such as an agency or affiliate.
The next step is identity verification. You will need to confirm the name and location of your business or you personally if you don't operate under a registered business. The type of documentation required varies by country and there are many options, but a certificate of incorporation (business) or passport (personal) are the most obvious choices and work in both the US & Canada.
Finally, you will be asked to verify information about your business operations such as your business model and other practices, relationships with third parties, and so on.
Once you've submitted everything Google will respond within 7 days (usually much faster) to confirm whether verification is complete or whether your verification is rejected. If you get rejected and you're not sure why you can contact support for help.
What Happens When Your Account is Verified?
Once verified your ads will display a widget such as a 3-dot hamburger menu that allows users to view general information about your business along with all of the creatives you're currently running (My Ad Center).
Google has been testing different widgets so you might see something a bit different. In addition, Google has been playing around with "verified" badges.
Shortly after verification, you should have the ability to add company name and logo assets (previously called extensions) to your account. These will be displayed next to your search ads in place of the generic "world" icon and domain. Importantly, all of these transparency features can help increase buyer confidence which will boost your CTRs and may also increase conversion rates.

Of course, if your business name doesn't line up with your website brand, that can cause some confusion for potential customers. Likewise, if you're advertising in the US but located in Indonesia, for example, that might reduce overall ad performance.
Performing Competitive Research with Transparency Center
With the new transparency of advertising verification, marketers can now do more in-depth creative research. While tools like SEMrush provide a ton of information about ads, the ads are often out of date or incomplete. Not so with Google.
To get to the Transparency Center, bring up a search ad for your competitor and click on the hamburger menu to bring up My Ad Center. From there scroll down to and click on the "see more ads" link.
Not sure who your Google Ads competitors are? Check your auction insights report.
As with Meta's tool, you are presented with many filters to identify the creative strategy.
calendar to select the date range or "any time"
location to select the country or "anywhere"
ad formats to select image, video, text ads, or all types
The advertiser's business name and registered location are also displayed here.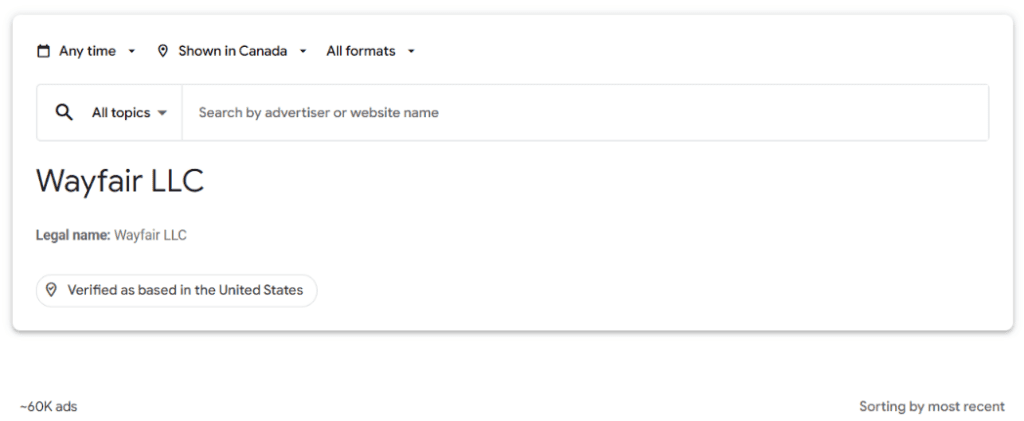 Right below that you will see the total number of ads, in this example a whopping 60K! From here you can scroll through all of the ads based on your filters above.
So what can you really find out about your competitor?
The raw number of ads can indicate the total investment into the Google ecosystem. Of course, an advertiser can run 100 ads and only show each one time or millions of times each. But in general, a lot of ads means a lot of investment.
You can compare the relative number of ads of each type to understand the breakdown by inventory type, i.e. search, image, and video.
Clicking on a single ad will display the last time it ran and if it's a video ad will allow you to play the video.
You can review ads to establish unique value propositions, stated features and benefits, calls to action, and more. This can help you gain a deep understanding of the strategic direction of your competitor.
Some other tidbits include seeing ads that use ad customizers and checking what languages your competitors run ads in. In this example, we can see both of these things are in play for Wayfair.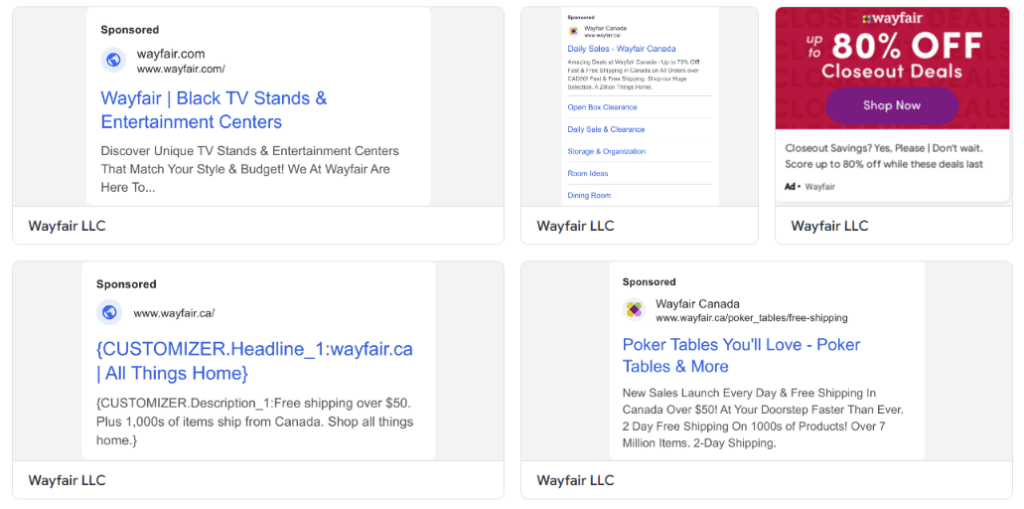 What can't you get from the transparency tool?
Google doesn't allow you to click through ads, so you won't be able to easily figure out what landing pages your competitor is associating. You could, of course, click through ads you bring up through the search engine. At my agency we don't click on competitor ads as a rule, it's not great practice and not something you'd want your competitors doing to you.
You can't get granular with location targeting such as for a specific state/province or city.
Google won't show you the impressions, click volume, or device targeting for any of the ads. This is where SEMrush and similar tools can and should be used as part of your competitor research.
Is Google Advertiser Verification Good for the Industry?
In my opinion yes, absolutely it is. Anything that cuts down on fraudulent ads and improves user trust is good for legitimate advertisers. While the transparency tool exposes advertisers to more competitor intelligence, I believe the tradeoff is worth it.
I'll also point out that Google has a similar verification program in place for publishers/Adsense. As such we should start to see a dent in click fraud over time. This will help advertisers tremendously and I hope that we'll be able to select only "verified" publishers as a targeting option shortly.
Microsft Advertiser Verification?
Yep, you can bet that Microsoft would follow suit with their own program. We've seen a few of our clients receive requests under Microft's pilot advertiser verification program. It appears that Microsoft is fast-tracking verification and has set a deadline of August 1st for all accounts. This is interesting, it's already the beginning of June and none of our remaining clients have received a verification notice.
As with Google, once your company if verified users will be able to see a snapshot of your company information and ads from your search ads.
Summary
Whether or not you like the new Google Advertiser Verification program you're going to have to comply. The process is quick and relatively painless for most advertisers. And, you'll gain the ability to show your company name and logo next to your search ads.
Of course, eventually, all advertisers will be verified and thus there will no longer be a competitive advantage.
But I do believe this will increase user trust in Google Ads which in an of itself might boost performance for the majority of advertisers.