For many B2Bs there's a fairly clear path to building an effective paid search keyword strategy. CRM software, payroll services, and ad agencies are all pretty easy to figure out. But when you're a B2B that sells products that consumers also use, things can get tricky.
Great examples of this are Industrial HVAC companies, professional electronics stores, and office movers. Sure, you can simply include qualifier keywords like corporate or business but that could greatly curtail your reach and ability to scale.
This article will cover the how-to for keyword strategy and delve into a bunch of tips and tricks for reaching your business audience while blocking unwanted consumers.
Keyword Qualifiers
Using keywords qualifiers is a perfectly valid strategy here, but it will limit your reach. This is particularly true when search queries don't typically include those qualifiers. If you're an office moving company you can probably get away with keywords like:
+office +movers
+business +movers
+corporate +movers
+company +movers
Most people looking for help to move their business would, indeed, include a qualifier.
On the other hand, if you sell laser printers for business, your target audience may often search simply for laser printers. If you use qualifiers for this niche you may only see a small fraction of qualified impressions for your ads.
Negative Keywords
If you're having trouble driving your desired lead volume, you may have to turn to unqualified keywords. This is going to generate a lot of impressions from consumers. There are a number of ways to deal with this issue, and we'll explore those. But your main tool here is going to be negative keywords.
In the office mover example a good place to start would be with home furnishings, rooms, and dwelling types:
-couch
-sofa
-dinette
-bedroom
-living
-home
-house
-condo
-apartment
But remember, this is just a starting point. You will need to review your search terms frequently (especially in the beginning) and add anything that appears to be specific to consumers.
Keyword Research
If you're having a tough time getting started with keywords I recommend using SEMrush or SpyFu to check out what your direct competitors are targeting. SEMrush starts at $99/month but offers a 7-day free trial. SpyFu doesn't offer a free trial but costs just $39/month. A 1-month subscription for either service will pay for itself with the insights you gain.
Ad Qualifiers
If you know your ads are going to run to some consumers you can prevent low-value clicks by using qualifiers in your ads. Spell out clearly that you only service industry with a Headline like Office Moving Specialists. Include copy that indicates your business-oriented pricing, this often makes it obvious that you're not for consumers. Add additional queues that you're only B2B in your site link and callout extensions.
Keep in mind that doing this will lower your ads' click-through-rate (CTR) and drive up your average cost-per-click (CPC). But that's much better than paying for clicks that will never convert.
Ad Schedule
Most business people look for related services during office hours. With that in mind, you should consider restricting your ad schedule to typical office hours, 9 AM – 5 PM, Monday – Friday, for example. This will eliminate some opportunities but will cut out a lot of consumer search ad impressions that would tend to happen off-hours.
If you're not sure whether this is a good idea, run 24/7 and review your conversion data periodically as part of your regular optimization process.
And remember, if you sell nationally or internationally, you may want to set up different campaigns for respective time-zones.
Devices
I would be careful with this one, but if your target is white-collar business people consider reducing your bids on mobile devices. These folks will ordinarily be on their computer. But as with ad schedules, you can use a wait and see approach.
Audience Targeting
Google offers a wide range of In-Market Audiences specific to business needs.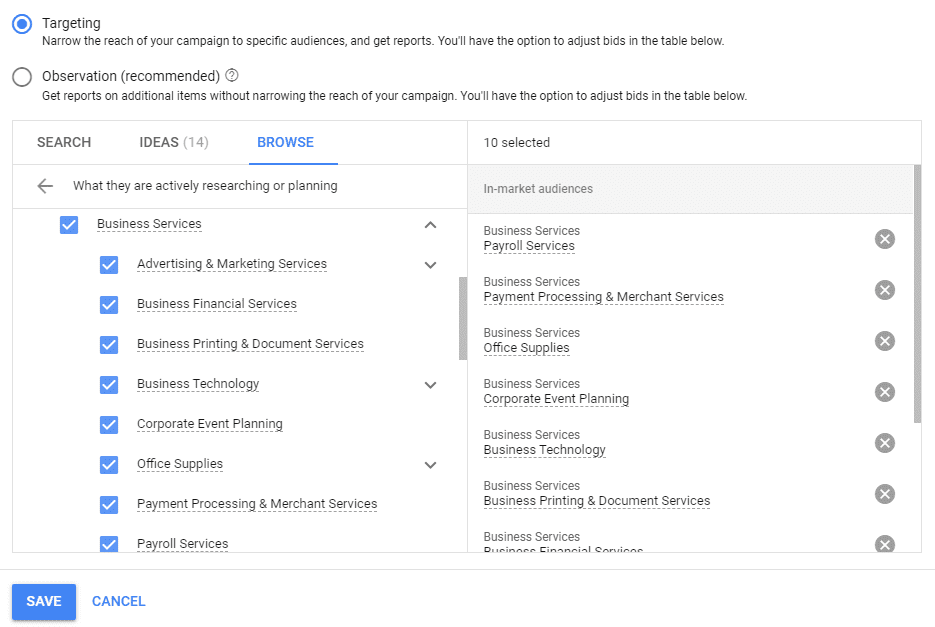 You absolutely should add any and all audiences that match what you offer and set these to observation. Collect some conversion data and you'll probably find that these warrant a positive bid adjustment.
If you're really struggling to avoid consumers there is another option here. Add all business-related In-Market Audiences to your campaign or ad group and choose the "targeting" option. By choosing "targeting" you will be excluding your ads from running to anybody that's not in one of the selected audiences.
This will greatly limit the reach of your campaign but it will almost certainly drive a higher percentage of businesspeople to your site.
Also, consider a hybrid approach. Run one ad group exclusively to In-Market business audiences with high bids, and run one group to everybody else, with low bids.
Detailed Demographics Targeting
Much like Audience targeting, you can target people in a specific industry such as Construction, Educational, or Financial. If you offer tool rentals you know what to choose here. You can also choose company size lists, which is perfect if you only sell to small or big businesses.
Use the same approach here as I described in Audience Targeting above.
Summary
Targeting the business crowd and playing keep-away with consumers involves a lot more than using keyword qualifiers and negatives. By using a combination of tactics you can dramatically improve the quality of our PPC traffic.
Give it a try and let us know in the comments if it has improved your campaign performance.