Google just completed its annual Marketing Live event for 2019. Each year they announce a swath of new Google Ads (and other ad products) features that are upcoming or launching immediately.
This year the unstated theme seemed to be adding more inventory and placements. Shortly, advertisers will be getting access to:
Discovery Ads – large format mixed content ads that will appear in Google News Feeds
Gallery Ads – large format mixed content ad that will appear at the top of search results in mobile browsers
YouTube, Google Images, and Discovery placements for Shopping campaigns
Redesign/Rebranding of Google Express (now "Google Shopping") to compete better with Amazon
In addition to rolling out new creative and more places to advertise there were some other announcements. In this article, I'll explain all the upcoming updates relevant to small business advertisers.
Discovery Ads
This new native ad format represents the first monetization of Google's mobile "Discover" newsfeed and related apps. The newsfeed runs in the Google Now, Google News, and YouTube mobile apps, as well as in Gmail. This represents 800 million users globally… that's a lot of fresh inventory!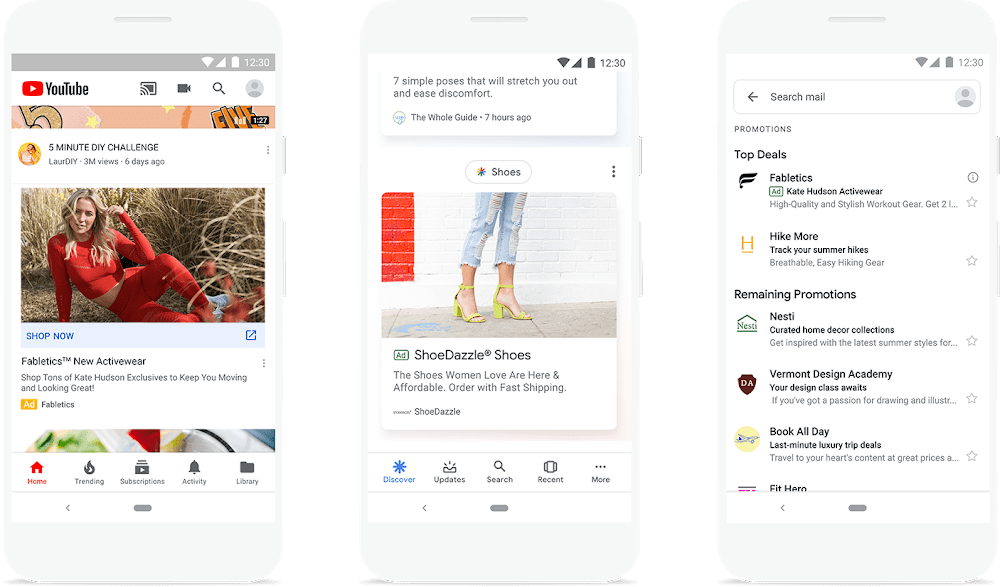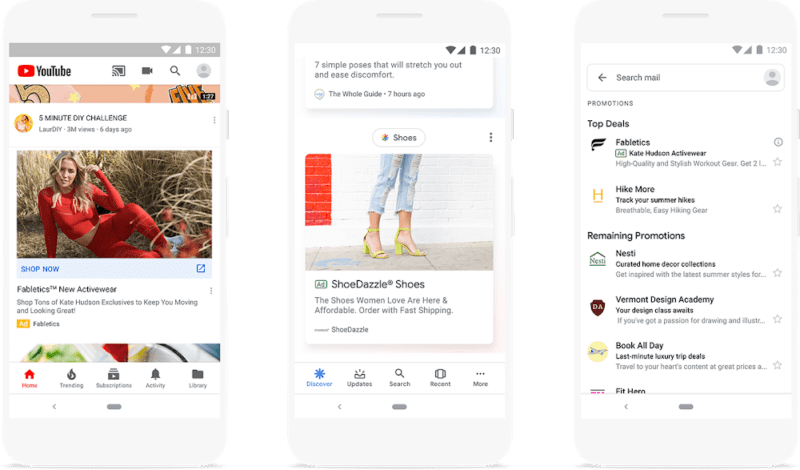 Discovery Ads will have their own campaign type and run creatives similar to Responsive Display Ads. Advertisers will add their own images and ad copy variations and Google will magically choose content and format it to suit the specific placement based on performance.
Targeting options will include a range of different audience types such as interest, affinity, in-market, and custom intent. No word on whether you can add remarketing audiences but I'd guess the answer is yes.
Since Google News users curate their own content it's a good bet this will be Google's most effective display ads by a good margin.
Gallery Ads
This new ad format will run on mobile search in the top ad position. Ads will contain a scrollable gallery of 4 to 8 images (with up to 70-characters per image) as well as a text link, headline, and description text. The ads will compete directly with other search ads but advertisers will be charged CPC for users that either click or swipe. Presumably, you won't be charged twice if users do both.
Google claims this ad format generated 25% more interactions than other search ad units. Well of course they do! First, this includes swipes which you can't even do with other search ad types. Second, the ads push everything else below the fold. Third, new ad formats always perform better in closed-beta. Once users start to see these more frequently the novel performance boost disappears.
This is a big win for Google, as "Gallery" advertisers will need to bid for top ad position, organic results will be pushed further down in browser, and Google can monetize a single search results page more than once.
Shopping Placements Expansion
If a few months, Showcase and standard Shopping campaigns will get access to YouTube, Google Images, and Discovery placements. Presumably, we'll be able to choose these options in campaign settings. As these placements likely won't convert as well as Shopping for Search it'll be interesting to see how different advertisers implement the feature.
I'd guess that automated bidding strategies will continue to work well. But I question whether using the same manual bid for both search and the new inventory will make sense?
"Google Shopping" not to be confused with "Google Shopping"
Google Express, which was already a confusing name has been rebranded to Google Shopping, which advertisers already know as Google's product feed-based campaign type. Does this mean that the Google Shopping campaign type, itself will be rebranded? Tell me we're not going back to calling these PLAs (product listing ads).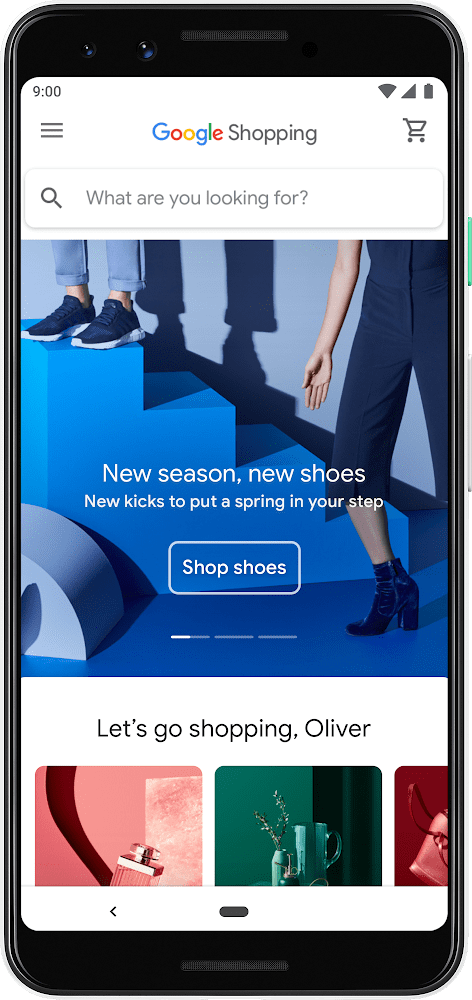 Anyway, the new Google Shopping represents the evolution of Google's fulfilment service. In a nutshell, consumers will be able to purchase on merchant websites or directly through Google. Google will handle the transaction from there.
This is clearly a move by Google to up their game against Amazon's Prime Now.
Consumers prefer to buy from Amazon rather than from an "unknown" online store. Being able to buy 3rd party products directly from Google should level the playing field to some degree.
Signing up for the new service is fairly straightforward on Google's Shopping Actions site, although there are some minimal requirements to meet. The service is currently only available to US sellers.
Maximize Conversion Value Smart Bidding
Because we don't have enough Smart Bidding options, Google is adding one more. The maximize conversion value option will drive as much conversion value as possible within your available budget. This differs from "maximize conversions," which is focused on conversion volume rather than value. And, it also differs from target ROAS, which looks to achieve a minimum return on your ad spend.
If you sell products or services with different values (values must be tagged in your conversions) and don't care much about ROAS, this is more efficient than other current methods.
Seasonality Smart Bidding Adjustments
Soon, you'll be able to set adjustments to your bidding strategy based on a schedule. This feature will allow advertisers to preset adjustments in advance of a promotion or projected spike or drop in demand.
Conversion Customization
Available immediately, except as noted below, advertisers have a range of enhancements to conversion tracking.
Set Conversions at the Campaign Level
You can now assign specific conversions to campaigns. This is really handy in a few different scenarios. Importantly, this will allow you to set conversions that are most meaningful to facilitate smart bidding strategies. When you set a strategy such as maximize conversions, you can now "tell" Google which conversions are relevant for this bidding strategy.
Conversion Action Sets
For large, complicated accounts, you might have dozens of different conversions. Conversion action sets allow advertisers to group conversions into action sets and then apply those sets to different campaigns.
Conversion Value Rules
Sometimes a conversion has a different value for your business depending on user location, device, or audience. Currently, Google uses uniform values which you can set per conversion. In other words, all conversions are treated the same. With the upcoming conversion value rules, you can specify different values based on different variables. A good use case for this is if leads generated in close proximity to your business tend to be more valuable.
Automated 6-Second Video Ads with Bumper Machine
It's no secret that Google's 6-second bumper ads are popular with big brands. To help foster use by smaller advertisers Google will be introducing "Bumper Machine" a tool to automatically create a series of 6-second ads from longer videos. This will help facilitate YouTube storytelling using a series of shorter ads.
Integration of Custom Affinity and Custom Intent Audiences
Google will be replacing Custom Affinity and Custom Intent Audiences with something called simply Custom Audiences. The new audience type will integrate both interests (affinity) and behaviours (intent) into a single audience type. The new audience type will operate with most campaign types.
In addition, Google plans to improve audience expansion with a new tool that offers a slider type interface to select several levels between specificity (smaller) and reach (larger).
Summary
Google is adopting a range of Google Ads new features that clearly targets its top competitors' Amazon and Facebook.
There are going to many new display inventory opportunities for performance-oriented clients. Google is adding fresh high-quality display (discovery feed) inventory and ramping up ways to improve conversion performance with better bidding options, enhanced audience targeting, and more. Look out Facebook!
In addition, Google is rolling out a swath of new features for e-commerce advertisers to compete more directly with Amazon. And, with shopping placements expanding into new places, you can bet Google will see an uptick in shopping ad spend this year.