For the most part, Google AdWords leads with new features and Bing Ads follows a few months later. But, are you familiar with the handful of features Bing Ads has, that AdWords doesn't? Even seasoned AdWords veterans may not be familiar with these Bing Ads tweaks. In fact, it is (an unfortunate) common practice in the industry to simply import AdWords campaigns into Bing, set it, and forget it. Failure to properly configure Bing Ads can be due to a lack of Bing Ads specific training or simple laziness.
Today I'm going to show you how to dial in your Bing Ads campaigns in ways you can't do with AdWords.
#1 – Demographic Targeting In Search
In AdWords, you can only target demographics in display and video ads. Not so with Bing Ads. There is a misconception that demographics settings only affect display ad bids, but in fact, they also affect search ad bids. In campaign settings find targeting and click on the demographics link. If you are primarily interested in a male or female audience or a particular age range demographics bid adjustments can have a tremendous impact on campaign performance. While you can't completely turn off a specific gender or age range you can adjust them between -90% to +300%.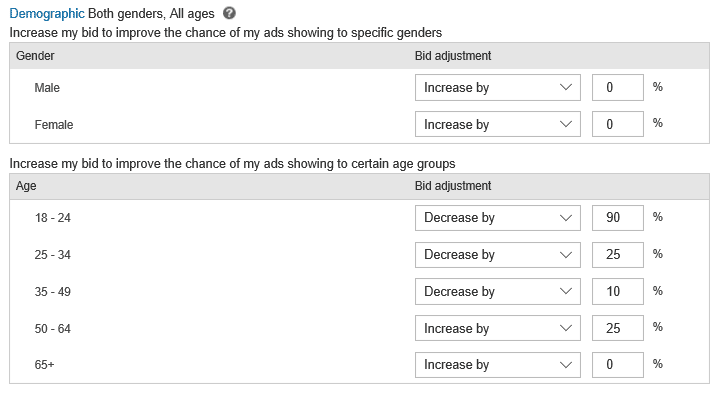 #2 – Better Device Targeting
In AdWords, you can only make bid adjustments for mobile phones. I can't tell you how many times I've looked at the device performance metrics and wished I could adjust tablet bids. Bing Ads, on the other hand, allows you to set bid adjustments for tablets between -20% to +300%. While it would be nice to be able to set a -100% bid where appropriate this is still a big improvement. By the way, Bing Ads used to allow you to target specific mobile operating systems, but alas, no longer.

#3 – Search Network Targeting & Exclusions
With AdWords, you can only select Google search or Google search and Search Partner Networks. With Bing Ads, you have more flexibility and can choose Bing/Yahoo, Bing/Yahoo & Partners, or just Partners. Furthermore, you can add exclusions based upon partner sites with low conversion or engagement numbers. To find low performers, run the URL (publisher) summary report and sort by your KPI of interest. Look for publisher sites that have generated a low conversion rate, high CPA, or low CTR. Add those sites to the exclusions list to improve your overall campaign performance.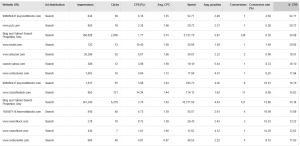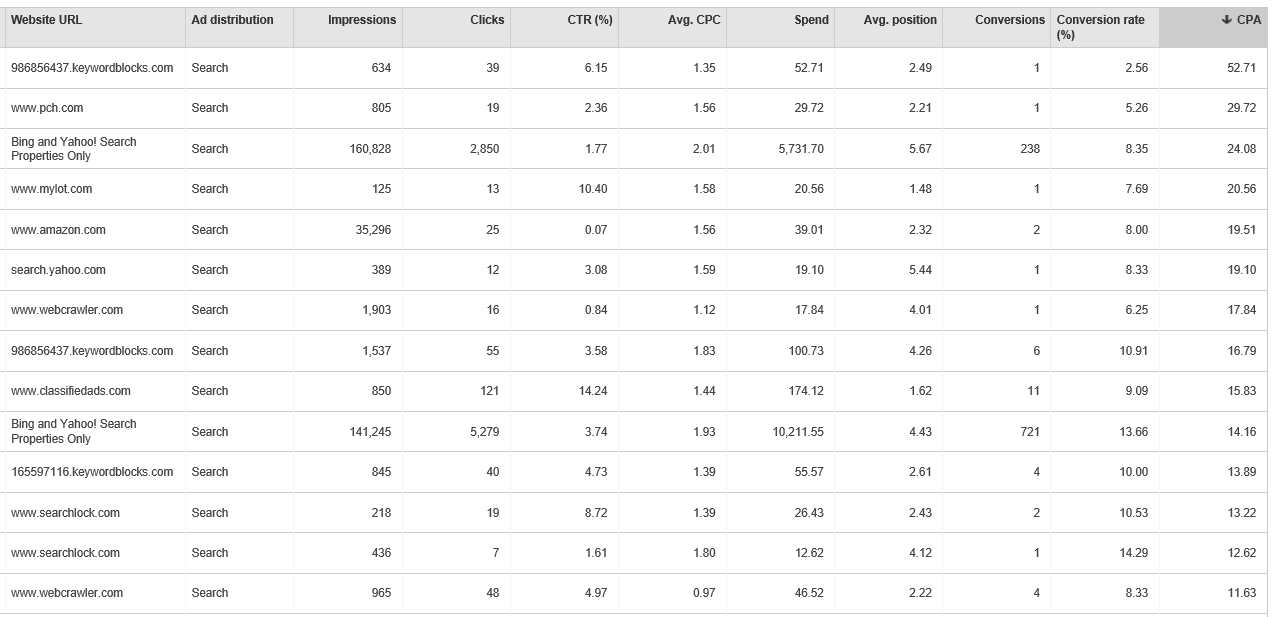 #4 – Sitelinks With A Common URL
Many AdWords' users, including myself, are hesitant to use Sitelink ad extensions because we'll end up sending visitors to lower quality (lower converting) pages. In AdWords, of course, you are required to use a unique URL for each Sitelink. Unique URLs for Sitelinks are not required in Bing Ads. You can create multiple Sitelinks that all point to your existing landing page. Of course, best practice dictates that your content should be relevant to the Sitelink. For example, if you're going to include a "FAQ" Sitelink that points to your landing page, make sure your landing page includes a FAQ section.
#5 – Image Ad Extensions
Google AdWords experimented with Image ad extensions for a while before ditching the idea. As is often the case, Bing Ads, followed suit with the feature, but interestingly decided to keep it. Image ad extensions allow you to place one or more images in-line with your search ads. This can dramatically increase CTRs so ensure you are taking advantage of this tool.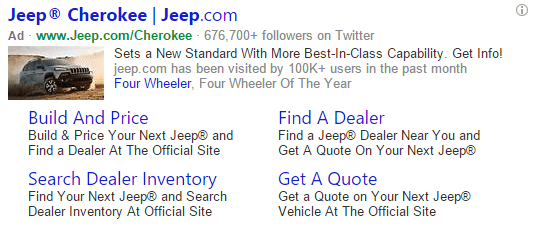 #6 – Ad Group Level Settings
In AdWords, almost all settings are controlled at the campaign level. In Bing Ads, ad groups inherit campaign settings automatically, but you can adjust many settings at the ad group level. Ad Group configurable settings include; languages, locations, ad schedule, demographics, devices, and exclusions. Note also, that ad rotation (optimize for clicks or rotate evenly) is set at the ad group level . Having more granular control over these settings can be really helpful in Bing Ads because you can't share budgets across multiple campaigns.
Summary
Yes, Google AdWords rules the roost when it comes to paid search, with most of the market share. For that reason, Bing Ads is often an afterthought that doesn't get much attention. But Bing has some unique capabilities that most folks are not taking advantage of. If you optimize for these Bing Ads only features, you're sure to significantly increase performance.
All Ten Thousand Foot View consultants are certified in Bing Ads. Would you like help with your AdWords account? Learn more about our Search Engine Marketing services here.